Hilarious days at Mosten Race Days
Mosten Racedays is a spectacular weekend where the stands are filled to the last place, the track filled with good racing, in the evenings good music and as the iceing crazy and odd show vehicles. The weekend has ended and we can summarize the results from Summit Racing EDRS Series Points so far.
The 24th anual Mosten Raceday was provided with fine weather, though a little chilly. Because of short time for trackpreparation, the traction was a bit tricky this year, but in the end of the race, almost everyone found out how to go fast. For the Summit Racing-EDRS Series the Super Gas Bike and Super Comp bike was included. And this years only competition in Funny Bike, which was won by (as last year) Thomas Olsen from Norway. This is a sprintrace track, but everyone seems to enjoy it. If you haven´t visited Mosten Raceday, do it at the 25th anniversary next year. A good event to close the season with.
The staff in the T-shirt-stand was working hard with spreading Speedgroup Magazine
Results Mosten Racedays:                          Winner:                                     Runner Up:
Super Gas Bike:                                            Bent Jespersen                         Erwin Van Der Belt
Super Comp Bike:                                        Hans-Henrik Thomsen          Mario Kasner
Funny Bike:                                                   Thomas Olsen
The winner in the Super Gas Bike class was Bent Jespersen from Denmark on a Suzuki GSX1100
Runner-up in Super Gas Bike was Erwin Van Der Belt from the Netherlands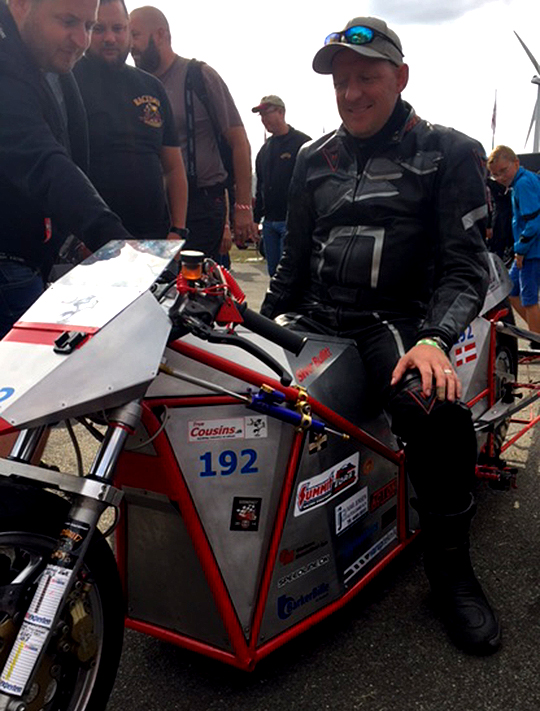 SCB winner Hans-Henrik Thomsen with the electric bike
Super Comp Bike runner-up Mario Kasner from Germany