Highlights from Dico Internationals 2017
Dico internationals grandstands was filled to almost the very last seat. A pit area filled with racers, a well-prepared track and great weather, there was not much more to wish for. 
The track couldn´t have been in a better shape than it was at Tierp Arena during Dico Internationals. Actually, it was so good that some of the drivers did run too fast for their class indexes on Thursdays qualifications resulting their settings had to be changed. A delicate problem and we can guess there where a lot of PB set during the day.
Pro Modified Jimmy Ålund
Pro Modified Michael Gullqvist
We saw the quickest ever European side-by-side run in Pro Mod in the semi-finals between Michael Gullqvist and Jimmy Ålund. Gullqvist at 5.86 sec/398 km/h vs Jimmy´s 5.88 sec, 399 km/h, what a thrill. In the finals, we saw Gullqvist taking on Åke Persson and they made another 5 seconds side-by-side run. Åke´s 5,96/388 kmh wasn´t enough to beat Gullqvist who backed up with a new European Record with his amazing run, 5.83 sec/400 kmh. What a race that was!!
                       Krister Adeen from Avesta, Sweden came up with the World´s second fastest time ever with a 4-cylinder engine. He did an incredibly 6,44/347 kmh in his beautiful Volvo S60
Laura Saksa is now licensed for the Pro Modified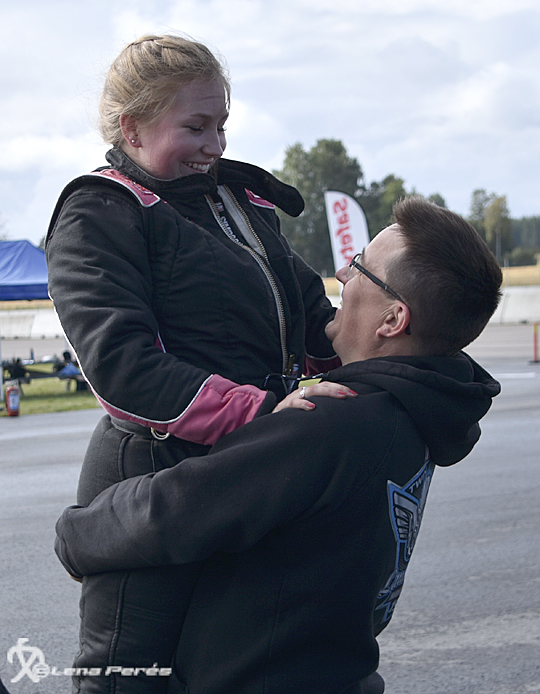 Laura Saksa got her Pro Modified license and Tero Laukkanen is very happy about that Laura now fully can drive his former record holding turbo Mustang
Olof Andersson also got his Pro Modified license. If you recognise the car, it is Håkan Nilssons former Pro Modified Chevy.
We also got a couple of new competitor in the Pro Mod class this weekend. Laura Saksa from Finland finished her Pro Modified licence already on Thursday. She started off the season in Top Doorslammer with Tero Laukkanen´s record holding turbo Mustang and did it very well. After she won the class at Nitro Nationals in Finland, Tero and team considered her ready for Pro Modified in this last race of the season for the team. Results speaks for themselves, she qualified # 10, took out Håkan Persson in first elimination round and got Jimmy Ålund in Old 51 in round two. Jimmy managed a holeshot start and this was the end of Dico International for Laura. Lucky for Jimmy as Laura was faster in both time and speed, Jimmy´s 5.99sec/330 kmh and Laura´s 5,98 sec/399 kmh. But first to the finish line is the winner. The Saksa racing team could return to Finland with a fresh Pro Mod licence and a 5-sec run under the belt. They are now looking forward to next season, plans are to do the full Summit EDRA series or/and the FIA Championship. Olof Andersson did also complete his Pro Modified license but did not compete this weekend. Resent class he been racing is Pro Street. We wish Olof and team welcome in to Pro Modified.
Maja Udtian is more than happy that she now is licensed for Top Fuel and ready for Santa Pod and the Finals next weekend!
Another coming female drag racing star is Maja Udtian. She has been racing for many years in various sportsman classes and Summit Racing EDRS Series but now she is stepping up to Top Fuel Dragster. After licensing runs in Oslo and finalizing them during the weekend at Tierp Arena weekend she is now ready to go to the European Finals at Santa Pod coming weekend. With the performance team Udtian showed in Maja´s last run (4.11/445 kmh) last Sunday, we know they can be a real terror in the Top Fuel class.
Minister of Public administration Ardalan Shekarabi, Jim Greenleaf Summit Racing Equipment and Urban Axelsson Tierp Arena together in Speedgroup Center at Tierp Arena 
 Ardalan Shekarabi at startline between two Top Fuel Dragsters!
Then Tierp Arena had some celebrities on site. Chairman of the Municipal Council, Bengt-Olov Eriksson, had invited the minister for Public administration, Mr Ardalan Shekarabi to experience top level European dragracing and what Tierp Arena could offer.
-Mr Shekarabi was overwhelmed after he had the opportunity to watch two Top Fuel dragsters leaving the start line under full power, says Bengt-Olov. It was the coolest thing he had ever experienced. He would for sure be back at next year´s events,
Well-known Swedish actor Mikael Persbrandt together with Anita Mäkelä. Both chicken farmers 
Mikael Persbrandt at the start-line between Anita Mäkelä and Stig Neergaard
Another celebrity on site was the well-known actor Mikael Persbrandt. He was invited to Anita Mäkelä Top Fuel team to closely follow preparation and racing. He also had the great pleasure to follow two Top Fuel dragsters leaving the start line. He brought his smart phone up and filmed the sequence, guess pictures became a little blurry but that´s still ok. Micke Persbrandt have a genuine interest for motorsport and have been competing in Midnight Sun Rally and is now also racing in Radical xc 600r.
Jonnie Lindbergs good friend Randy Meyer and Åke Persson, could be brothers 
We also saw Mr Randy Meyer from Kansas, a close friend of Jonnie Lindberg onsite. He took the opportunity to visit the biggest event in Scandinavia and to meet with Lars Pettersson CEO of the Swedish Motorsport Federation and Åsa Kinnemar CEO of Speedgroup AB. Randy has been in the sport for over 35 years as a driver, crew chief and team owner in Pro-Comp all the way up to Top Fuel. Now he is supporting his daughter in Top Alcohol Dragster. Randy was very impressed in the level European drag racing and in Tierp Arena. Who knows, we might be able to see the Meyer family racing over here in the future?
Lars Pettersson, The Swedish Motorsport Association, meet Jim Greenleaf from Summit Racing Equipment in Speedgroup Center at the Tierp Arena
Finally, we were very happy to see the representing of our biggest sponsor Summit Racing on site. Jim Greenleaf, Motorsport & Event Manager of Summit Racing Equipment, was very curious about European drag racing and how we´re working with their sponsorship over here. Mr Greenleaf declared he was happily surprised and impressed of how well the Summit Racing tickets was distributed among spectators and racers and that the Summit brand was so widely exposed at our events. He was photographed with all the junior drivers, together with minister Shekarabi and many others this weekend.
-I will certainly be back here next year, was his comment and summary of the weekend. This was great fun.
And ofcourse took Speedgroups salesman Mikael Alfredsson the oportunity to hand out the Speedgroup Magazine during the weekend
With that we can sum Dico Internationals as a great event filled with records, many personal best and other highlights, happenings and thousands of happy people, and move on to the Summit Racing EDRS Seriefinals at Gardermoen in a week.