Liam Jones, Timo Habermann, Åke Persson and Jimmy Ålund number one qualifiers at Dico Internationals
Liam Jones (Top Fuel), Timo Habermann (Top Methanol), Åke Persson (Pro Modified) and Jimmy Ålund (Pro Stock) claimed the number one qualifying positions at the Dico Internationals at Tierp Arena and will lead their respective categories into Sunday's eliminations at round five of the 2017 FIA European Drag Racing Championship.
It was another great day of racing at Tierp Arena for the Dico Internationals, the fifth round of the FIA European Drag Racing Championship. But although the conditions were as good as yesterday, with not too high temperatures, there were fewer improvements than expected. Only the Pro Stock category has a new leader in 10-time champion Jimmy Ålund.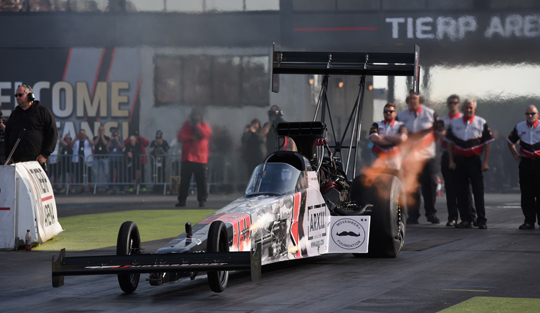 In Top Fuel Liam Jones and Duncan Micallef couldn't improve on their Friday performances, but the 3.94 and 3.95 seconds of the two Rune Fjeld Motorsport drivers was enough to remain in the number one and two qualifying position.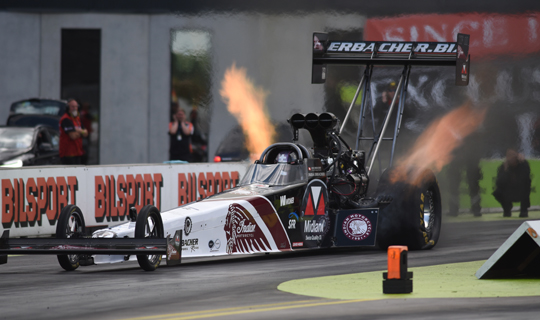 Jndia Erbacher, the surprise finalist last week at Hockenheim, impressed once again as the Swiss driver stormed to a stunning 4.06 seconds to claim the number three qualifying position. There was also a major improvement for Friday's number nine qualifier, Stig Neergaard, as the Dane recorded 4.14 seconds to claim the number five qualifying position behind Micke Kågered. Antti Horto ended qualifying in sixth position, with Anita Mäkelä seventh and Stefan Gunnarsson eight. Not for the first time this season, championship leader Micallef will have to face reigning champion Mäkelä in the first round of eliminations.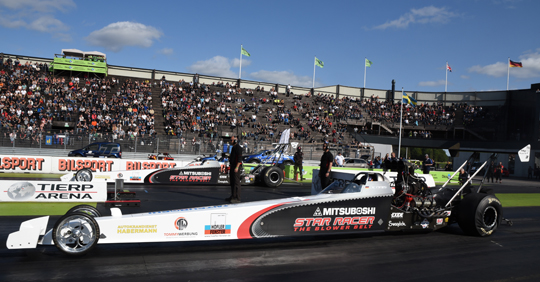 There were no changes in the qualifying order in Top Methanol. Timo Habermann remained in the number one qualifying position with a great 5.30 seconds. There was a major improvement for Dennis Habermann, but Timo's brother remained in second position.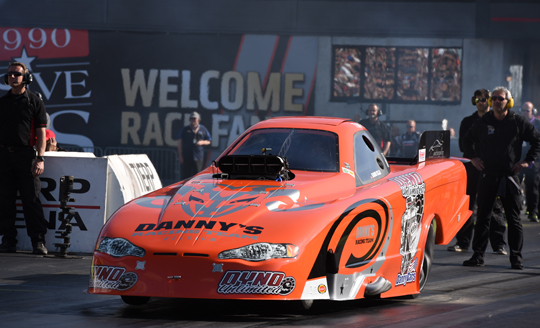 Sandro Bellio ended qualifying in third position, with Jonny Lagg fourth.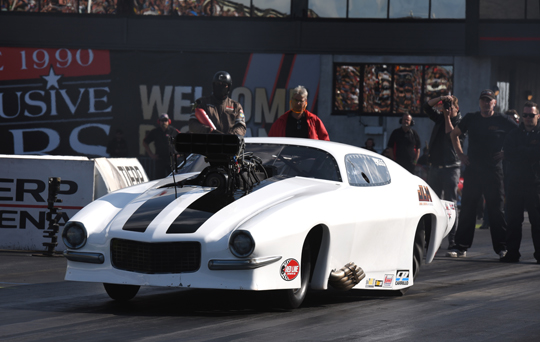 The same was true for Pro Modified where Friday's top seven couldn't improve on their earlier performance and remained exactly as it was after two runs.
Åke Persson (5.88 seconds) will lead the field into eliminations, with Jimmy Ålund (5.89 seconds) in second position, Michael Gullqvist (5.92 seconds) third, David Vegter (5.97 seconds) fourth, Roger Johansson fifth, Bruno Bader sixth and Håkan Persson seventh.
In Pro Stock Jimmy Ålund improved to 6.5266 seconds, just enough to beat Bengt Ljungdahl (6.5268 seconds!) in their fight for the number one qualifying position.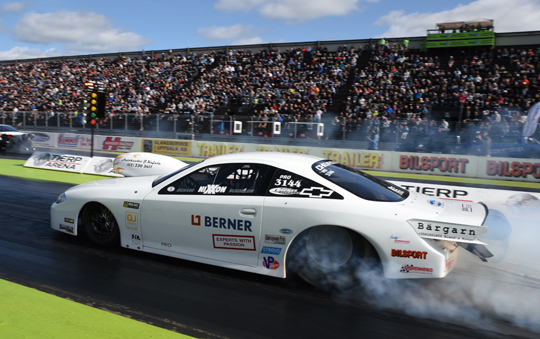 With their Friday elapsed times Richard Sundblom and Michael Malmgren remained in third and fourth position. There was a minor improvement for Thomas Lindström, but the former champion remained in fifth position. Christian Sagelv impressed with a great 6.61 seconds and is the new number six qualifier, with runner-up in the championship Stefan Ernryd seventh and Magnus Petersson eight qualifier in the 8-car elimination ladder.
Eliminations for the Dico Internationals will start tomorrow, Sunday, August 27.
For all qualifying results see: http://www.dragracing.eu/results.asp?id=1&year=2017 and www.eurodragster.com
More photos from the Dico Internaionals can be found at: https://www.dragracingeurope.eu/fiaedc/dico-internationals-24-27-august-2017/