Expect an action-packed weekend in Tierp
Time for a tripp to Tierp Arena again! Don't miss out this big racing feast!
Tierp Arena and Dico Internationals is next up in Summit racing EDRS Series. One of the biggest events of the European dragracing season and full fields in almost all classes, FIA, EDRS Pro as in Summit Racing EDRS Series. Right now, the track crew is working their butts off to get the track in best possible shape and the pit crew is getting the pit area ready to welcome all the racers. The heat is building up!
333 teams are at this moment signed for the event. In Pro Modified all the top teams going to be on site, but we also have some newcomers in the class. Kim Kristiansen from Denmark is doing his first season and he did very well last weekend at the 4th FIA event at Hockenheim Ring. With a 6.08 sec and 380 km/h time he qualified as 4th qualifier. So, keep an eye on this guy. We also got a brand-new driver in the class; Laura Saksa from Finland. Laura started in Top Doorslammer earlier this season and now is taking the step into Pro Modified with support from Tero Laukkanen, the first Pro Mod driver over 400 km/h in his turbo charged Mustang.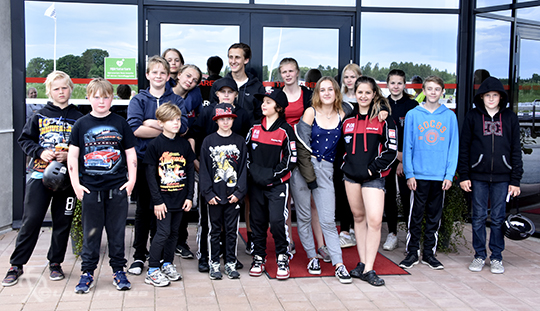 Jr drivers at Tierp Arena in June. A drag racing Group that grows year after year.
Biggest class on the 4-wheel side is Jr Dragster with 47 entries. The juniors are growing big and as they represent the future dragracing stars the regrowth of dragracing seems secured. The next biggest class is Stock/Super Stock with 46 signed drivers. Without being mean you could say that S/SS is the opposite on side of the "age-scale". This is where we find most of the older drivers, wanting to step down but not quit racing. It´s great to see big numbers in both ends right now.
Pro Street is also presenting a large number of drivers this weekend. 30 teams very eager to take top positions.  Also in Competition, there is a large number of teams or 29 to be more exact. Most of them from Sweden and Finland, but also few long distances travelling teams from Estonia and Switzerland.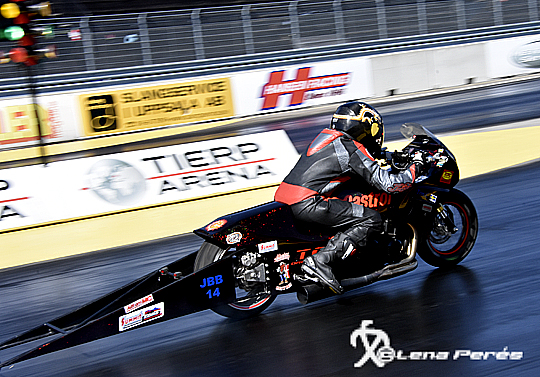 Tim Christensen is in the lead of Jr Drag Bike when Dico Internationals start on Thursday. 
In the Jr Dragbike class which is not new but a reintroduced class for Sweden, have no less than nine riders signed in from Scandinavia at this event. A growing class without a doubt.
Check out www.dragracing.eu and the Dico Internationals entry list and find out more about who is going to heat up the weekend. It´s going to be a crazy, wonderful, exciting racing weekend. And don´t for God´s sake miss this event. Just go there and have a great time on the best dragracing facility in Europe!