Liam Jones, Timo Habermann, Jimmy Ålund and Bengt Ljungdahl number one qualifiers at Hockenheim
Liam Jones (Top Fuel), Timo Habermann (Top Methanol), Jimmy Ålund  (Pro Modified) and Bengt Ljungdahl (Pro Stock) claimed the number one qualifying positions at the NitrOlympX at the HockenheimRing and will lead their respective categories into Sunday's eliminations at round four of the 2017 FIA European Drag Racing Championship.
It was great day of racing at the NitrOlympX at the Rico Anthes Quartermile of the HockenheimRing, round four of the FIA European Drag Racing Championship. There were many improvements in the elapsed times in all categories. Top Fuel and Pro Stock even got new number one qualifiers, while in Pro Modified Friday's number one qualifier needed a significant improvement to remain in the number one position.
In Top Fuel Liam Jones stormed to an excellent 4.04 seconds to claim the number one qualifying position.
Stig Neergaard improved on his Friday performance, recorded a 4.05 seconds elapsed time and remained in second position. Antti Horto, Friday's number four, improved to 4.07 seconds and claimed the third qualifying position. The difference between the top three qualifiers on only 0.03 seconds!
Yesterday's leader Anita Mäkelä couldn't improve on her earlier performance and dropped to fourth, with current FIA European Top Fuel championship leader Duncan Micallef fifth. Mikael Kågered ended qualifying in sixth position and Top Fuel rookie Jndia Erbacher will start her first elimination round from seventh position and will have to face Neergaard. Not for the first time this year Mäkelä and Micallef will meet each other in the first round.
In Top Methanol there were no changes in Friday's top three qualifiers. Sandro Bellio improved to 5.57 seconds, and Dennis Habermann ran a bit quicker as well, but it was not enough to beat the 5.303 seconds Timo Habermann recorded on Friday.
Linn Engan Karlsen also improved on her earlier performance and recorded 5.94 seconds, but the Norwegian Funny Car racer remained in fourth position.
In Pro Modified Jimmy Ålund stormed to a stunning 5.91 seconds to claim the number one qualifying position. The Swede was also the leader after the Friday qualifying run, but then saw David Vegter improve to 5.99 seconds to jump into the lead.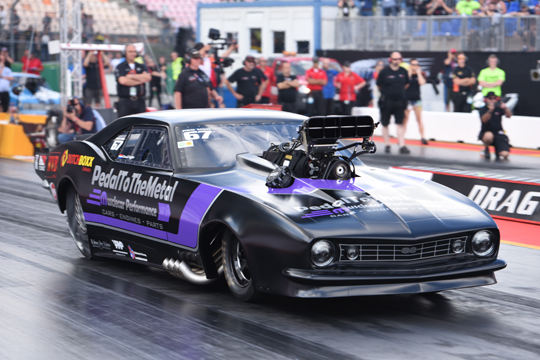 The Dutch number two in the championship was the leader for only a few minutes, but still ended qualifying in an excellent second position.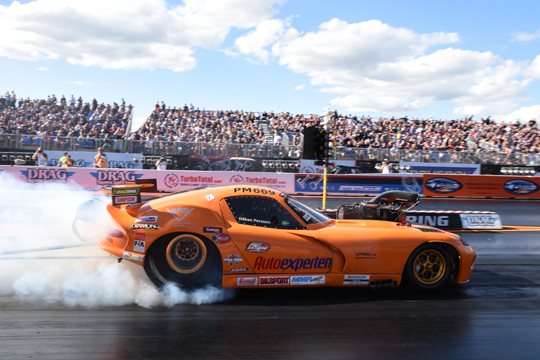 Håkan Persson also recorded a major improvement and with 6.07 seconds the Swedish driver claimed the number three qualifying position. Kim Kristiansen surprised with a number four qualifying position, while championship leader and reigning champion Michael Gullqvist had traction problems, couldn't improve on his earlier performance and will have to start eliminations from fifth position.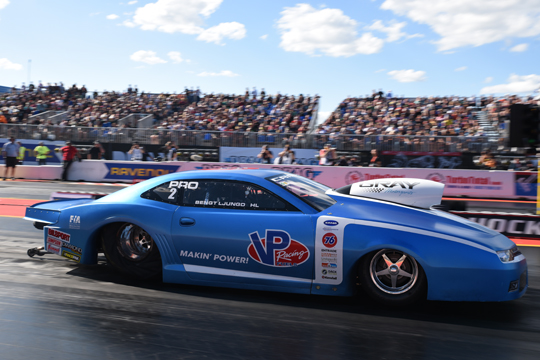 In Pro Stock Bengt Ljungdahl was back to form and claimed the number one qualifying position with an excellent 6.58 seconds.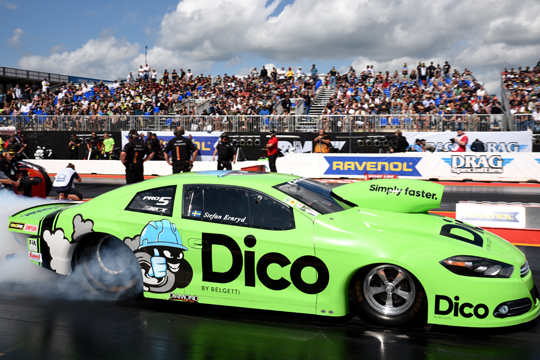 Stefan Ernryd improved to 6.60 seconds, while Friday leader Michael Malmgren improved to 6.69 seconds, but dropped into the number three position.
There was also a major improvement for Robin Norén, but the Swede dropped one place and ended qualifying in fourth position.
Eliminations for the NitrOlympX will start Sunday morning.
For all qualifying results see: http://nitrolympx.bw-timing.de./ and www.eurodragster.com
More photos from the NitrOlympX can be found at: https://www.dragracingeurope.eu/fiaedc/photo-gallery-nitrolympx-hockenheimring-august-18-20th-2017/