Drag Challenge has its revenge
First time winners, a triple winner, winners from the USA, Sweden and Norway, defeated favourites, a holeshot win in a final, and two 5.9-second runs in Top Fuel Motorcycle. The Drag Challenge at Gardermoen Raceway, round three of the EDRS Pro Nordic Motorcycle Championship, was entertainment at its very best and got its revenge after last year's rain out. All qualifying and eliminations results, and championship standings can be found on the Dragracingeurope.eu website. In this article we give a short review and pay attention to some other highlights and notable events that happened in the EDRS Pro Nordic MC classes during the Drag Challenge at Gardermoen Raceway.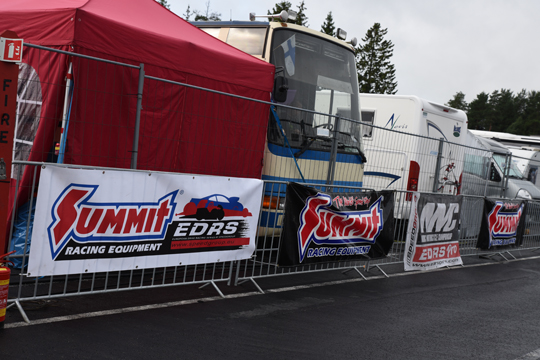 In contrast to one year ago, when rain disturbed the official opening of the new Gardermoen Raceway, the weather was with the racers. Most of the rain came in the evening and the night, and when the dark clouds came in late Sunday afternoon, the rain waited just long enough until the last trophies were presented.
Sverre Dahl shines, but doesn't win
In Top Fuel Motorcycle Sverre Dahl was the star of qualifying at Gardermoen. After a stunning 5.98 seconds in Friday qualifying, the Norwegian rider improved to 5.93 seconds on Saturday, claiming the number one qualifying position.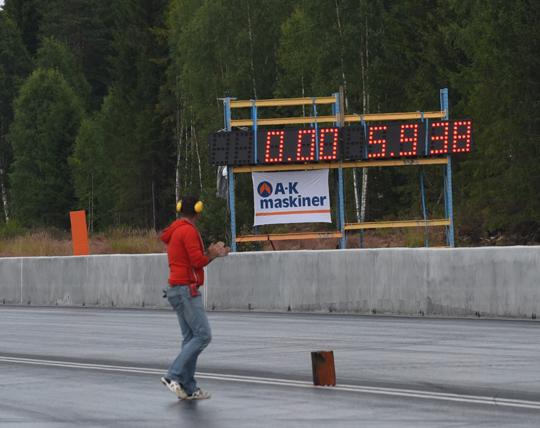 Rikard Gustafsson came close to his first 5-second with 6.01 seconds and was the number two qualifier. Jan Sturla Hegre was third and reigning EDRS Pro Nordic MC champion Thomas Pettersson fourth, while Shaun Branch from England was first alternate.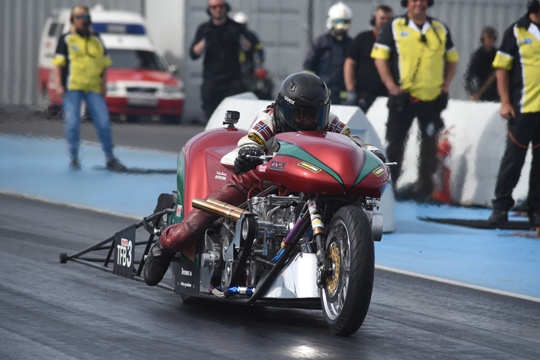 In eliminations Dahl and Gustafsson made no mistakes and so the Drag Challenge got its dream final in Top Fuel Motorcycle.
But while Dahl had some traction problems, Gustafsson almost matched his qualifying numbers and took the win in a great 6.07 seconds elapsed time. In the EDRS Pro Nordic Top Fuel Motorcycle Championship Hegre is still the leader, with Pettersson in second position. Dahl closed in, but is still 45 points behind the leader.
Super Twin Motorcycle
In Super Twin Motorcycle Tommy Grimes and 'The Beast' bounced back after a massive engine explosion at Alastaro by claiming the number one qualifying position with their 6.60 seconds elapsed time from the first qualifying run.
Samu Kemppainen had some problems again, but in his fifth and final qualifying run the reigning champion recorded 6.64 seconds to jump into second position. Roman Sixta was once again one of the most consistent Super Twin Motorcycle riders and claimed the number three position with 6.89 seconds.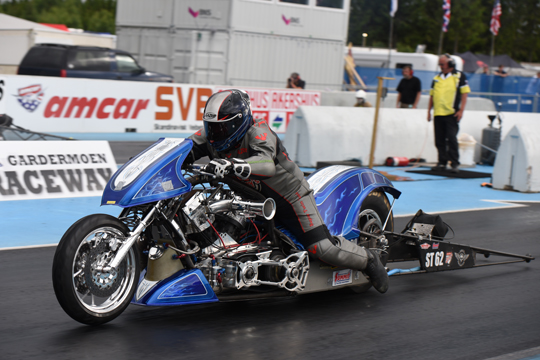 Behind Greger Johansson and home favourite Svein Olav Rolfstad, Tierp Internationals winner Anders Hörnström was the number six qualifier. Ismo Mäenpää made a welcome return to the EDRS Pro Nordic MC and was the last one to qualify for the 8-bike ladder. Alastaro winner Teemo Kettula was one of the non-qualifiers.
The first round of eliminations was full of drama. Mäenpää, Hörnström and Kemppainen all had severe engine problems and couldn't even start, handing the wins in bye runs to Grimes, Sixta and Lasse Leponiemi. Johansson defeated a slowing Rolfstad and was the fourth semi-finalist.
In the semi-finals Grimes stormed to 6.65 seconds and had to face Sixta in the final. This time it was 'The Beast' that showed consistency, as Grimes took the win in 6.78 seconds, while Sixta ran into problems.
It was the first win for the American rider in the EDRS Pro Nordic MC. In the championship Sixta is the new leader, with Grimes only six points behind in second position, and Johansson third. Kemppainen, the leader after the Alastaro race, is fourth. With four riders separated by only 34 points, the final at Tierp Arena will be a thriller.
Three in a row
Good and bad news from the Pro Stock Motorcycle category at Gardermoen. The bad news was of course that there were only three competitors in Norway. Kalle Lyrén couldn't finish his bike in time, but will definitely be back at Tierp. After his Alastaro crash Janne Koskinen was also missing, but it was good to see the young Finnish rider at the track supporting his brother and friends who took part in the Super Gas Bike category. Koskinen is planning a comeback next season and will use the winter to rebuild his bike and find the funding for a full EDRS Pro Nordic MC tour next year. And there was more good news as Tobias Steen, a young Norwegian rider, was doing his licencing runs at the Drag Challenge and will join the category soon.
Back to the race, where as expected Timo Savolainen claimed the number one qualifying position with an elapsed time of 7.24 seconds, with home favourite Thomas Lysebraaten Olsen in second position with 7.44 seconds. As Bo Thorselius was a no show in eliminations, Olsen had a bye run in the semifinal and had to face Savolainen in the final.
In a close race Savolainen had the quicker run, but was defeated by the young Norwegian rider on a holeshot.
It was the third consecutive win for Olsen this season and he is leading the championship with a 92 points margin over Savolainen.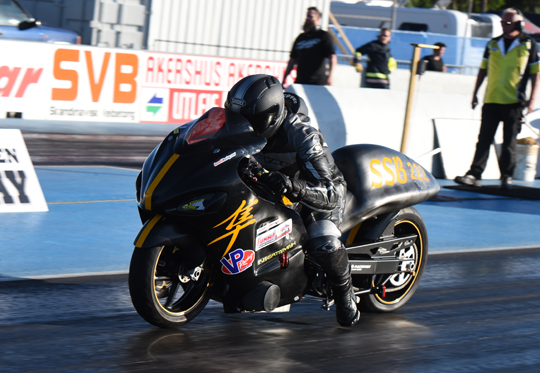 Number one for Robert Nilsson
Mogens Lund was the dominant force so far this season. But at Gardermoen the Danish championship leader was 'only' second qualifier, as Robert Nilsson was quicker with a great 7.14 seconds elapsed time for the Swede, against a 7.20 seconds for Lund.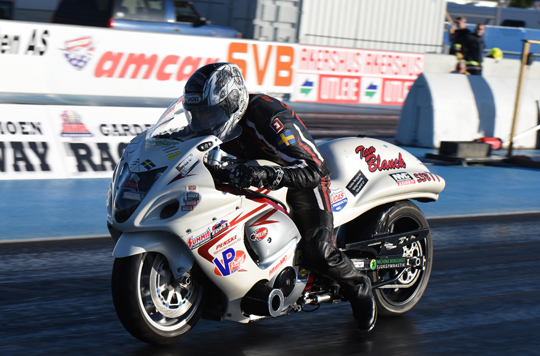 As usual this season, Anders Blanck and Vesa Ruhanen were not far behind, while Svein Ove Brändhagen was fifth qualifier in his first EDRS Pro Nordic MC race of the year.
Reigning EDRS Pro Nordic SSB champion Henri Kolehmainen had serious technical problems and had to use Bianca Nilsson her bike to even qualify for the 16-bike elimination ladder.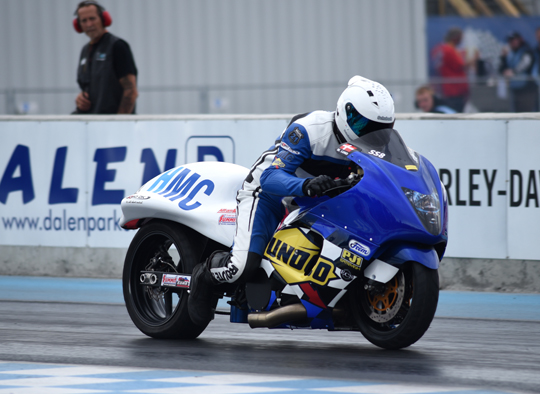 The top four qualifiers didn't make any mistakes in eliminations and all advanced to the semifinals. Nilsson had another good run and defeated Ruhanen in 7.23 seconds. But this time Lund was the quickest with a 7.19 seconds win over Blanck. With the number one and two qualifiers, Super Street Bike had the dream final as well.
But it ended in an anticlimax as Lund overheated the clutch and pulled a red light, handing the win to Nilsson. It was Nilsson's first win in the EDRS Pro Nordic MC SSB Championship.
In the championship Lund is still the leader, with Blanck in second position, but already 71 points behind. Ruhanen is third, Nilsson fourth and Kim Hilander fifth.
Super Comp Bike
In Super Comp Bike Tomas Jonsson led the 13-bike field into eliminations with a 8.503 seconds almost perfect 8.5-second index run. Emil Östlund and Peter Svensson recorded exactly the same time with 8.510 seconds, but as Östlund did that one run earlier, he was the number two qualifier.
In eliminations Jonsson proved his qualifying form was no coincidence and with wins over Kathrine Wagenius and Rasmus Östlund, and a bye run in the semifinal, the Swede advanced to the final. In the final Jonsson had to face another Östlund, number two qualifier Emil Östlund, who advanced to the final by defeating Bianca Nilsson and Svensson in the quarter final and semifinal.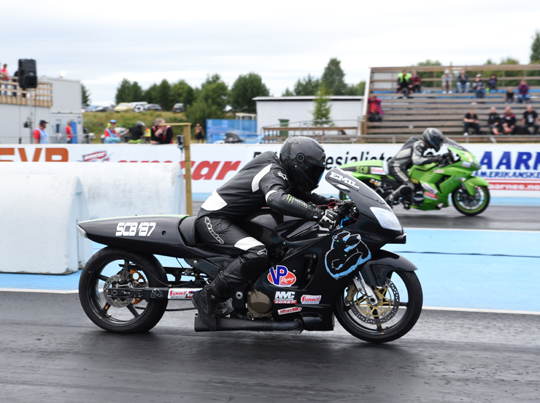 In an extremely close final Jonsson took the win in 8.587 seconds, as Östlund recorded an elapsed time of 8.591 seconds. Emil Östlund is the new leader in the championship, with Kimmo Rantala in second position and Jonsson third.
Super Gas Bike
In Super Gas Bike Kent Koed secured the number one qualifying position, with Ellen Ödegaard in second position, Kari Rautanen third and championship leader Iiro Reinola fourth.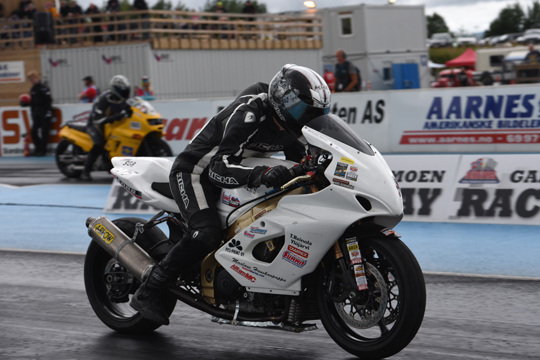 From the top four only Reinola was defeated before the semifinals, as the Finn lost his quarter final against teammate Heikki Koskinen. In the semifinal Koskinen was defeated by number two qualifier Ödegaard.
In a close semifinal Rautanen was too quick for Koed, and so in Super Gas Bike the numbers two and three qualifiers had to face each other in the final.
Rautanen was away first, but with a 9.725 seconds elapsed time Ödegaard took the win, giving the Norwegian home crowd even more to cheer for.
Reinola is still leading the championship, with Rautanen only 14 points behind in second position. Koskinen is third and Jari Malinen fourth. The difference between the numbers two and four is only three points.
Gardermoen Raceway is of course extremely close to Gardermoen Airport. It seemed like some riders didn't know the difference, but you can better leave the take off to airplanes. Super Gas Bike rider Mikkel Jensen's wheelie ended with a huge oildown
This Super Gas Bike wheelie went really wrong. Linda Horne was uninjured in the incident.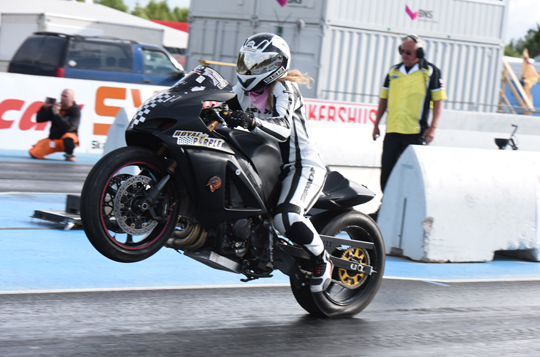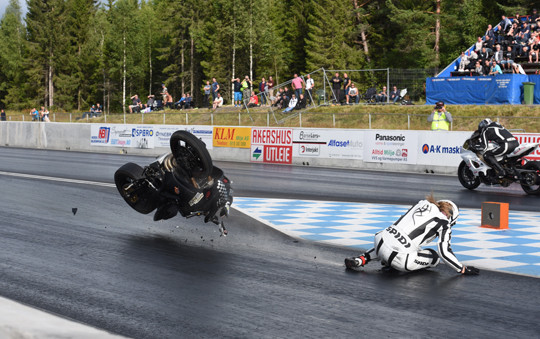 Robert Nilsson got some data help from Alex Hope. The English Pro Stock Motorcycle and SSB rider came over from England with Top Fuel driver Liam Jones, but soon found his way to the motorcycle pits to assist some riders.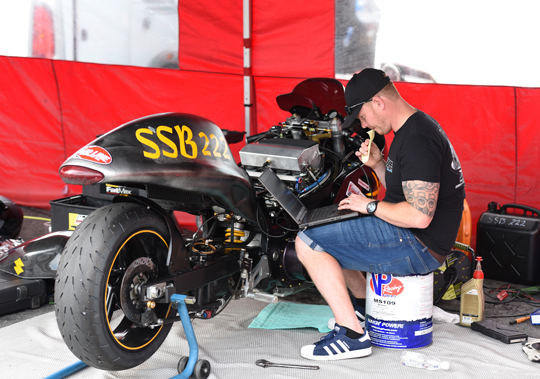 Björn Friström was at least to say 'not amused' that his first two runs once again started with wheelspin.
We know the bike and the rider, but not in this combination. Henri Kolehmainen used Bianca Nilsson her Super Comp Bike to qualify for the Super Street Bike field.
Tobias Steen made some licencing passes on his Pro Stock Motorcycle. On the first run the Norwegian rider was surprised by the power of the bike, but luckily landed with both hands on the steering wheel.
In the next runs it went much better and Steen finished on Sunday with two promising looking runs.
Tobias Steen gets some advice from Thomas Lysebraaten Olsen.
Dragrace in the sky.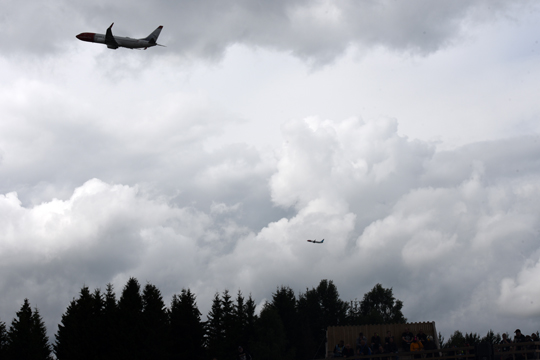 Dark clouds doesn't always mean rain.
But white clouds always mean a good burnout. It was good to see Ismo Mäenpää back in action.
Is this really a comfortable powernap?
Ear defenders too big, or dog too small?
Drifting with a Top Fuel Motorcycle, Jan Sturla Hegre knows how to do it.
Super Street Bike rider Dag Wagenius had some wild rides, but this looks much better in control.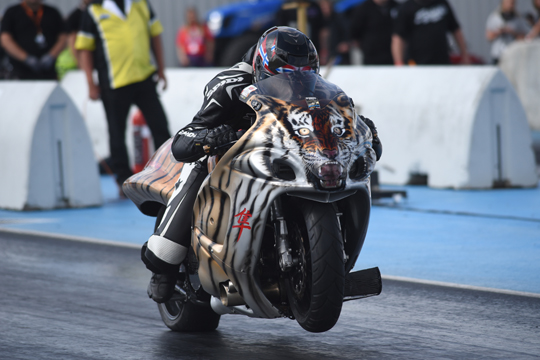 First appearance for Kristin Hegre in the EDRS Pro Nordic MC Super Twin Motorcycle category. Jan Sturla Hegre's mother qualified in 13th position.
A street with plenty horse power.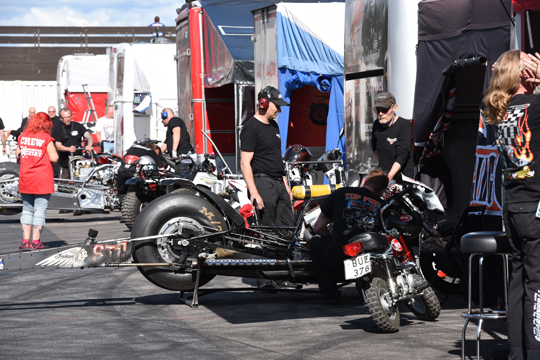 This is how ultimate disappointment looks like.
Work in progress in the Uggerud Bros Top Fuel Motorcycle pits.
Next year we'll be back for more.