Pite Dragway with burning daylight around the clock
Pite Dragway and Midnight sun Dragfestival hosted Summit Racing EDRS Series and Swedish Championship in the classes Junior Dragster, Stock/Super Stock and Competition Eliminator. The racers were coming from Finland, Sweden, Norway and Åland.
The weather stayed fantastic all weekend and no interruptions by rain during the races. The racers got many qualification rounds during Friday and Saturday, some classes up to a dozen!
No 1 qualifier Oscar Norling
After the qualifications on Saturday we could note a outstanding reaction times from the junior dragsters. No 1 qualifier Oscar Norling came out with a reaction time of a straight 0, followed by no 2 Jakob Pripp, with 0,001 and Tindra Christensen with 0,002. All junior dragsters qualified within 0,04 seconds.
-We are used to the youngsters fast reaction times, but this was better than usual. Beat that if you can! Says Birgitta Blakstad Poolsaar.
Junior Dragster Felicia Olsson in the lead of Summit Racing EDRS North
There were a few surprises during the weekend. First time winner in Junior Dragster Felicia Olsson, now in the lead of Summit Racing EDRS North, and first-time runner up Elias Otvall. The number of Junior Drag Bike racers are increasing and this time Tim Christensen brought home the Winners cup and Rosa Paaso as Runner Up.
There was a match race between Super Gas oldies Håkan "Halmhatt" Mattson and Christer Uhlin, where Christer finally won.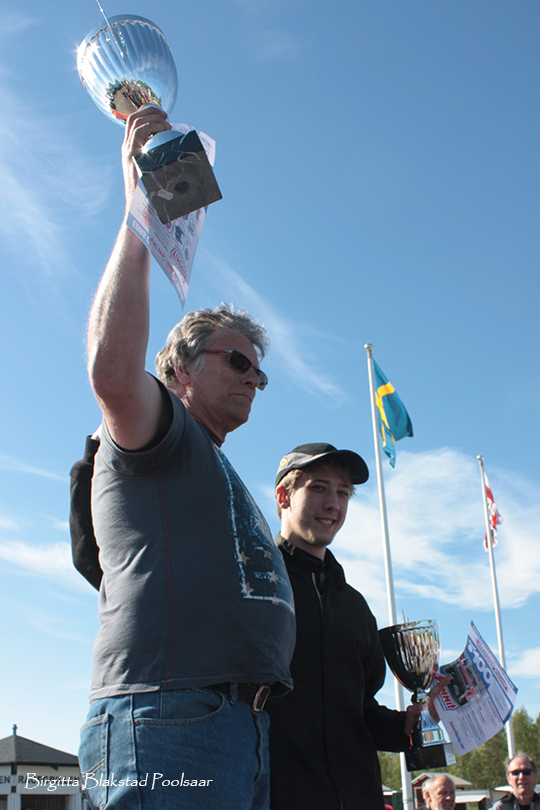 Stock/Super Stock was won by Ulf Edwardsson and runner up young Theodor Brandt.
In the fastest class, Top Doorslammer, Victor Jansson defeated Andreas Sjödin in the final. The full results will be published within short.
Next weekend we are gathering again to race at Gold Town Nationals at Fällfors Raceway, just 54 kilometers away from Pite Dragway.