Moottoriurheilukeskus Alastaro Circuit, some highlights and notable events
The FHRA Nitro Nationals is always special, and this year's edition was no exception. Duncan Micallef and Bengt Ljungdahl each won their second consecutive race. For Timo Habermann is was his first victory of the season, and for Åke Persson his maiden win in the FIA European Drag Racing Championship. All four drivers deserved their wins as they were both quick and consistent in their respective categories during eliminations.
Of course the long delays on Friday and Saturday were a black mark against the event, but eliminations were much better and the great weather, Timo Habermann's 5.33 seconds and Michael Gullqvist's 5.88 seconds elapsed times were also highlights worth mentioning. The qualifying and eliminations reports and results were published on the Dragracingeurope.eu website during the event. In this article we look back at some highlights and notable events that happened at Alastaro during the FHRA Nitro Nationals, round three of the FIA European Drag Racing Championship.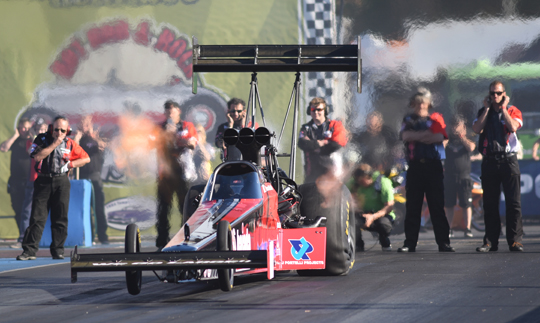 In Top Fuel, Duncan Micallef won his second consecutive race. The Tierp Internationals was the Maltese driver's first FIA European Championship victory, but Micallef had to wait only two weeks to collect win number two. The Rune Fjeld Motorsport driver was the most consistent driver in eliminations and defeated all his most important rivals in the championship to extend his lead to 52 points over Antti Horto and 57 points over Stig Neergaard.
In Top Methanol Timo Habermann was in a class of his own in eliminations. The German former FIA European champion started with 5.39 seconds in qualifying, improved to 5.35 seconds in his semifinal against Jonny Lagg, to save the best for the last with a winning 5.33 seconds in the final. Timo Habermann is also the new number one in the championship, with Dennis Habermann in second position, only 8 points short of his brother.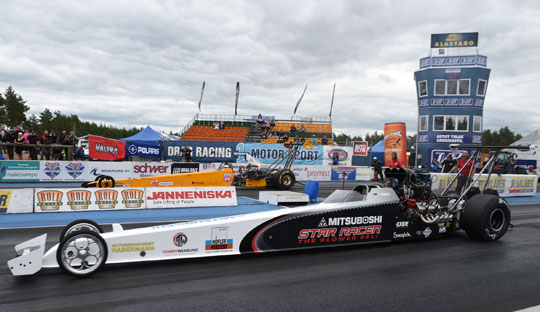 In Pro Modified Åke Persson won his first ever FIA European Championship race. After defeating favourite Michael Gullqvist in the semifinal, the Swede had to face David Vegter in the final. The Dutch racer once again proved his great form with 6.04 and 6.02-second elapsed times in qualifying and one 6.02 and two 6.03-second runs in eliminations. A great and close final was to come, but unfortunately Vegter hurt the converter of his Camaro in the semifinal and couldn't start in the final, handing the win to Persson in his Jonnie Lindberg tuned Camaro.
In Pro Stock the Alastaro final was a copy of the Tierp Internationals final. Bengt Ljungdahl had to face Stefan Ernryd again, but there was no revenge for the Dodge driver as he ran into problems, pulled a red light and handed the win to Ljungdahl.
It's a Finnish tradition that the winners get dunked in a water barrel. Duncan Micallef also had to experience this tradition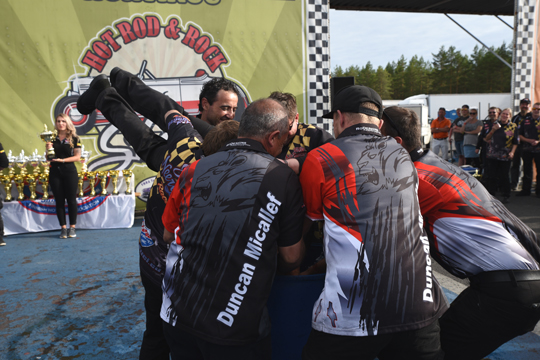 and Timo Habermann too
while Bengt Ljungdahl was helped by David Vegter's crew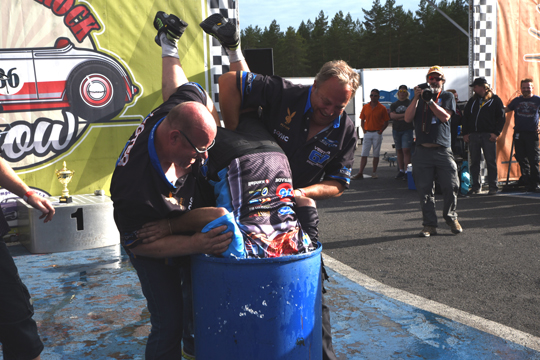 The winners take it all. Duncan Micallef and Timo Habermann, still enjoying their wins.
When you see this road sign, you know you are almost there.
Like most places in Finland, Alastaro Circuit is located in the middle of the forest. To be close to the track, you can stay on a farm, just outside the city of Alastaro. A lovely place with animals all around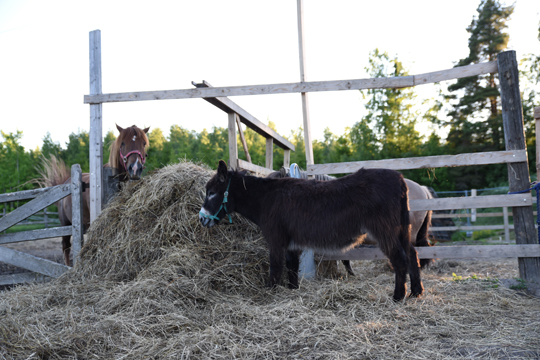 or you can stay in one of the many cottages, in walking distance to the track. Nothing reminds you there is a race track so close by.
One of the charms of Alastaro, the drivers coming back from their run and getting the applause of the crowd.
Liam Jones can still smile.
But Anita Mäkelä and her husband Tommi Haapanen look worried
Anita Mäkelä has enough wheels and tyres to make drag racing look like an endurance race.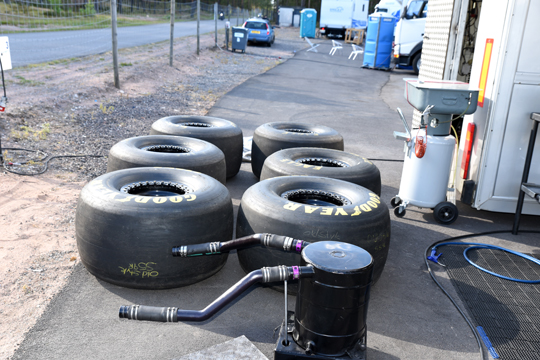 While Rune Fjeld has enough nitro for three cars.
David Vegter is also the tuner of the PTTM Drag Racing Camaro this season. The laptop to make the final adjustments is never far away, even when the car is in the pairing lanes.
Nice try, but you will never win this.
Mikael Larsson was a happy man at Alastaro. "We defeated Timo Habermann in Tierp and then lost against Dennis. Now we beat Dennis and lost against Timo. So far it's a bit too much to beat two Habermanns in one race, but we will do that at Hockenheim."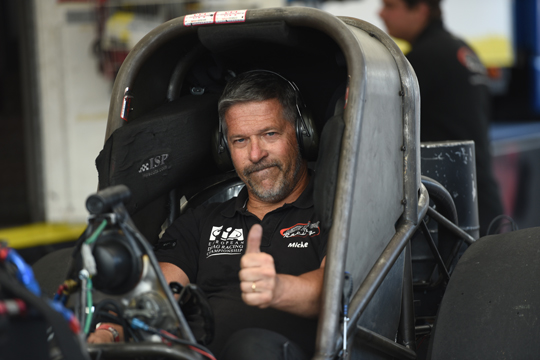 Speedgroup was on site for assistance and to provide the teams with the decals they needed.
Happiness at the start line, you can never have enough of it. The Vegter crew
and the Habermann team. Finally into the 5.3 seconds again.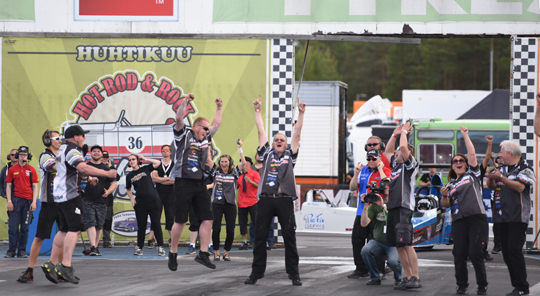 Ski jumping legend Janne Ahonen had his first race of the season.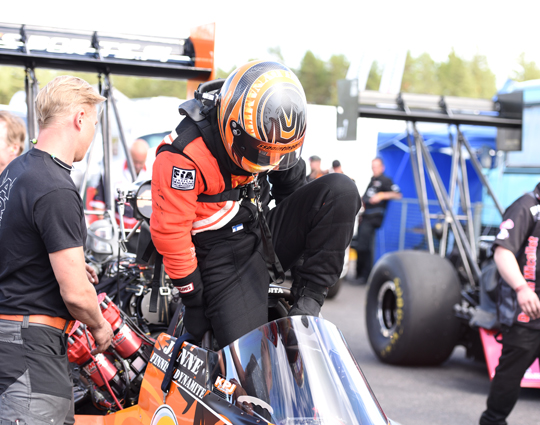 And as in all teams, folding the parachute is the driver's job.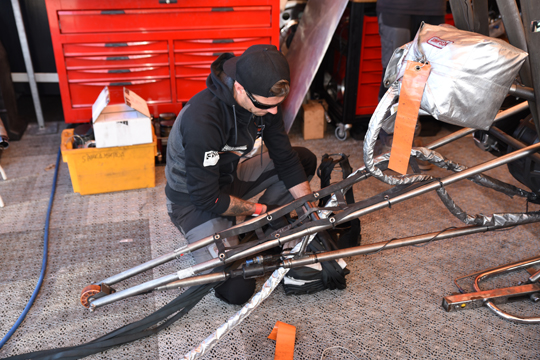 Bad luck for Bruno Bader so far this season. The Swiss driver hurt an engine at Tierp and had to swap engines on Thursday.
Because Norbert Kuno was not at Alastaro, Hussain Al-Shammari had to rent a bus to make it to the track. Oversized bus or a small tent? A strange looking combination.
In case you forget, write it down!
Anita Mäkelä's crew in great tension. Will it hold? And after four seconds, the work starts all over again!
A nice couple, Anita Mäkelä and Liam Jones . That's drag racing; rivals on the track, friends in the pits.
Stig Neergaard warms up the engine in an impermeable fog. You still want to know why they wear gas masks?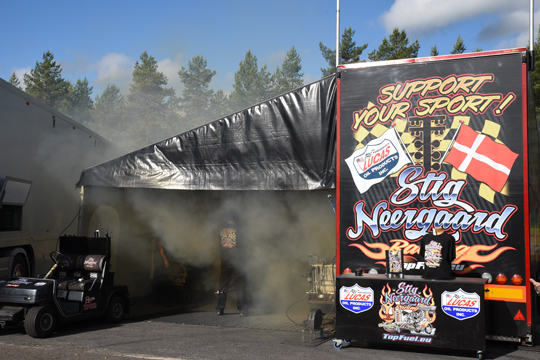 But no sign of fog when Anita Mäkelä warms up the engine.
Being a mechanic can be tough.
Nitro check in the line-up
The Alastaro pits is not as big as at Tierp Arena, so when you are late, it's a tough job to reach your parking spot.
Ari Pietilä needed a new windscreen. On Thursday the crew cut a new one and fixed it.
The score board that caused confusion and made some people smile. A 3.75 seconds elapsed time was too good to be true, and the 46 km/h should have made the alarm bells ring that there was something wrong.