Speedy weekend at Midnight Sun Dragfestval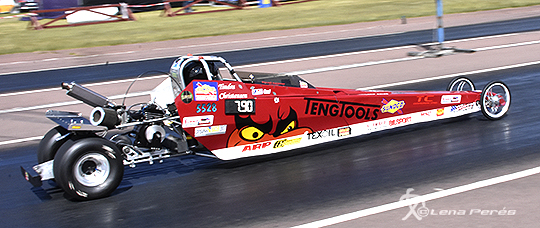 Tindra Christensen are right now at the top of the Jr Dragster Central division tabel. 
Almost half the Summit Racing EDRS series is already done . And this weekend it´s Piteå Dragway and Midnight Sun Dragfestival in the very north of Sweden, who is the host of Summit Racing EDRS Series. Big Junior Dragster field wiht the topdrivers in both divisions, and the top teams in Top Doorslammer are also on sight. This going to be a speedy weekend!
Fanny Olsson in the top of then North Division of Jr Dragster
25 Juniordragsters  is registerd, which give an idé of some hard racing comming up beween the youngsters this event. Tindra Christensen who is in the lead of Jr Dragster Central have signed in, and Felicia Olsson who is in the top of Jr Dragster North is also on site. They fighting about point in both Summit Racing EDRS Series points as well as Swedish Championship point, as well as the teams in Competition and Stock/Super Stock. Junior Drag Bike top leader in the Summit Racing EDRS Series tabel, Tim Christensen, is also on site to defend his points.
Tim Christensen in the leading the Jr Dragbike tabel
Victor Jansson leader in TD Before Midnight Sun Festival
Roffe Berglund who is involved in the event, and going to race there as well, welcomes all and everyone to great racing:
"It looks like the weather will be sunny whole weekend, he says. The track have had all the treatment we could give it, and it looks very nice. 107 teams have signed in, so it's like the past few years. In TD we got strong names like Victor Jansson, Rimbert Wahlström and Andreas Sjödin who is in the top of the tabel. Warmly welcome to a fast weekend at Piteå Raceway"