Rimbert took the win in Sundsvall
Top Doorslammer had their third Summit Racing EDRS Series round last weekend at Sundsvall Raceway and Rimbert Wahström was on top and eager to take points on Victor Jansson and Andreas Sjödin. And he managed to come up in between this two guys.
Rimbert took the event win over Victor and by that Andreas slides down to number three in the list, now just 17 points behind Rimbert and 45 points behind Victor. Victor is hard to beat but still there is chances to take point on him. Tommy Edström at Sundsvalls Raceway summarize the event:
"It was tough racing in three days of sunshine and really hot weather! Eight TD teams fought to find the right adjustments and fast 60 foot times and good conditions promised fast times, but no three-second runs came up.
Rimbert managed best with his 4.05s and also managed to win over Victor Jansson in a very tight final, 4,153s against Victors 4,236s. The rookies in the class, Anders Edh and Niklas Södergren, did good numbers and fast 60 foot times, and is well-functioning teams and cars. We hope they will continue in TD as they really fits in the class!
Joakim Andersson from Kumla completed his license in his C-4 Explosive TD Corvette with Pierre Rydberg's old compressor machine this weekend, with very good results. He has previously run Pro Street but looking forward to race in TD now.
Two event left, Piteå next weekend and then back to  the Finals at Sundsvall Raceway in August.
Q1                                                Winner                               RU
Rimberg Wahlström                 Rimbert Wahlström       Victor Jansson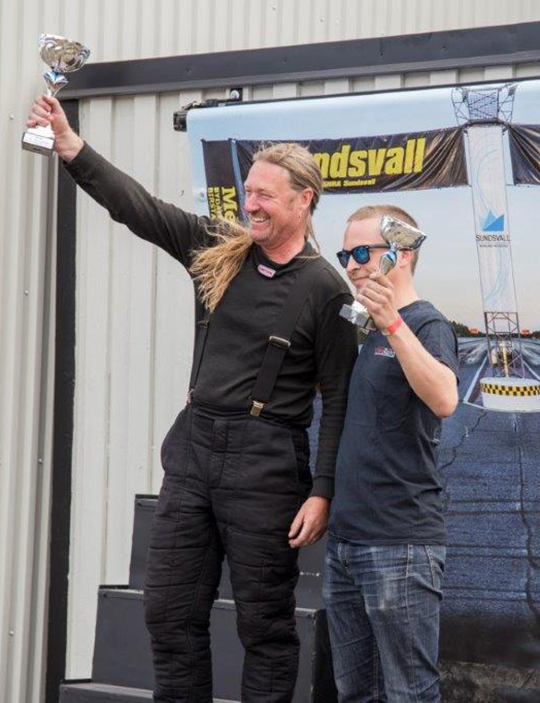 Photo cred: Sundsvalls Raceway