The Tierp Internationals, some highlights and notable events
The Tierp Internationals had everything that makes drag racing so interesting. After the rain shortened opening round at Santa Pod, round two of the FIA European Drag Racing Championship finished without any problems and with large numbers of entrants in all classes, exciting races, great elapsed times, a new European record and a rookie winning his first FIA race all made the Tierp Internationals a great event. The qualifying and eliminations results were published on the Dragracingeurope.com website during the event, and all details can always be reviewed in the excellent live coverage on Eurodragster.com. In this article we look back at some highlights and notable events that happened at Tierp Arena.
In Top Fuel there were no fewer than four drivers in qualifying with 3.9-second elapsed times, and in eliminations Mikael Kågered was the fifth driver in one event to break the 4-second barrier. But star of the show was of course Duncan Micallef, as the Maltese Rune Fjeld Motorsport driver won his first Top Fuel race after coming very close several times.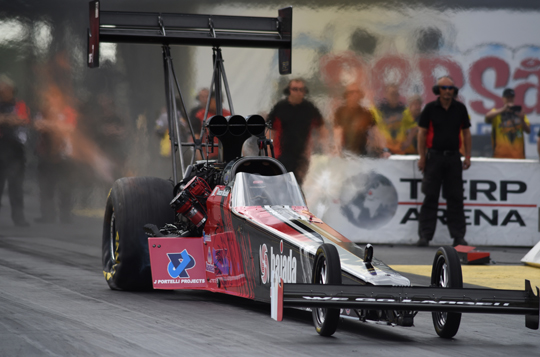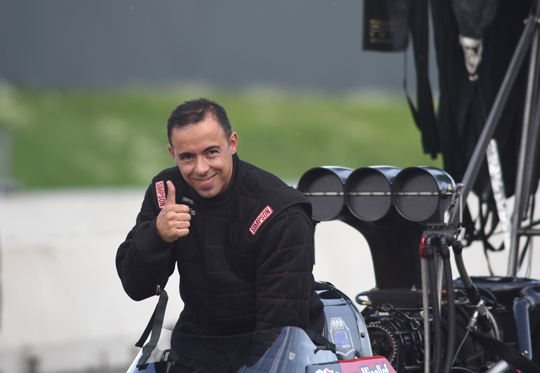 Where Micallef had to wait a few years, Sandro Bellio proved it is also possible to win your first ever FIA race. The Belgian second generation Top Methanol Funny Car driver completed his licencing procedure at Santa Pod and made his competition debut at Tierp. After years of struggling, everything fell into place for the Belgian family-run team. With a string of 5.5-second passes and a personal best of 5.52 seconds, Bellio won his first FIA Top Methanol race, beating reigning TMD champion Jonny Lagg and former champion Dennis Habermann. It only took Bellio one race to become one of the fastest TMFC drivers in Europe.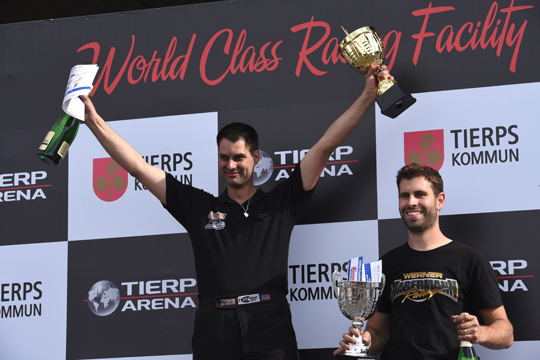 Michael Gullqvist is hard to beat at Tierp Arena. The reigning FIA European Pro Mod champion was the number one qualifier (5.90 seconds) and reset the European record to 5.836 seconds in the final, to beat Åke Persson. Gullqvist is also the new leader in the championship.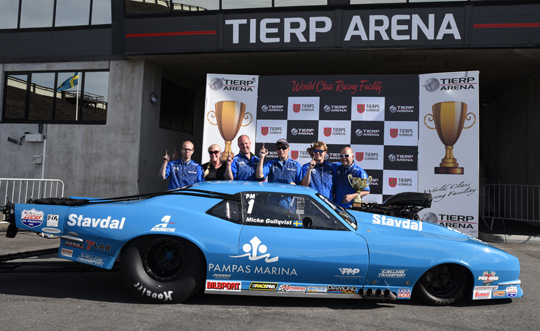 With four drivers in the 5.9 seconds zone, Pro Modified qualifying was exciting. David Vegter had one of his best weekends ever. After two 6.1-second qualifying passes, the PTTM Drag Racing driver recorded a 5.99 and 5.98 seconds in Saturday qualifying and went on with 5.98; 5.956 (new personal best) and 5.96 seconds in eliminations. Five 5.9-second runs in a row, a fear few other drivers have matched.
In Pro Stock, Bengt Ljungdahl was both quick and consistent. Last year's runner-up impressed in qualifying with a 6.52 seconds elapsed time to retake the lead from Jimmy Ålund. When the 10-time FIA European Pro Stock champion was hit by tyre shake in the first round and defeated by Magnus Petersson, Ljungdahl knew the victory at Tierp was a major step closer. Although the rest of the Pro Stock field was  closely matched and the Tierp Internationals had one of the best and strongest Pro Stock fields ever seen in Europe, Ljungdahl was too quick for them and took the win.
Anita Mäkelä suffered a massive engine explosion in qualifying on Friday. There was a lot of damage to the engine and a far too long list of other parts.
The FIA held an interesting anti-doping education session on Thursday evening. Sandra Camargo, FIA Head of Medical Affairs, informed the drivers also about the risks of prohibited substances in medicine.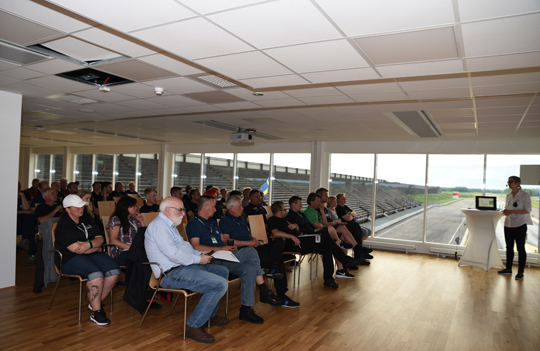 And the next day Pelle Lindelöw and Liam Jones told Sandra a few of the secrets of Top Fuel racing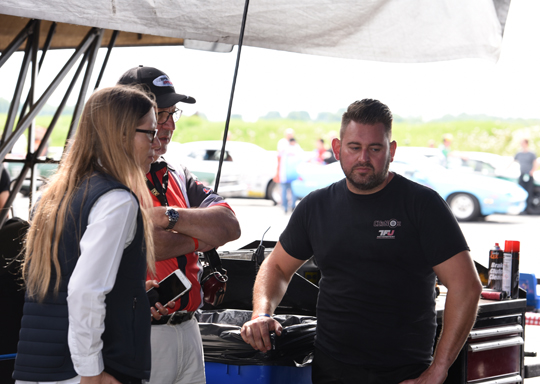 Eurodragster.com was onside to do their great live coverage of the Tierp Internationals. Andy Rogers, the driving force behind the website, and the photographers for the Tierp weekend, Grace Roaf and Elisabeth Jonsson Viklund Nattskugga. Not in this picture, Simon Groves, who did all the pit notes for Eurodragster.com again.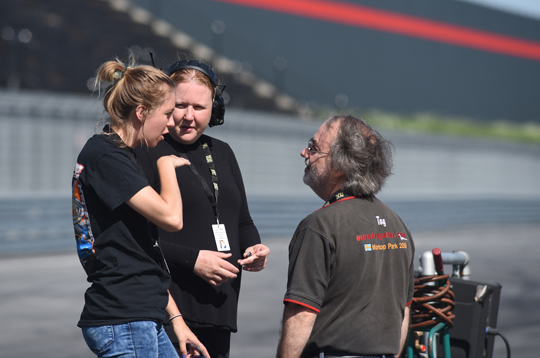 Liam Jones had a good reason to smile after a new personal best of 3.91 seconds. The British Rune Fjeld Motorsport driver was the number one qualifier for a few minutes, but Anita Mäkelä was in the next pair and took the lead with a 3.900 seconds elapsed time.
That's what tyre shake can do, lift the rear wheel. Kim Kristiansen from Denmark impressed with 6.05 seconds and the number six qualifying position.
Body language. Anita Mäkelä back from her 3.900 seconds qualifying pass…..
and after her first round exit against Stig Neergaard
That is also Tierp Arena, the road to the gate. No sign of a busy and noisy race track
Happiness at the start line, you can never have enough of it. The Bellio family had reasons for joy
And the Vegter crew as well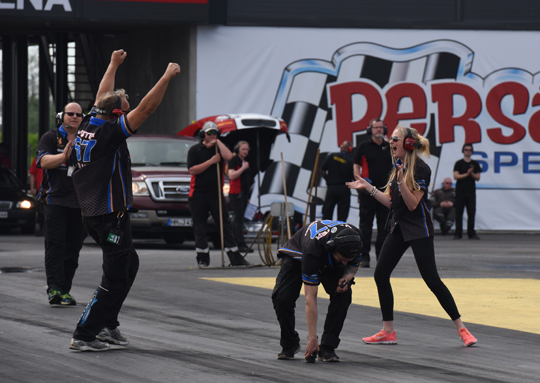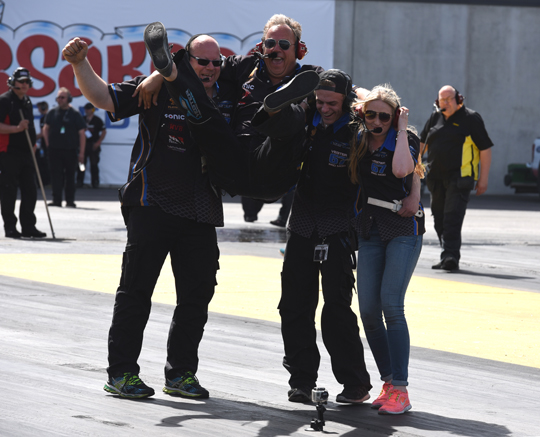 The only water we want to see at a drag race, water to drink!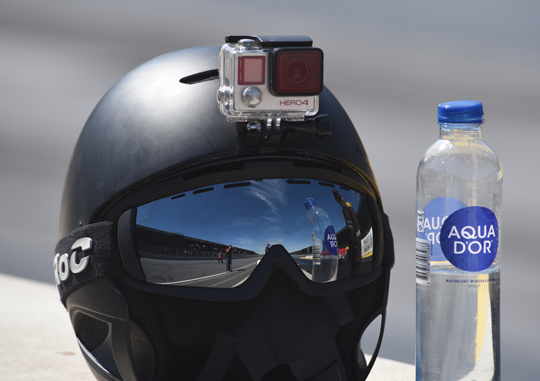 Jimmy Ålund made history in Friday qualifying by being the number one qualifier in Pro Stock and Pro Modified as well. After Saturday qualifying the 10-time champion was second in both categories.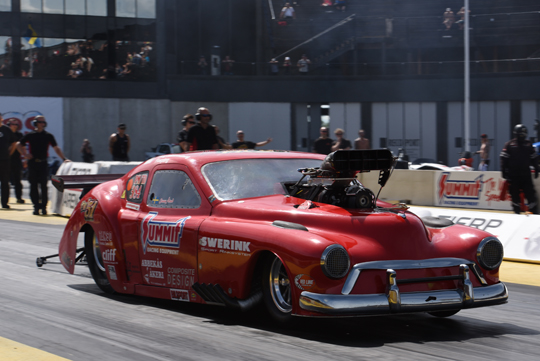 Linn Engan Karlsen made her FIA European Top Methanol debut. The young Norwegian driver did very well with a 5.9 seconds in qualifying and 5.86 seconds in eliminations. She looked very comfortable in the ex-Arvid Grødem Mustang.