Speedgroup went to Custom Bike Show Norrtälje
Custom Bike Show in Norrtälje Sweden, is one of our new events where Speedgroup  promotes drag racing. A great event organised in Norrtäljes Socitetspark just by Norrtäljeviken where a lot of performances were presented on both water and land.
For the 43rd time Custom Bike Show was arranged by Twin Club MC Norrtelje and about 230 exhibitors was on site and about 9000 visitors showed up at this folkfestival that attrakt all from families to bikers. Great weather made the day to the very best.
Åsa Kinnemar, Mikael Alfredsson and Lena Perés from Speedgroup was on site to talk about dragracing, and to see that Summit Racing decals was spread among the visitors. Just by our side Swecomposite Kenneth Holmbergs Pro Stock Bike was on show, and was fired up a couple of times during the day. A lots of visitors stopped by and made a big interest to the bike and dragracing.
Speedgroup did also support the the eight categories in the prizegiving cremony, with giftcards and a issue of the Speedgroup Magazine, that was present in the afternoon.
We also had some help with the promotion of drag racing by Speed Group board member and Super Twin Top Fuel Bike rider Charlie Karling, who here is in company of his granddaughter Liv.
Custom Bike Show is one of the biggest event in Scandinavia when it comes to bike builders and collects very skilled  builders. 8 winners was from Sweden and the other three came from Finland. A very pleassent day that offered snowmobile show on unfrozen water, bikeshows in a methal cage, a lots of music, among others we found Doug Seeger and Stacie Collins from US who also played later in the evening at Twin Club MCs club house.
One of tree bikes who is going to the World Championship in bike building in Cologne, Germany later this year.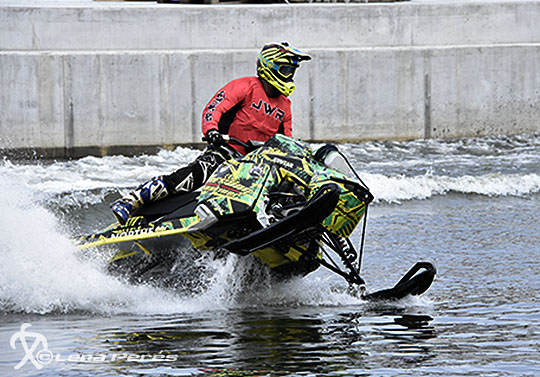 Snowmobile on water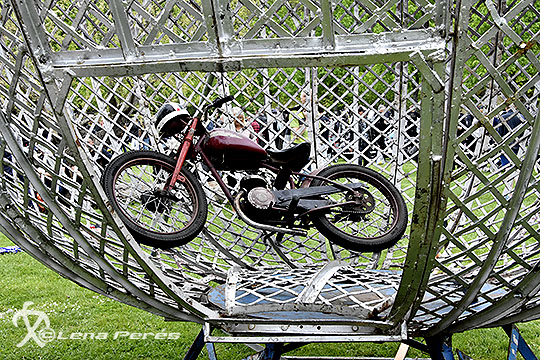 Bikeride in a steelcage like in the old days.