The Main Event from a different point of view
The FIA European Drag Racing Championship kicked off with the traditional Main Event at Santa Pod Raceway. After two great days of qualifying with sunshine and summer temperatures, mother nature had other ideas for elimination day, and before the semi-finals arrived, rain brought an early end to The Main Event. But looking at the competition in all classes, the elapsed times so early in the season, and some new young drivers making their licencing passes, it seems like we have a great season ahead of us. The qualifying and eliminations results were published on Dragracing Europe during the event, and all details can always be reviewed in the excellent live coverage on Eurodragster.com. In this article we look back at some other interesting things that happened during The Main Event at Santa Pod Raceway.
This is what you don't want to see at a drag race. The first sign of rain.
There was a one minute silence in memory of the Manchester victims. An impressive moment at a normally hectic and noisy  venue.
Clutch disk work…….
….and when you are ready, we have some more to do…
If there had been an award for 'best appearing car' it would definitely have been won by the Voodoo Hemi Racing '70 Plymouth Superbird of Marck Harteveld. The paint job, the details, everything on this car is awesome.
Santa Pod Raceway also suffers from horizon pollution.
Jndia Erbacher, 22-year-old daughter of multiple FIA European champion Urs Erbacher impressed with two licencing runs. To say she was excited is an understatement, and daddy was proud and happy too. How long will it take her to convince her father that the dragster is now hers?
A moment to relax.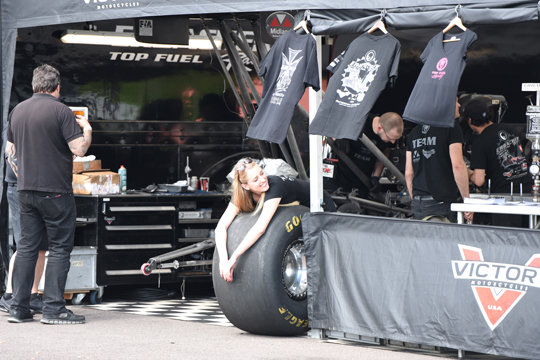 Jndia Erbacher will have to do at least one more licence run. Sandro Bellio completed his licencing procedure with some impressive runs. In his last full pass the 31-year-old son of Danny Bellio recorded an elapsed time of 5.84 seconds. In qualifying that would have put him behind the Habermann brothers in third position!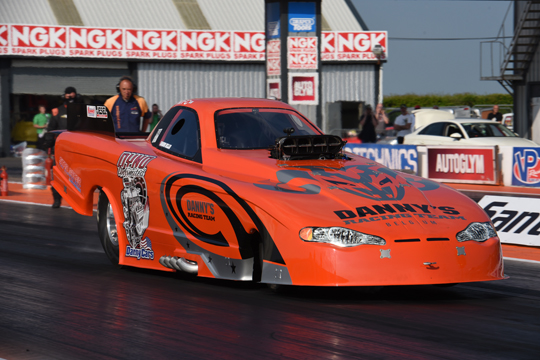 The youngest driver to make his licence passes was 17-year-old Petteri Liimatainen. This Finnish youngster impressed with some great runs as well. Three new young drivers with a bright future ahead of them is great for the sport!
Sometimes it's interesting to see the world from another perspective.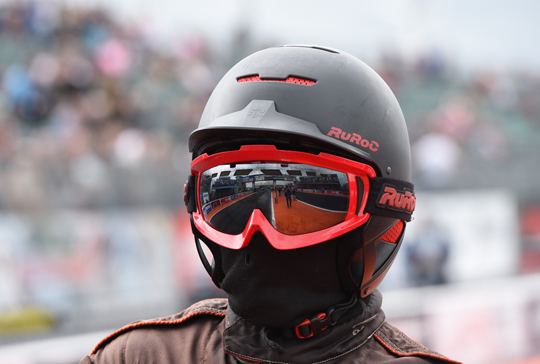 A relaxed Bruno Bader, waiting in the line-up to face Michael Gullqvist.
Starting this season the Top Methanol Funny Cars and Top Methanol Dragsters race together in one Top Methanol category. This is the first elimination run between a Funny Car (Stephanie Milam) and Dragster (Jonny Lagg) in this new era. The Funny Car will go into the history books as the first winner of this confrontation.
That's drag racing – meet your heroes in the pits, buy a T-shirt and get it from the hero herself.
With support from Mitsuboshi Star Racer blower belts, the Werner Habermann Racing operation looks fantastic. But the difference between Dennis' and Timo's car is hard to see. Dennis has a thick red coloured stripe, where Timo has a thick black stripe. But to see that when they're running at 260 mph side-by-side……..
Liam Jones had more than one reason to smile. The Rune Fjeld Motorsport TFJ driver was the first to a 3-second pass this season, claimed the number one qualifying position, advanced to the semi-finals and is leading the FIA European Top Fuel Championship.
Computers, computers and once again computers. Where would drag racing be without them?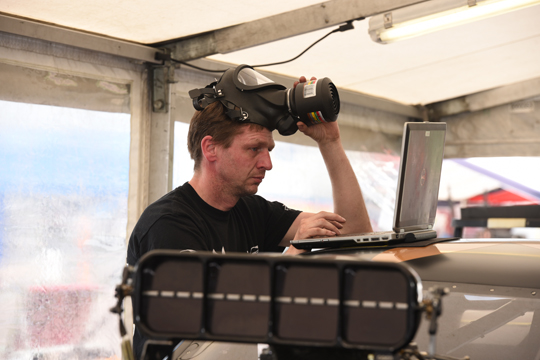 To run three Top Fuelers, you need more than one barrel of nitro.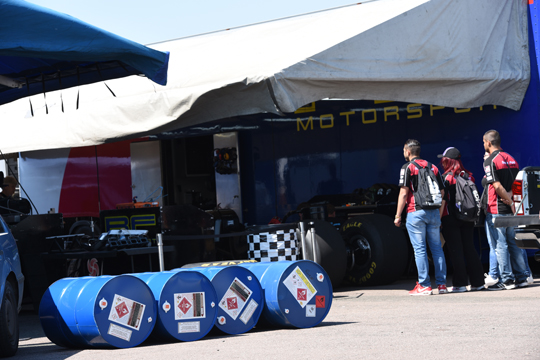 Nothing can beat the smell of nitro in the morning.
When you race with nitro, you might need some spare engine blocks.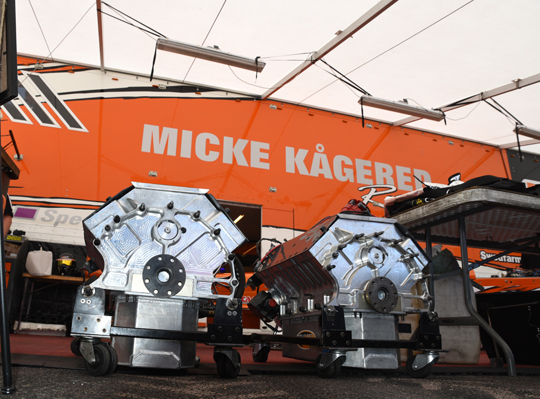 Synchronized parachute folding.
What a difference a day makes. Duncan Micallef was the number two qualifier after day one, but was in seventh position at the end of day two. Then, one day later, the Maltese driver was back on top again as he defeated Anita Mäkelä in eliminations, running 3.99 seconds at 302 mph.
British Motorsport University students got a tour around the Santa Pod pit area and were told the details of a 9,000 bhp Top Fuel engine.