TMFC debut for Sandro Bellio at The Main Event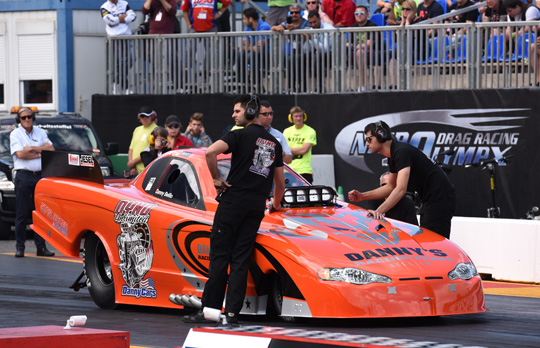 There is bad news and good news from Danny's Racing Team, the Belgian Top Methanol Funny Car team that take part in the FIA European Drag Racing Championship. The bad news is that Danny Bellio is unable to drive the family's Chevrolet Monte Carlo at next week's Main Event. But the good news is that the team will be at Santa Pod Raceway and a replacement driver was found not far away from home. Danny's son Sandro Bellio will make his TMFC debut next week and if everything goes according to plan, he will compete in almost all rounds of the 2017 FIA European Top Methanol Championship.
After a one season break in 2015 and only a few races in 2016, Danny Bellio and the family's Danny's Racing Team wanted to be on track in 2017 and compete in (almost) all rounds of the FIA European Top Methanol Championship. Danny Bellio had to undergo surgery last November and thought he would be ready in time for the new season. "Things went much slower than expected and I hoped for. I don't feel good and strong enough to handle a 3,500 bhp Funny Car, so it's better to let someone else drive the car," said Danny Bellio about the situation.
The good news is that the team didn't have to look that far away from home to find a new driver, as Danny's 31-year-old son Sandro is an experienced Super Pro ET Funny Car driver. Thus the decision was made to let Sandro replace his dad behind the wheel of the family's Chevrolet Monte Carlo. As far as it looks right now, Sandro will be in the car at all FIA European Championship races the team had on the calendar so far. Sandro will try to do all the necessary licence runs on Thursday May 25, the Pro Peak Performance Test and Tune Day at Santa Pod Raceway, so he can make his championship debut in qualifying for The Main Event.