A sneak peek at Perkas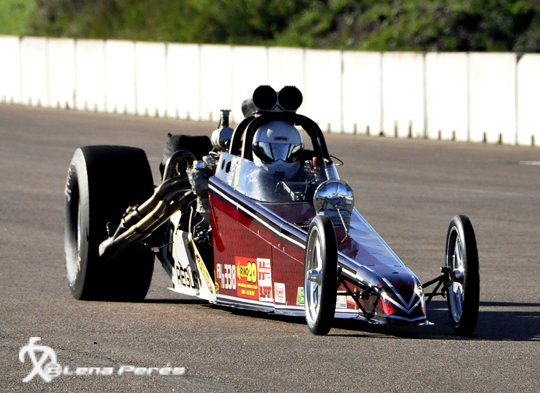 We got a sneak peak in PerErik "Perka" Lindgrens workshop in Piteå, the very North of Sweden, and it's a lot happening here. The white cool Altered he have had for decades is gone, and the dragster he won last year's Swedish Championship and EDRS series with is also gone. And what more is, he has sold his old Scania truck! So, what´s happening then! Is he quitting racing or has he got totaly nuts?
None of this. Perka is building a new race car and this time the model is Oldsmobile Cutlass that he bought from Jacki Hansen. Under the hood we do find equipment's from the Competition Altered, like engine and gearbox. So he haven't totally given up the old friend.
–          I will compete in the same class as before, Competition DB/A with at 400 kg/l displacement, tells Perka. I got some different gearings but this is what I´m going to use at start.
Perka loved the old Altered in both design and to drive it. But last time he crashed it he felt that this was enough with this car.
–          I did two crashes with it and after the first one I had problems to get it down the strip right, he tells. And after the last one at Tierp a few years ago I felt that we were kind of ready to split up. So I sold it. I loved every season of the  years I have been racing the car and we have had a lot of fun together. But now a new era is here and the Olds is going to be fun to take down the strip.
Else there is a big news for Perka! He has change brand on the truck! Went from his old armour-bearer Scania 1981 to a Volvo FH 12 from 1998.
–          Now we don't have to freeze our butts off when we stop by the road, he says with a smile. The Volvo has a nice heater in the truck-cab, witch the Scania didn't have. And it has this modern stuff as digital cruise-control, so now my legs won't be stiff during all this long driving's we must do now and then from up here in the very north of Sweden.
Perka is, except from racing his new Competition Olds, continuing racing the Stock/Super Stock Pontiac GTO at some events.
–          I will take it to Fällfors and Piteå at first, he tells. Then we will see, if I do good there we might take it to Sundsvall and Tierp. It's hopefully going to be an exciting and good season.
Text: Lena Perés
Photo: Per Erik Lindgren/Patrik Jacobsson/Lena Perés