Wagenius Racing Team promote drag racing at MC-messen 2017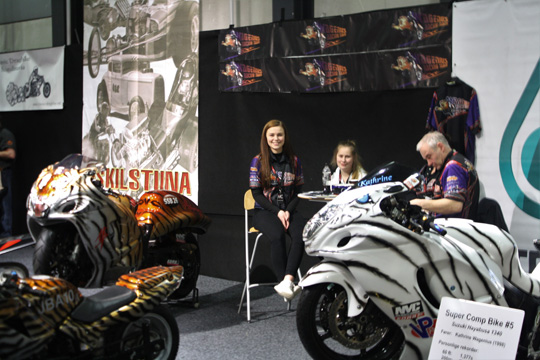 It's not just for their performance on the dragstrip that Dag and Kathrine Wagenius attract so much attention, it's also the striking tiger-paint scheme on their motorcycles and their enthusiasm for the sport. And those last two things made father and daughter Wagenius eye catchers at the MC-messen, where the Super Street Bike and Super Comp Bike rider also revealed their plans for the 2017 EDRS Pro Nordic Motorcycle Championship.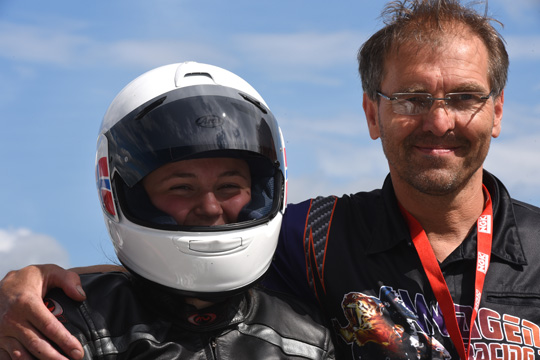 "The weekend of March 11th and 12th , my dad and I put our bikes on display at 'MC-messen 2017', which is a trade fair for motorcycles in Lillestrøm, Norway," Kathrine Wagenius said. The 18-year-old daughter of Super Street Bike rider Dag Wagenius, rides the Super Comp Bike of Wagenius Racing Team.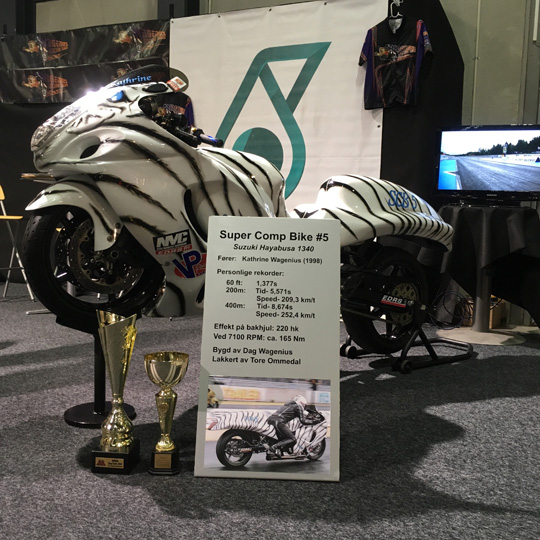 "Before we came there, it felt like we were preparing for a race. There were  so many things to do, including a lot of cleaning and polishing. At the trade fair we talked to so many people, and our tiger-painted motorcycles attracted a lot of attention. We brought along one of my junior bikes, which was very amusing for all the children at the trade fair. As so many people seemed to be interested in our bikes and our sport, we hope that we have been able to attract some more spectators to the race track for this season. It was funny to show our bikes, team and sport in a different way than we can usually do, and we thank Kjetil Hammeren for the opportunity!"
Dag and Kathrine know what their plans for the 2017 season are. "We will go for the EDRS Pro Nordic Motorcycle Championship. In addition, we will be racing all the events at Gardermoen Raceway. If Dad's bike is good, maybe he will also go to the Hockenheimring for the NitrOlympX, August 18-20. Dad is almost done with setting up his motor, so then it's just 'everything else' left before the season. As he was out for almost the whole racing season last year, he is very excited to come back and race a full season now. What he did when he was back after the injury was very good, so he will be working further on that. I'm waiting for new pistons with higher compression for my bike, and when I have changed them, my bike will be race ready for a new season in Super Comp Bike. After I lost the third place in the EDRS Pro Nordic MC by only one point last year, I'm really craving for revenge now. And last but not least, let it be a racing season without rain and bad weather please!"