SFI Foundation re-certification in The Netherlands
The 2017 European SFI re-certification tour kicked off today in Heemskerk, The Netherlands. Racers and team members from at least four different countries travelled to the Dutch Hot Rod Association headquarters in Heemskerk, located less than 30 minutes from Schiphol Airport, to re-certify wheels, bell housings, clutches and flywheel shields, to be race ready for the fast approaching 2017 season.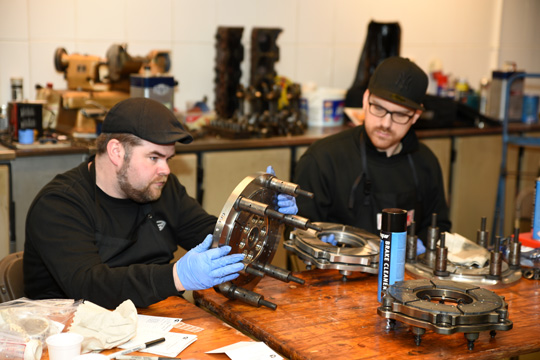 When the office opened at 8 am, there was already one car waiting. The owner was Mehmet Filiz of Infinity Transport, all the way from Switzerland, with a truck load of parts from Erbacher Racing. With his company Infinity Transport, Filiz will support Urs and Jndia Erbacher this season. "I've known the Erbacher family for quite a while now and like what they are doing. The decal of my company was on the car during the 2016 NitrOlympX and we had a great time in Hockenheim. The name Infinity will be on the Top Fueler and A/Fueler the whole season now," said Filiz.
Both Urs and Jndia are planning to do the whole FIA European Championship tour this season. Filiz had wheels, clutches and numerous other parts from the Erbacher team and two other Swiss racers in this truck.
Crew members from Timo Habermann arrived early in the morning as well, and the same was true of Top Methanol Funny Car racer Jürgen Nagel. From what we understand, both Habermann brothers will also do the full FIA European Championship tour.
From The Netherlands there was Pro Mod driver Michel Tooren, who had a clutch and bell housing for re-certification. Also from The Netherlands was Roel van den Hout, owner of the former Marc Meihuizen Pro Mod '37 Chevrolet Business Coupe, now entered in Super Pro ET and Sportsman racers Kenneth Celestin and Willy Reerink.
Dick Koster, since early February a full time employee of Post & Dros Racing Engines & Parts, and well known for his Racepak and MSD trackside support service at all FIA European Drag Racing Championship races, was in Heemskerk with parts from Pro Mod driver Marck Harteveld and two German racers.
Almost the last one to arrive was Sandro Bellio, who had an accident on his way to Heemskerk and made it just in time thanks to the help of Super Pro ET racer John Gerritsen. Sandro had some parts from the family's Top Methanol and Super Pro ET Funny Cars.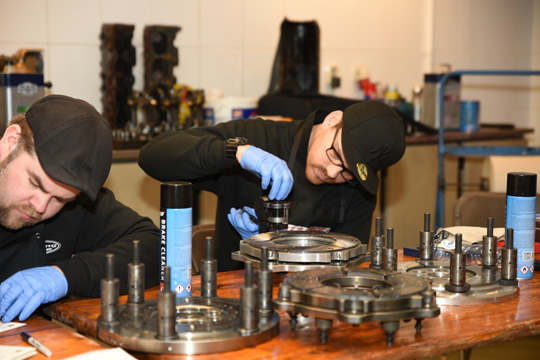 At 12 o'clock sharp the SFI crew of Arnie Kuhns, Jennifer Faye, Andy and Luke Robinson and Lars-Göran (LG) Eriksson left the DHRA headquarters as they had to be in time at Schiphol Airport for their flight to Finland. Tomorrow, the SFI re-certification tour continues at the FHRA office in Helsinki. Then they will travel to Persåkers Speed Shop, Åkers Styckebruk, Sweden (Saturday 18th March) and the tour will finish on Monday 20th March at Santa Pod Raceway.