Kristin Hegre steps into the Super Twin footsteps of her son Jan Sturla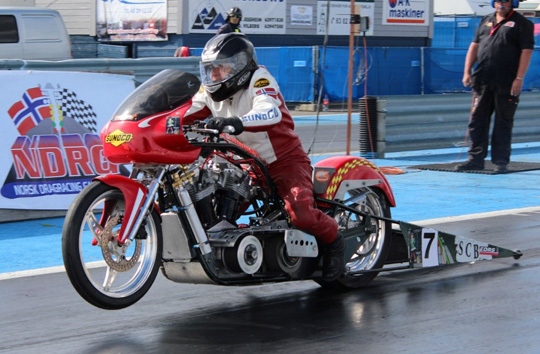 The name Hegre is nothing special in Super Twin Motorcycle, you're tempted to say, as Jan Sturla, although focussing on the Uggerud Brothers Top Fuel Motorcycle in recent years, is a familiar name in this spectacular category. But this time it's not Jan Sturla, but Kristin Hegre who will enter the Super Twin Motorcycle class in the EDRS Pro Nordic Motorcycle Championship. "I'm really excited about this opportunity and it would be a dream come true to race against Anna-Lena Asplund, as that would be the first all-female Super Twin race," said Kristin Hegre about her 2017 season.
It's pretty normal that, when one of the parents is involved in drag racing, at least one of the kids follow in their footsteps and start a racing career themselves. But in the Hegre family, it is the other way around. "My best friends have been racing for several years and when they got my son Jan Sturla involved in racing, I couldn't just watch, so they talked me into trying it too," said the now 54 year old Kristin, who lives on a farm in Lena, Toten, Norway, and is a mother of three grown up children.
"I got my licence in 2004. Like many others, I started with my street bike, and I loved it. But in 2007 I was diagnosed with cancer. After surgery and chemo they told me that I had good prognoses, so that was the moment I decided to buy a drag bike from the USA. Life is too short not to try to make the best of it. With the help of Svein Olav Rolfstad I got a bike built by Willie, the fastest Amish," said Kristin about the start of her drag racers life and who has, besides drag racing, cooking and being outdoors as hobbies, and has just started climbing as well.
"At the last race of the 2016 season, I got the opportunity to do the licence runs for Super Twin Motorcycle when Erling Opheim let me use his bike. And what a feeling! I was not able to talk afterwards because the adrenalin just dried out my mouth," Kristin still remembered the first runs. "I think almost all Harley-racers have a little dream to ride a Super Twin, at least, I know I had. And I like the good friendship in the class. Jan Sturla will let me race his Super Twin Motorcycle, as he will race the Uggerud Brothers Top Fuel Motorcycle again. I'll get help from Alf Nettum, he will be my crew chief. Alf was with Jan Sturla before. And Jan Sturla will help me with the tuning when he is not busy with the Uggerud brothers. This is also the case with Ingar Nettum, who is with Svein Olav Rolfstad. Ingar will also help me with the mechanics when he has time. Monica Børresen and Ingrid Thomsen will also be part of my team, in the preparations and at the track as well."
And what are the expectations for the first EDRS Pro Nordic MC Super Twin Motorcycle season? "First and foremost, I want to get to know and get used to the bike. I will start the season at Gardermoen and hope to be ready for Alastaro, because they are so nice there. Of course it would be very nice to touch the 6 seconds. And a dream would come true to race against Anna-Lena Asplund, because that would be the first time ever that two women would race each other in Super Twin Motorcycle!"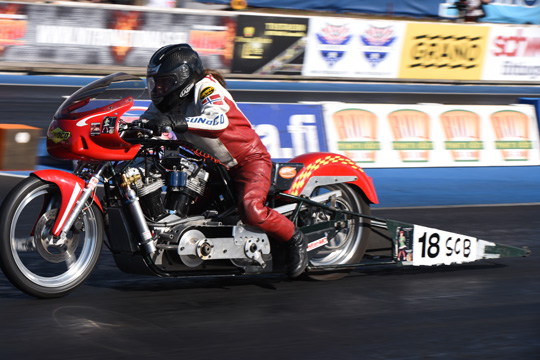 Although she enjoys every race she can go to, as a real Norwegian, Gardermoen is of course her favourite track. "Because the people there are working so hard for all of us racers and still have a good mood and are always so nice to all of us," said Kristin, who gets sponsorship and support from Gary and Mary Hofman from California. "So far, I don't have any other sponsors, but anyone who wants to support us, you're more than welcome and please contact me." And a final thing Kristin would like to say? "I got extraordinary help from everybody around me, from mechanics to other riders and the organizers of the races, ever since I started racing. I am very grateful for that and would like to thank them all so much."
Photos Super Comp Bike: Ann-Chatrin Rudolfsen and Remco Scheelings
Photos Super Twin Motorcycle: Patrik Jacobsson and Remco Scheelings