Åby Motorklubbs Dragracing market – the wake up call for drag racers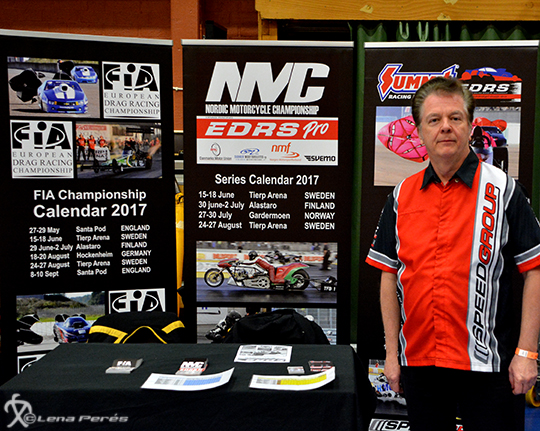 Carl-Erik Kihlman and Lena Perés was on site to promote our series, and to show our new logo for Summit Racing EDRS Series. 
A new drag racing season is on the rise, and although we are in the beginning of the year, we have already started with some news and events.
Many visitors at Åby Motorklubbs Dragracing marknad who was looking for new or used equipments. 
Latest big news is that we now have a series sponsor in EDRS. Summit Racing Equipment has now taken the step into the series and from now on it is named Summit Racing EDRS Series. Read more about this in resent published article.
This was something Speedgroup wanted to express in public, so Speedgroup went to Åby Motorklubbs Dragracing market outside Norrköping in Sweden. A well-known market where you can find both new and used equipment's good for drag racing. It is also a place to meet all the drag racing people you haven't seen for the whole winter, have a good chat and make some good business. This market has been held for many years by Åby Motor Club that is a well-known and storied club. Visitors from all over the country come here and exhibitors filled up two large halls this year.
 Dick Koster from Racepak was on site with all his goodies. 
We found some well-known racers, among many others on site, and one of them was Pro Modified driver Freddy Fagerström. Freddy is now busy building a new trailer for the upcoming season. And he wanted to get rid of some parts that wasn't in use anymore. Roger Johansson, who also was selling stuff, came to have a look.
Roger Johansson was on site to sell and by stuff, fit for fight for the 2017 season.  
– I'm fit for fight now, said Roger who had a bad crash almost a year ago. Planning for the season now.
Another happy racer was Janne Eriksson who is now stepping in to Pro Modified from Pro Stock.
– I bought Tammi Branders Pro Mod car, he told. And it feels good to be in the Pro Mod class. This is going to be fun.
Janne Eriksson, former Pro Stock driver who is now getting behind the wheel of Tammi Branders Pro Mod car. 
Pro Stock driver Robin Norén told us they had torn out everything in their buss to get it fit for the season. From early morning until afternoon the halls were filed with people that wanted to find goodies to their vehicles. More updates during this first month of 2017 is that EDRS Summit Racing Series Guidelines 2017 have been published on our website. Take a moment to read it through so you get all the new things sorted out and get a reminder of what EDRS Summit Racing Series offers. You can also download the PDF file as it can be handy to bring with you to the races.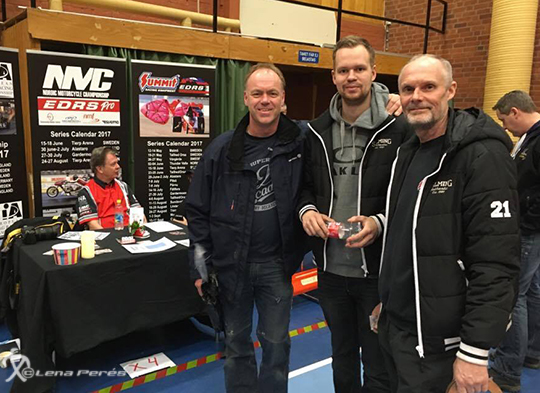 Ronny Andersson together with Robin Norén and his dad Pelle. Ronny was on a long trip from Sollefteå in the northern part of Sweden.
Jan "Simpson" Phersson was of course on site promoting safety in racing.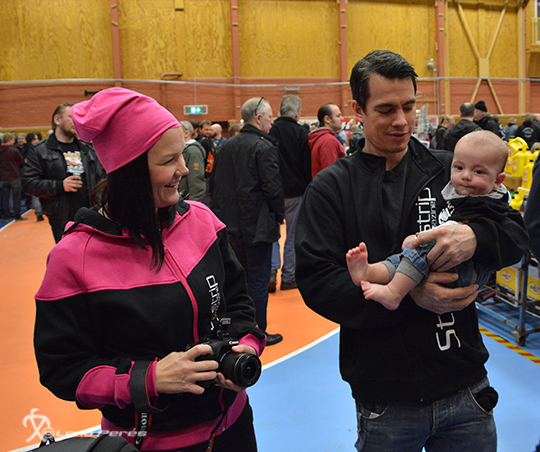 Family Lindström did collect stuff for a report in their new acquired Street & Strip Magazine and showing the new member Jaxon what it is all about.
Johnny Nilsson did also some business at the market. He just came back from South Africa where he spends lots of time racing. 
Next up is the SFI Tour and as usual it is hosted at Persåkers Speed Shop in Styckebruk in 18 Mars. More information about this will appear at www.meracing.com shortly.
Our new magazine Speedroup Drag Racing Magazine is under construction and the first release is at Elmia Motor Sport Performance & Custom Motor Show in Jönköping at Easter. Something to look forward to. Be there to receive your first edition, then you have a chance to win a trip in our two seats dragster. Don't miss out on that!