Anita Mäkelä goes up for another number 1
After coming close several times, Anita Mäkelä clinched her second FIA European Top Fuel Championship title in the semi-finals of last season's European Finals at Santa Pod Raceway. This time, the Finnish fan favourite doesn't want to wait another few years for her next title, as her goals for 2017 are loud and clear, to keep hold of the #1 race number and the European record.
Anita Mäkelä made headlines for herself and drag racing with her 2016 FIA European Top Fuel title, her second nitro title after she won the TF championship for the first time in 2000. Mäkelä was highlighted in an FIA Women in Motorsport publication, was invited to the FIA Prize Giving gala in Vienna, Austria, honoured by the Finnish Motorsport Federation and nominated as the (Finnish) Super Star of 2016!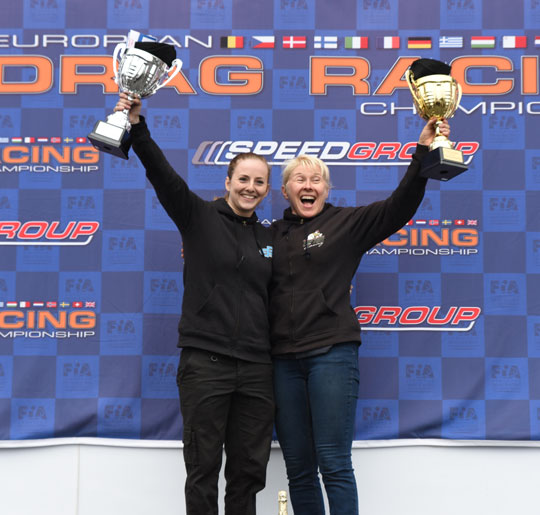 It's almost impossible for Mäkelä to highlight one run or one race of her 2016 season. "Each run I win means a lot to me. However, it was a special day to share the podium with Birgitte Bremnes at Tierp Arena," she remembers. But now it's time to look ahead, as the 2016 title tastes for more. "Our chassis is updated by LG Eriksson, as the chassis was getting too loose to drive at the top end. And we step up with AJPE Stage 7 heads. We need to improve our performance as we want to go faster than the others, keep the European record and the number 1 on our car! With all six FIA races, it's business as usual for us. We want to run low 3.8 seconds this season." And the main rivals? "All the Top Fuel combinations are capable of running fast. There is no piece of cake! It will be a tough battle again, but we will go for it." And that's exactly what the fans want to see!
Has the champion ever thought of switching to another class? "No. If you want to run fast, and that's what I want to do, you can´t go faster than with a Top Fuel dragster."