Vegter Pro Mod Racing continues as PTTM Drag Racing!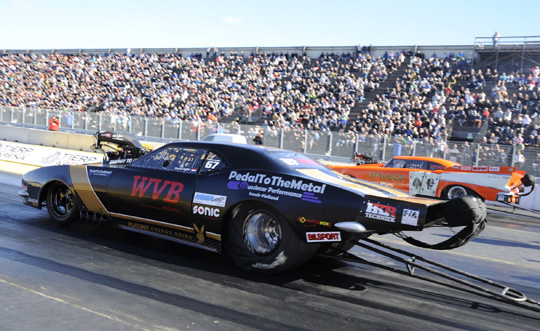 Vegter Pro Mod Racing, one of the leading Dutch and European Pro Modified drag racing teams, enter a new era and step up to the next level. The relationship between Vegter Pro Mod Racing and sponsor and partner PedalToTheMetal Musclecar Performance will be intensified as the team around driver David Vegter will continue as PTTM Drag Racing. "Fred Dorland, driving force behind PTTM Musclecar Performance, will become the team manager. That gives me the opportunity to focus on the technical part of the racecar and the driving job," said David Vegter about the cooperation that led to a new team structure and team name.
PedalToTheMetal Musclecar Performance partnered with Vegter Pro Mod Racing early last season. Fred Dorland was a drag racer and car builder in drag racing, and with PedalToTheMetal Dragracing he had his own hobby based team that raced very successfully with several cars in all kind of categories. These activities and building V8-engines were the foundation for the start of the very successful company PTTM Musclecar Performance.
"Due to all his business commitments, Fred didn't have the time to drive anymore. He and his partner Sido Zeilstra and son Max Dorland, wanted to stay involved in the sport, and the way we worked together last season turned out so well that we both wanted to intensify our cooperation, especially as Fred and his partners are still passionate about drag racing. As a result, from now on the team name will be PTTM Drag Racing. Fred Dorland will be the team manager and will take over all kind of duties, but also the business part around the team, contact with sponsors and partners, and arranging relationship marketing events. But he will also support the team wherever it's needed. As a crew chief and driver I can focus on the technique, the racecar and the driving job. Together with the crew, everybody in the team will do the things he is good at and will be involved in everything. It was getting a bit too much for me last season. The sport asks for a far more professional approach now, and I'm sure this will take the renewed team and our performance to the next level," said David Vegter about the new team name and team structure.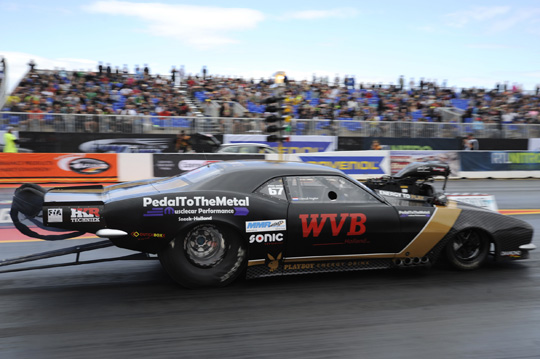 David Vegter and the '67 Camaro will again compete in the full FIA European Pro Modified Championship tour of six races, the championship he finished in fifth position last year. As announced last week, Vegter and his team will have Red Line Oil Scandinavia as their lubricants partner for 2017. Longtime partners WVB Holland and HKR Techniek have extended their partnership with the team, and the PTTM Drag Racing '67 Camaro will also be supported again by DutchBoxx Golfkarton and of course main sponsor PTTM Musclecar Performance. The team is talking to current and new partners and expect to come with more news pretty soon. "We are also working hard to improve the car, the engine and the team. We will do our very best to be fully prepared at the start of the season, although there is still a lot of work to be done. We want to emphasize, that the renewed team and team name as an organization and foundation are totally independent from the main sponsor with the same name. Of course there are some connections, but the sponsor interests of the company are completely separated from the drag racing activities. This makes it possible to work with other sponsors in the future, but use the team name it gets now," said David Vegter.
PedalToTheMetal Musclecar Performance are an all-round speedshop, with a specialization in high-end classic American muscle cars. PTTM buy and sell, repair, restore and paint, have numerous different parts, including driveline components, and have all the know-how of American V8 performance engines. These engines are used all over Europe and beyond, for street cars, racing and drag racing. In their showroom in Sneek, Holland, PTTM always has at least 40 unique cars and several restoration and renovation projects for customers.