Not business as usual for Michael Gullqvist in 2017
After an unfortunate period half way through the 2016 season, Michael Gullqvist took the FIA European Pro Modified Championship in style by dominating the European Finals and retaining his title. With five FIA European Pro Modified Championship titles in the last six years, Gullqvist is the man to beat in the ultimate doorslammer category of drag racing. But it will not be business as usual for the Swede, as he will have to do it without long time crew man 'Turbo' at the track, and with an almost brand new crew.
"We had some ups and downs last season, more so than usual. At the beginning of the season I was playing around with some ideas I had, and it took some time to sort that out. I messed up my favourite blower before the first event and had to run another one. It all worked out well enough to be runner up at Santa Pod in May. We then went on to win the second round at Tierp Arena a couple of weeks later, which set up for a healthy FIA points lead. The third round at Alastaro was a nightmare when, for the second time in two years at that event, I lit the red bulb in the first round of eliminations. A stop at the new nice track of Gardermoen in early August decided the EDRS Championship in our favor. I was building a new engine, and the plan was to use it from midseason, but I had some problems with getting it finished. Meanwhile, the engine in the car got too many runs on it, which led to parts failure at Hockenheim and Tierp. However, we were still in the points lead with just a few points, so it all came down to the European Finals at Santa Pod. With a new motor in the car and our minds set on 'win', we went out there, qualified on top and won the event. I'm very proud of how we made it work out perfectly and grab all available points from first qualifying to winning the final. It surely was a great team effort!" said Michael Gullqvist about last season.
But it's already time to look ahead and see what's coming in the 2017 season. "Luckily, the winter isn't over yet, because I really need to start working on things. I have some work in getting engine parts rebuilt from last season's battles. I also always have a list of things I want to improve on the car. Until now, I have been busy with building engines for another team. I was planning to race in the US this year, but my business needed my attention and I just couldn't find the time to do it now, so we'll go for another FIA and EDRS run. I really like racing Pro Mod in Europe, it's pretty similar to the NHRA events in the US. However, after winning the FIA Championship five times in the last six years, and a total of six, I need some other motivation in the future. I know we can compete at a high level over there and that's the only reason to do it as far as I'm concerned."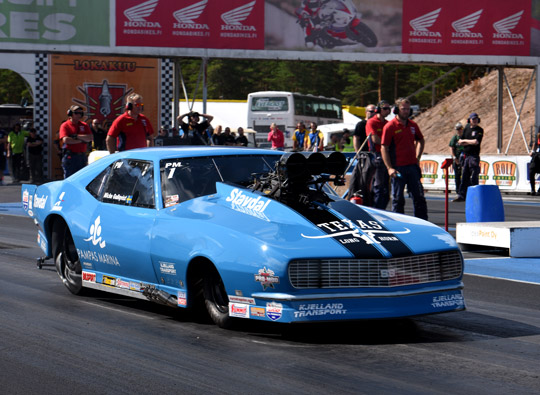 What are the main goals for the 2017 season? "It might be time to step it up a bit when the conditions are right. We still have the track record on all tracks, but we haven't made any personal best runs for a while. The focus has been to be consistent and win races. Maybe we can step it up and still be somewhat consistent. I never expect any specific numbers, it's all about the conditions, the weather, the forecast and the track. When we go to an event, we need to qualify and if we're trying too hard early, chances are that we will not get down the track. I can tell you this though; if the track is well prepared, somewhat flat, and the atmospheric conditions are good, we can go 5.7 at some point."
The partners of his team might almost be the same as last year, but the same cannot be said about the team members.  "We had good support from great companies like Stavdal, Kjelland, Aeromotive, Texas Longhorn, Pampas Marina, Lucas Oil, Blenco Racing, Nicma Tools and Lenmech. They have all provided some great support and without them, it would be hard. I'm also working on some new projects, we will see what it will turn into. But for the upcoming season there will be some changes in the team. Fred 'Turbo' Westerlind has been with me for many years and has taken time outs and made comebacks, and he will not be at the events this year. Turbo and I have always put most of the hours in the shop, and he will still work with me in the shop before and between races. His on-track replacement is not decided yet. Leif Helander has been with me for a couple of years since he retired from racing his own nitro Funny Car. We really enjoyed having him on the team, but this year he needs to spend some more time at home with his family and driving his new 58 Chevy. Being part of a team like this is pretty time consuming and takes quite a few vacation days from daytime jobs. I have been spoiled with having great guys on the team, they have always done a great job. When we don't win, it's almost always my own fault by missing the tune-up a bit or not being focused at the tree."
Gullqvist will go for a third consecutive FIA Pro Mod title, but the champion knows it will be tough. "Other than for the guys in the top-five of the 2016 championship, like Mats Eriksson, Bruno Bader, Johan Lindberg and David Vegter, there are a number of guys that can run really fast. Roger Johansson has a new car after the wreck last year and other guys to look out for at EDRS events are Åke Persson, whose tuner got a Funny job this year and might not be available, and Andreas Arthursson, who seems to have sorted out his turbo combination pretty well. Dutch racers Michel Tooren and Marck Harteveld are hot, with the latter having another, much lighter car this year. And there are at least five more teams that will likely be running very good at some point. So that's really inspiring, I love some tough resistance." Why is he still in Pro Mod after so many years? "Pro Mod is a great class to race in because the interest is huge and there are so many racers from all over Europe, and actually all over the world."