A new year, a new season on the way
The 2016 FIA European Drag Racing Championship was a great one, with three out of five titles decided in the penultimate runs of the season, the semi-finals of the European Finals at Santa Pod Raceway. But that was 2016, and with 2017 just started, it's time to look ahead. Anita Mäkelä, Michael Gullqvist, Jimmy Ålund, Johnny Oksa and Jonny Lagg will wear the number one plates for the next nine months. In six great race events, they will try to keep ahead of the ever stronger competition.
The European Finals at historic Santa Pod Raceway was the climax of an exciting 2016 FIA European Drag Racing Championship. The FIA Top Fuel championship was decided in the semi-finals. Championship leader Anita Mäkelä was defeated, and for the second consecutive year it looked like the Finnish fan favourite would lose the title in the last race of the season. But as Stig Neergaard was defeated in the second semi-final, the Danish number two in the championship missed the twenty points he needed to grab the number one position, and so the title went to Mäkelä.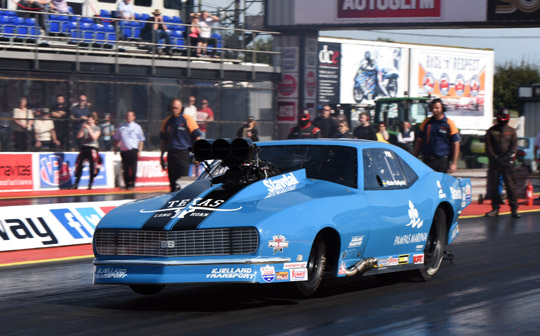 In Pro Modified, the FIA European Championship was also decided in the semi-final in a race between the numbers one and two in the championship, Michael Gullqvist and Bruno Bader. In a close run the Swede defeated Bader and Gullqvist clinched the 2016 FIA European Pro Modified title.
Also in Pro Stock the championship was decided in the semi-finals when championship leader Jimmy Ålund won his race and was out of reach for runner-up Bengt Ljungdahl. It was the tenth (!) FIA European Pro Stock title for Ålund!
In Top Methanol Dragster Jonny Lagg from Sweden clinched the FIA title in the last race, while in Top Methanol Funny Car Johnny Oksa from Finland secured the title with three wins in the penultimate race of the season at Tierp Arena.
Now that 2017 has started, teams start their preparation for the new season. The Main Event seems so far away, but with so much work to be done, the end of May is almost there. With six races at the same tracks as last year, the calendar looks pretty similar. The Main Event at Santa Pod will kick of the season, and after Tierp and Alastaro, the busy second half of the season will start with the famous NitrOlympX. With back-to-back races at Hockenheim and Tierp, and two weeks later the European Finals at Santa Pod, the teams will meet a tough challenge.
Send your news to Dragracing Europe
With the new season starting soon, drivers and teams must have news about their plans, sponsors, crew chiefs, team members etc. Please share your news with your fans and our readers and send a message to: remco.scheelings@speedgroup.eu.
FIA European Drag Racing Championship Calendar 2017
26-29 May, Main Event, Santa Pod Raceway, UK
15-18 June, Tierp Internationals, Tierp Arena, Sweden
30 June – 2 July, Nitro Nationals, Alastaro, Finland
18-20 August, NitrOlympX, HockenheimRing, Germany
24-27 August, Scandinavian Internationals, Tierp Arena, Sweden
7-10 September, European Finals, Santa Pod Raceway, UK