FIA European Drag Racing Championship to Finland for round three
After England and Sweden, it's time for Finland to welcome the FIA European Drag Racing Championship for round three of their title race. The FHRA Nitro Nationals at the Alastaro Circuit is always a special race and the only time the numerous Finnish fans can see the 8.500 bhp Top Fuelers live in action. After their win at Tierp Arena, Anita Mäkelä (Top Fuel) and Johnny Oksa (Top Methanol Funny Car) enter their home race as the provisional leaders in their respective championships. But competition will be tough to make it two in a row and increase that lead. Who are the favourites to end their Sunday afternoon upside down in the traditional Finnish water barrel? 

Alastaro Circuit hosts the third round of the FIA European Drag Racing Championship. The dragstrip situated in the middle of the forest in the land of the thousand lakes is a special place. The friendly atmosphere makes it to a race all teams are looking forward too, especially for the Finnish teams as it's the only race of the year they can meet their numerous fans and show them live what they are capable of. And with Finnish racers among the favourites in almost all classes, there might be enough reasons for the fans to have a party Sunday evening. Qualifying for the FIA European Drag Racing Championship at Alastaro will start on Friday 8th July, and will continue on Saturday 9th July. Eliminations will start on Sunday 10th July.
Top Fuel
With Stig Neergaard and Anita Mäkelä, Top Fuel had two different winners so far this season. In the championship the difference between the numbers one and two is 13 points, less than one round win. After her great win at Tierp Arena, and in front of her home crowd, Mäkelä is of course the clear favourite, but last year the Finnish team had bad luck and lost many points at Alastaro. After his first round exit at Tierp, Neergaard is out for revenge. Reigning champion Micke Kågered was semi-finalist at Tierp and is the number three in the championship after two races. Last year Kågered won at Alastaro and the Bahco driver will do everything he can to make that two in a row. In his second season in Top Fuel Liam Jones wants to win races, but the Rune Fjeld Motorsport driver had some bad luck so far and wants to make Alastaro the turning point of the season. Stefan Gunnarsson had technical problems at Tierp and will try to do better than the first round exit in Sweden.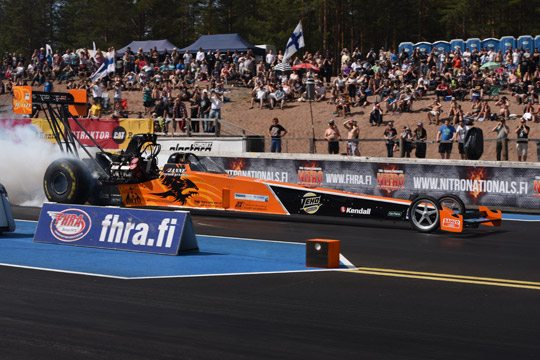 Three more Finns will enter their home race and all three can surprise. Timo Lehtimäki is back, but maybe even more dangerous for the title aspirations of the favourites are Antti Horto and Janne Ahonen. Horto will take over the driver seat of one of the Rune Fjeld Motorsport cars, and the young Finn already proved in the past that he is a race winner. Last year Horto was runner-up at his home race. Ski jumping legend Ahonen doesn't need any further introduction, and with his own ART Top Fuel team, the former multiple Competition Eliminator champion is not only extremely popular, but also fast.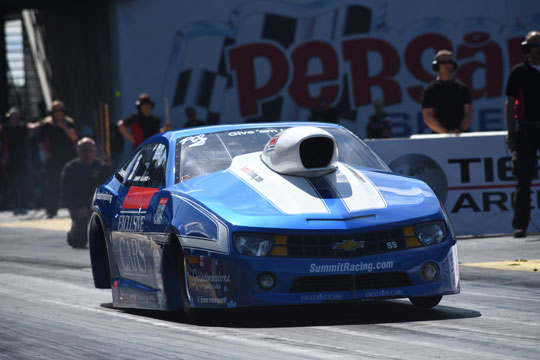 Pro Stock
There are no fewer than 13 entrants in Pro Stock at Alastaro. Jimmy Ålund was the winner at Santa Pod, but the 9-time FIA European Pro Stock championship lost in the semi-finals at Tierp. Magnus Petersson was the surprising winner in Sweden after defeating Bengt Ljungdahl in the final. Reigning champion Thomas Lindström was runner-up in England, and with these results, the difference between provisional leader Ålund and number four Petersson (with Ljungdahl second and Lindström third) is only 38 points. Ljungdahl had a very good start of the season in his ex-Gray Motorsports Camaro, but is waiting for his first race win. Don't be surprised to see that happen at Alastaro. Michael Malmgren was a surprising non-qualifier at Tierp and is looking for rehabilitation. The same can be said about Hannu Kalliomäki. The Finn surprised in his home race last year, but didn't qualify at Tierp. Robin Norén had a good debut at Tierp and is ready for the next step. Stefan Ernryd, Jonas Boberg and Simon Gustafsson were first round losers at Tierp Arena and will be back for a better result at Alastaro. Tommy Lundström and Sampsa Palos will have their first FIA race of the season at Alastaro. Last but not least, 2015 Alastaro winner Richard Sundblom is on the entry list, and you never know what he can do in his home race. As he proved last year, Sundblom can spoil championship dreams.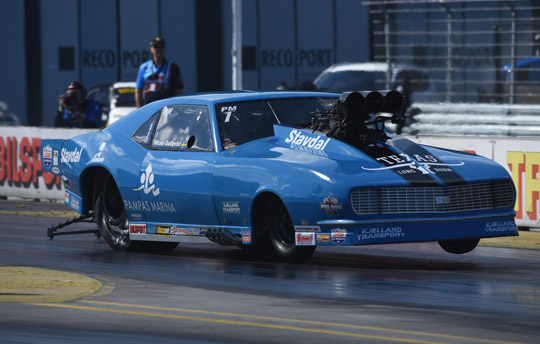 Pro Modified
Bruno Bader and Michael Gullqvist were the winners in Pro Modified so far this year, with the Swede leading the championship and the Swiss in second position right now. Mats Eriksson is the provisional number three, and although being both quick and consistent, last year's runner up in the championship is still looking for his first win of the season. Alastaro might see the first Pro Mod win for Åke Persson or David Vegter. Persson surprised at Tierp with a stunning 5.88 seconds low ET of the event in the Jonnie Lindberg tuned Camaro. Vegter reset his personal best twice and was close to his first 5-second run before losing on a hole shot in the semi-finals. Other favourites to leave Alastaro with a trophy are Johan Lindberg, the number four in the championship, and last year's race winner Anders Nilsson. Thomas Stiefel from Switzerland was also back to form in the Adam Flamholc tuned Bel Air at Tierp and will now try to go some rounds. Andreas Arthursson and Fredrik Fagerström had turbo issues at Tierp, but can always surprise. The same can be said about Håkan Persson, while Rolf Simonsson will have his second Pro Mod outing with the beautiful and colourful Camaro.
Top Methanol Funny Car
Alastaro is the second race of the season for the Top Methanol Funny Cars. Johnny Oksa enters his home race as the provision leader in the championship after his dominant win at Tierp. The victory in Sweden was his first ever in Top Methanol Funny Car and for sure, Oksa will try to make it two in a row in front of his home crowd. Competition will come from Leif Andreasson and Ari Pietilä. Reigning champion Andreasson can't allow to be too far behind after two races, and will try to make up some ground to the leading Oksa. Pietilä had all kind of mechanical problems at Tierp and is looking for revenge in front of his home crowd. Top Methanol Dragster will not be contested at Alastaro.
Text: Remco Scheelings
Photos: Remco Scheelings