Stefan Gunnarsson sticks to Top Fuel
Sweden's Stefan Gunnarsson is leaving his injected-nitro Top Methanol Dragster in the workshop for the foreseeable future. Tuner Peter Lantz said that running both a Top Fuel Dragster and a Top Methanol Dragster was a crazy idea and that this season's goal is to get Stefan's Top Fueler into the threes – the sooner the better. 
"We ran both cars at an event twice and it's definitely not an option I recommend", said Peter. "It was a stress test for all of us. There is a reason why there is a brains trust of two and sometimes three on a Top Fuel team, and tuning two cars alone was hard. It was hard too for Stefan driving. They are similar kinds of car but one goes all the way to the finish line. If I could turn back time then I would have talked Stefan into going Top Fuel straight away, but I didn't know what his passion for the Top Fuel car would be when he purchased the A/Fueler. The A/Fueler is not parked but we have no plan when we will race it again. It has been serviced and some stuff repaired, and it is more or less ready to run whenever we choose to do it. We still have gremlins to find, and we have unfinished business with that car, so we will try to run it sooner or later."
"Our main focus will be on the Top Fueler and I guess we have a big challenge running the one car. It has new style DSR cylinder heads, new rocker assembly, billet blower and billet manifold. We also put on a new injector etc, so the combination will more or less be new to us. We have also updated the clutch management, and added some clutches. The plan was to test at Tierp Arena but we didn't have all our ducks in a row at the time. Because of Stefan's busy schedule we will have no time to test at the Pod either, so we will need to jump right in during the heat of qualifying."
"Our parts supplier Michael Domagala of Premium Motorsports Products will be helping us out at the Main Event. Mike is well-known in Europe and he has tuned for Rune Fjeld Motorsport as well. He comes straight from Australia where they won the Top Fuel title with Mark Mariani. I need to step up my game and Mike will be the perfect person to keep me on the straight and narrow… it's very easy to go off track when you are working alone on these cars, although I get great help from all of my fellow team members."
"We plan to run at every round of the Championship but that might change depending upon how we get on in the points. Every team's biggest goal is to be campions in the end, and of course our team is no different. But we have to be realistic: we are racing against the top teams who are running very well and have done so for a while. So I see us as the underdog although hopefully a pit bull!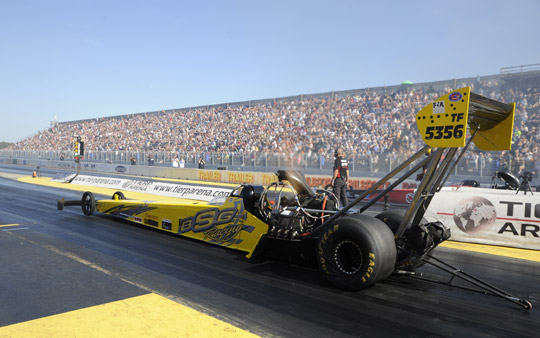 "Stefan has shown a great potential in his driving and it's the first time in a very long time that I have experienced that. He will be a winner sooner or later, but time will tell. We have added crew for this year who are new to Top Fuel but not to the sport. It was important to get crew who live closer to where Stefan lives, and two of the new members are from Linköping: Leif Pettersson, who had his own competition dragster for a long time, and Janne Wiberg who crewed on Micke Kågered's Top Methanol Funny Car. Also new to the team is Anders Ahl from Vanersborg who is making his first appearance in Top Fuel; he has already got nickname "Google" as he knows so much about the sport in the USA. The rest of the team are Peter Lagerstrand clutch, Mats Carlsson short block, Robin Lantz cylinder head, Andy Thungstrom cylinder head, Linus Lantz all round, and of course Stefan wife Maria Gunnarsson. So the team with all this new stuff and new people will be a nitro embryo at the Main Event."
Peter's son Robin is also planning to race an injected-nitro Top Methanol Dragster but Peter said that his car's début may be some way off yet if not that of the driver. "Robin's car has to be finished before it is ready to run, and the way the Championship calendar looks today we have no time to get it finished in time to run this year", he said. "All of our paid vacation from work is used up to run the Top Fueler and then work had to come first, that's the way it is. Hopefully we can get our funding together to use Stefan's car for licence passes later this summer, but time will tell."
Special thanks to Eurodragster.com for sharing this article
Photos: Remco Scheelings