Two championships for Samu Kemppainen and Hans Olav Olstad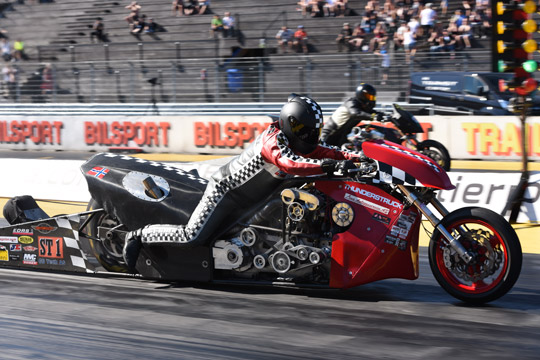 Reigning EDRS Pro Nordic MC Super Twin Motorcycle champion Samu Kemppainen from Finland and his Norwegian Super Twin colleague Hans Olav Olstad are heading towards a busy season as they will race in the EDRS Pro Nordic Motorcycle Championship and the FIM European Championship. 
Norwegian Super Twin racer Hans Olav Olstad had a busy off-season, but that none of it was down to his bike. "My partner Anne Marit was in hospital for two months undertaking cancer treatment, but is healing well now. I have been off work with a back injury. In late January I was on a two-month training régime for my back, and right now I have been back at work for a month. I have prioritised my health by training at least three times a week and it is a lot better now. Because of all this, the bike has been on hold the whole winter. Mostly, we have replaced all the parts which were burned at Mosten last year. We are going to upgrade the fuel system, we are making a new camshaft, and we have interesting new exhaust pipes. We feel that the motor is working well after last year's struggle, but you know nitromethane can do bad things to an engine now and then", said Olstad.
"Our plan for this season is to contest both championships, the EDRS Pro Nordic Motorcycle Championship and the FIM European Championship. The goal is of course to win, but I think that this will be a challenge. With Samu Kemppainen and Per Bengtsson on an entry list, it will always be a hard race to win. Martijn de Haas also seems to be very consistent, and if he shows the same consistency this season, he will also be a hard nut to crack. My sponsors for 2016 are ENI, Lena Anleggsservice, Hydroscand, GMS Bike Store, Knapphus Energy, Kulelagerhuset, DekkTeam, Tech-Con, GB-Tech and Billakkspesialisten. I have a few new team-members and some of the old crew continue to wrench as usual. We are looking forward to racing at Santa Pod again. News and updates will be posted on Facebook at Olstad Racing".
Finnish Super Twin racer Samu Kemppainen has not made any major changes to his six-second bike over the off-season, just basic maintenance, pistons, con rods, bearings etc. "We have a pretty hectic schedule this year", said Kemppainen. "I'm planning to do contest both the FIM European Championship plus the EDRS Pro Nordic MC and three events at Alastaro. My goal this year is to run a new PB in the 6.4s, anything else will just be a bonus! Mika Sjöstedt remains as my crew chief and the team is the same as it has been since I started to race in 2008".
Text and photos: Remco Scheelings
Special thanks to Eurodragster.com