Injured hand can't stop Kenneth Holmberg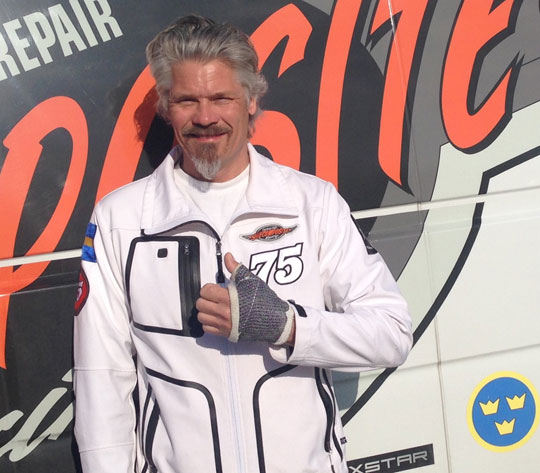 To be involved in a motorbike crash is never a good idea, but to do it just before the start of the racing season is even worse! And that's what happened to Pro Stock Motorcycle rider Kenneth Holmberg. "Yes I know, this is not good timing at all, but it won't stop us from starting the season at Santa Pod and doing the full FIM and EDRS Pro Nordic Motorcycle Championship tour," said the Swecomposite rider.
"My hand is going to take eight weeks to heal, so I would have to wear a flexible plaster…., or I could make a plaster from carbon fiber! It's no problem to race at The Main Event. The Swecomposite team will compete in all of the FIM and EDRS Pro Nordic Motorcycle Championship rounds, so it will be a busy season. We have made many engine and chassis modifications, and we are looking forward to the start of the season. With some good partners and a strong team we are ready for it! A hand injury can't stop us. It will heal soon," said Kenneth Holmberg.
Text: Remco Scheelings
Photos: PR