Santa Pod Raceway Golden Anniversary in 2016

In 2016, Santa Pod Raceway celebrates its 50th birthday. On Easter Monday 1966, Europe's first permanent dragstrip opened its gates for business. Today, fifty years later, the raceway hosts events throughout the year from two races of the FIA European Drag Racing Championship to the 'Run What You Brung' events.
Drag racing arrived in Britain in the early 1960s. American all-star teams toured in 1964 and 1965, racing on airfield sites around the country, including the nearby Northamptonshire US Air Force base at Chelveston. Inspired by their success, a group of businessman-enthusiasts decided the sport needed a permanent British home and settled on a redundant wartime bomber base in a northern corner of Bedfordshire.
Podington airfield, near the villages of Hinwick and Podington, was formerly a wartime airbase used by the USAAF during the Second World War. In 1966 permission was obtained to use the airfield as a drag racing complex, the ¾ of a mile main runway being used as the drag strip. The track was named Santa Pod after the Santa Ana strip in America, combined with the name of the local village of Podington. Since then the name Santa Pod has become synonymous with the sport of Drag Racing in Europe.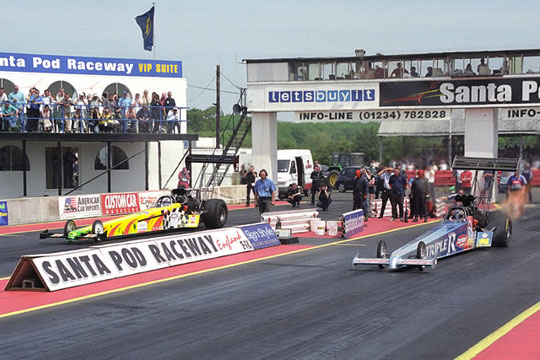 Santa Pod nowadays is a wide-ranging entertainment venue with a dragstrip at its heart, offering a diverse weekly programme of events running from February to November. Its founders would not recognize it. Even the layout has changed. For the first two seasons, the track began where the finish line now stands. The modern premises – the vast, paved paddock which can accommodate more than 300 international racing teams and their  transporters, as well as hosting its own motoring and entertainment events; the Live Action Arena; the hospitality facilities; the medical centre; the high-tech, millisecond-precise timing system; the stringent safety features – all these and more would have been unimaginable in those earliest years.
And although Santa Pod already hosted a number of events this season, in only a few weeks Santa Pod Raceway's 50th Anniversary season kicks into high gear with the Main Event, the traditional opener of the FIA European Drag Racing Championship. It's time for an interview about the 50th Anniversary and the 2016 season with Caroline Holden, the Commercial Manager at Santa Pod Raceway, and Keith Bartlett, the CEO of Trakbak Racing Ltd.
What makes Santa Pod so unique in your point of view? Even people (everywhere in Europe) not involved in drag racing know the name.
CH: Thousands of events are staged every year across all types of venues worldwide, but there is nowhere like Santa Pod! There just seems to be something special about this unique place that has continued to attract people from all walks of life. Santa Pod has worked hard over the years to develop a comprehensive and diverse calendar of events and has taken its story far and wide! Close relationships with the media, combined with innovative marketing, have enabled us to develop and build the Santa Pod brand and to broaden our appeal to a non-motorsport audience too.

How and when will Santa Pod pay attention to its 50th Anniversary? What will visitors of The Main Event see of it?
CH: Santa Pod Raceway's 50th Anniversary season kicks into high gear over Spring Bank Holiday weekend with its annual international drag racing spectacular, The Main Event (Friday 27th to Monday 30th May). As always, there's a rich programme of attractions serving race fans and entertainment-hungry families alike. On the track, Round 1 of the FIA and FIM European Drag Racing Championships draws car and motorcycle teams from across Europe, from countries ranging from Finland to Malta, France to Hungary. In the air, there'll be a very special, 50th Anniversary visit from one of Britain's great national institutions, The Red Arrows. Paying tribute to Santa Pod's half-century will be a nostalgia dragster display and stars-of-the-past autograph sessions. A 50th celebration wouldn't be the same without a little razzamatazz, so we've also engaged the services of the famous London Cheerleaders to add to the party atmosphere!
Santa Pod is more than drag racing only. How many events a year Santa Pod had in the past compared to now, and how important are all those events and the not racing related entertainment (drift, monster truck, kids entertainment) during the 'big' race meetings?
CH: In the early days, Santa Pod hosted less than 10 events per year compared to over 60 events in 2016! Santa Pod prides itself on being renowned as an all-round entertainment venue with a dragstrip at its heart. To present great value for money events with a diverse range of attractions is what modern racegoers and fans expect. So to create and encourage new visitors and increase our fanbase, we feel it is important to offer more than just a race meeting. With so many demands on our personal free time, it's vital to stay ahead of the competition and offer events within events for that all round ultimate experience that all ages can enjoy.
How many people work at Santa Pod?
CH: Santa Pod now currently employs in excess of 35 permanent staff and between 150 – 200 seasonal staff and volunteers depending on the size of the event.
Changes made to track and or facilities for the 2016 season? And other plans for the next few years?
CH: Throughout the winter months, the team has been hard at work, as always, striving to complete a long list of site works and maintenance and to ready itself for yet another exhilarating calendar of events. With such a wet and windy start to the year, this has been no mean feat. The Santa Pod team of staff have finally moved into their new home at the venue entrance and this has been the major winter project for the venue in readiness for the 2016 season. The new Santa Pod offices will enable further development of the sport and the business as it continues to go from strength to strength.
How do you look at the 2016 (racing) season at Santa Pod?
KB: We look at the 2016 racing season in various parts. First, we have the overall Santa Pod events, including our National Drag Racing Championships and modified series along with various stand-alone motor brands and manufacturer events. Most of these events are growing and developing year on year, plus we are adding new events each year.
Next we have the two FIA and FIM European Drag Racing Championship events at the Main Event and European Finals. We see the 2016 season much the same as the past 3-5 years. The FIA Championship is not developing or growing at the rate we would all like to see. This is due as much as anything to the lack of sponsorship that the professional teams have, which in turn restricts their ability to test and make more runs which will then have an impact upon the overall performance and number of entries in the Championship.
Trakbak Racing Ltd has for the last 3 years been seeking to remedy this whole situation and take the Championship forward. But to achieve this, the Commercial Rights need to be assigned to allow a company and by this we mean TBR, to develop the overall commercial side of the FIA European Drag Racing Championship. To date the FIA have refrained from awarding such commercial rights. As a result of this, some of the FIA Championship rounds are not televised, leaving just the two rounds at Santa Pod and Hockenheim televised and promoted worldwide.
The situation is slightly different with the FIM European Drag Bike Championship where TBR does own the Commercial Rights. The FIM European Drag Bike Championship has now gone from 6 televised rounds in 5 countries to again only 3 rounds televised and promoted worldwide – Santa Pod (2) and Hockenheim in Germany. There are several reasons for this, some which are political and need not be discussed here. What TBR is doing in 2016 is building towards new rounds for 2017 and 2018 and into new markets, along with the announcement of a major new structure for the FIM Championships.
Highlights for 2016?
KB: Firstly, as in the last two years, a major highlight will be the live web stream broadcast from both the UK's two FIA and FIM Championship events. These 'free to air' web broadcasts over the Santa Pod TV channel are reaching large viewing numbers far and above the regular TV broadcasts. In addition, we are expanding out already huge social media base even further as we partner with well-established international social media platforms.
Secondly, we have also carried out some grinding of the track surface at Santa Pod which will hopefully make it an even faster track for the pro cars to race upon. I am sure that the Main Event will catch many teams out, especially in the fuel car ranks for at least the first few runs. By the European Finals we anticipate some real fast runs and records set in all the Pro Classes.
We are also very much looking forward to the Friday night qualifying session at the European Finals, which since we re-introduced it in 2013, has really taken off. The spectator attendance for this Friday night session is huge.
Finally, we are also anticipating a major announcement in 2016, regarding the FIM Drag Bike Championship for 2017 or 2018. This will be a 'game changer' for many people involved in motorcycle drag bike racing. It is a project that I have been working on for the last 3 years.
What are your expectations for The Main Event?
KB: As always our main priority at the Main Event will be to hold and run a safe and entertaining event, which both racers and spectators enjoy alike and to see if Santa Pod can set new European records in all classes. We are hoping to have at least 7 Top Fuel Dragsters, competing in the 1st round of the FIA European Drag Racing Championship, along with 4 AAFC funny Cars running the European Funny Car Series.
Anything else you want to tell or mention?
CH: Our new 50th anniversary merchandise range is now on sale – both at the events and on-line. See the full range at www.santapodshop.com. On-line orders for European visitors to the event may choose to collect their merchandise on arrival.
Text: Remco Scheelings
Photos: Santa Pod, J Spoard, R Gorringe, Remco Scheelings