Nitro power for Urs Erbacher and daughter Jndia
Good news for the fans of Urs Erbacher! The multiple FIA European champion will do the full FIA European Top Fuel Championship Tour in 2016! As expected, the very popular Top Fuel driver only has one goal, and that's to bring back the FIA Championship to Switzerland. At the NitrOlympX Urs will be accompanied by his 21-year old daughter Jndia. She will be driving in the Top Methanol Dragster category with Anthony Dicerio's Nitro University A/Fuel Dragster which she recently drove in Las Vegas.
"I will be racing the full FIA European Championship Tour and after five years I will take the Championship back to old Switzerland. This season I will be racing the car last driven here by Noah Stutz, a Hadman chassis with many changes, so it is virtually a brand new car. We have two new billet superchargers from Aaron Brooks and a complete new fuel system from Alan Johnson and the Lagana Brothers. Robin Grice and John Stewart will tune the car. The set-up is close to that used when Noah raced in Las Vegas last October, so we will be able to share data with our friends the Laganas", said Urs to Eurodragster.com.
"At the NitrOlympX my daughter Jndia will be driving Anthony Dicerio's Nitro University A/Fuel Dragster which she recently drove in Las Vegas. Anthony will attend the race with us. Transport of the car and equipment will be provided by Jndia's sponsor JH Ferry GmbH. JH Ferry's Managing Director Tobias Jaursch was with us in Las Vegas and he has agreed to cover all of the costs of transportation.  Tobias is willing to offer special terms on ferry agreements to racers; if you are interested then you can contact Tobias through JH Ferry's web site at www.jh-ferry.de."
Urs had more good news about sponsorship. "We have another new sponsor this year, DMax Television who will follow us for the whole season. Their decals are already on Jndia's car and mine. They will be with us at the FIA Main Event to make a pilot programme. You can find their web site at www.dmax.de. All of our other main sponsors remain the same." The Top Fuel car will get a new paint job and as soon as it's ready, pictures will be published.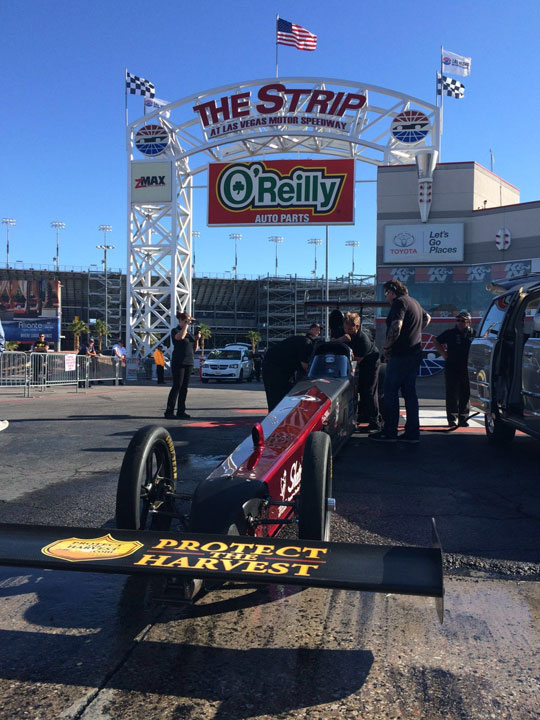 Urs' team web site at www.club111.org includes videos of Jndia's stellar Top Alcohol Dragster debut in Las Vegas as well as pictures, news, fan shop, sponsor page and more. Jndia has her own page on the team web site at club111.org/jndia-erbacher.
Special thanks to Tog and Eurodragster.com for sharing this news item.