Vance & Hines extend contingency partnership for EDRS Pro Stock Motorcycle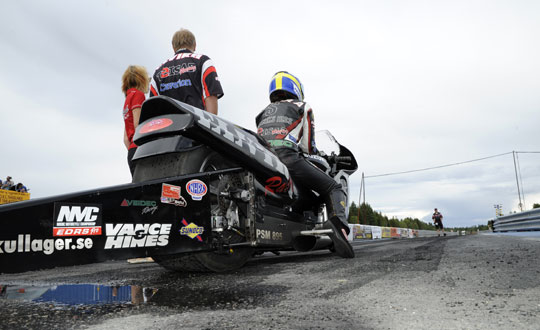 For the third consecutive year Vance & Hines, the world famous American manufacturer of aftermarket motorcycle performance parts, will be a contingency partner for Pro Stock Motorcycle in the EDRS Pro Nordic Motorcycle Championship. "We have some great racers representing us in Europe. We want to help support and give back to the people that believe in the Vance & Hines products. The racer that buys our products and supports our company deserves to get something in return, and this is the best way to reach them, we feel", said Eddie Krawiec, three-time NHRA Pro Stock Motorcycle world champion, rider of the Screamin' Eagle/Vance & Hines Harley-Davidson and business manager for the Vance & Hines race shop.
After introducing the EDRS Pro Nordic Motorcycle Championship, Vance & Hines were one of first companies to sign up for the contingency programme. Already heavily involved in European motorcycle drag racing and Pro Stock Motorcycle in particular, this was a perfect way for Vance & Hines to strengthen the relationships with their European customers.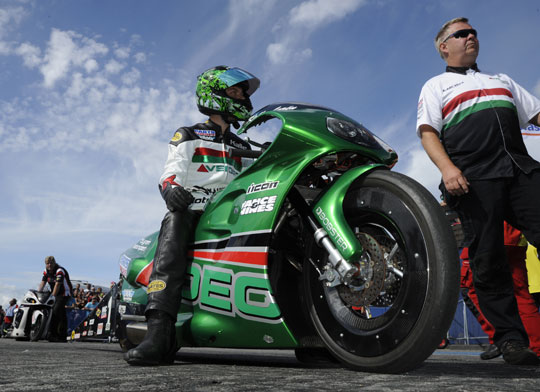 The Vance & Hines contingency program applies for the Pro Stock Motorcycle category in the EDRS Pro Nordic Motorcycle Championship and includes Vance & Hines Exhausts and Vance & Hines Pro Stock Engines.
Eddie Krawiec, last year's NHRA Pro Stock Motorcycle runner-up: "We are happy to work with the EDRS Series and this is our third year returning. We have quite a few European customers and have some great racers representing us. Being a US based company it is hard to make it over, but we want all the people to know that we are aware of who you are and are thankful for choosing us. We want to help support and give back to the people that believe in the Vance & Hines product. The racer that buys our products and supports our company deserves to get something in return and this is the best way to reach them, we feel.  The contingency program is a great way to earn a few extra dollars at no added cost. It's extra money being paid out by companies that support the sport you race in. Vance & Hines are unique in the world of drag racing. Vance & Hines have a long racing history and with 35+ years of experience. We race ourselves and have built a business based on racing. What we have learned throughout the years, gets transferred into products we sell and offer to the racers helping save money and R&D time."
About Vance & Hines
Vance & Hines are an American manufacturer of aftermarket motorcycle performance parts with factories in Santa Fe Springs, California and Brownsburg, Indiana. While best known for their distinctive exhaust systems for big twin cruisers, Vance & Hines also make a wide range of parts and accessories for nearly every form of vehicle in the power sports world. The company's founders, Terry Vance and Byron Hines shared a passion for the quarter mile from the early days of motorcycle drag racing. But they also shared a vision of creating a company that would be a pillar of the motorcycle aftermarket, and they used their unrivaled achievements in racing to build a brand that would unmistakably stand for quality and performance. This same formula drives Vance & Hines today, from their continuing involvement in many disciplines of racing to their commitment to making the kind of products that get people excited about motorcycling. From metal forming to smartphone-driven electronics, Vance & Hines believe pushing the envelope for design and technology is the way forward. At the end of the day, Vance & Hines' goal is not just to make an American-made product, but to create products that inspire motorcyclists around the world. For more information, visit http://vanceandhines.com/
Vance & Hines Contingency Program
Products included in the contingency program: Engines and exhaust systems
Vance & Hines sponsor winner with $200 and runner-up with $100 in the motorcycle class: Pro Stock Motorcycle
Conditions: use of products, proof of purchase, decals visible on both sides of the vehicle
Claims to be made via Speedgroup
Form of pay-out: gift certificate