Trophies presented at the 2023 EDRS Awards Gala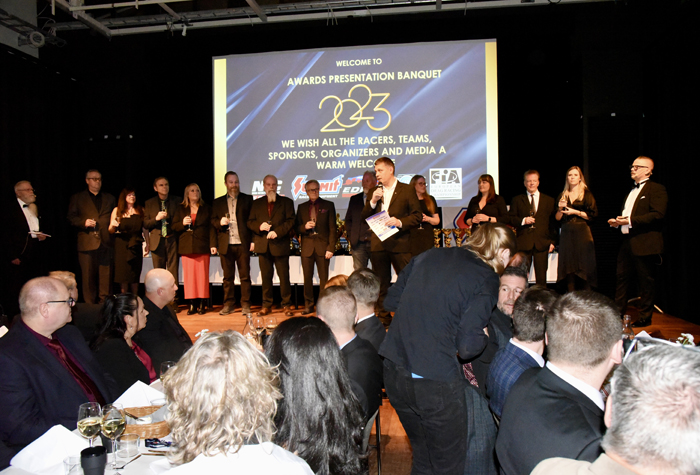 On Saturday night November 11th, Speedgroup celebrated the 2023 season FIA, FIM-E, Summit Racing EDRS and SVEMO series champions at the Aronsborg Conference Centre, Bålsta, near Stockholm. A three course dinner was served during the awards ceremony and afterwards there was music from DJ Åke.
In addition to the top three of all the classes in the FIA European Drag Racing Championship, FIM Europe European Drag Bike Championship, Summit Racing EDRS Series, SVEMO series and Summit Racing Super Series in Super Pro ET and Pro ET, special awards and numerous checks from Summit Racing Equipment were handed out.
The 'VP Racing Fuels Special Award' for outstanding achievement was presented to Pro Modified racer Jan Ericsson, while the 'Speedgroup Event Organizer of the year award' went to SHRA Luleå.
Bilsport Magazine awarded the top-3 EDRS racers in Junior Dragster and Pro Modified with checks. There were also special checks from Summit Racing Equipment for the winners of the Summit Racing Super Series.
There was laughter but also tears for friends who left us recently, with a nice tribute during the evening.
The awards celebration was preceded by a meeting to discuss the plans for 2024.
Speedgroup would like to thank all participants for attending the EDRS 2023 Awards Gala with a special thanks to their partners Summit Racing Equipment, VP Racing Fuels and BILSPORT Magazine.
FIA European Drag Racing Championship
Top Fuel: Ida Zetterström (1st), Susanne Callin (2nd), Jndia Erbacher (3rd)
Top Methanol: Linn Fløysvik (1st), Sandro Bellio (2nd), Johnny Oksa (3rd)
Pro Modified: Jan Ericsson (1st), David Vegter (2nd), Andres Arnover (3rd)
Pro Stock: Michael Malmgren (1st), Stefan Ernryd (2nd), Simon Ekengren (3rd)
FIM Europe European Drag Bike Championship
Top Fuel Bike: Rikard Gustafsson (1st), Eric Richard (2nd), Neil Midgley (3rd)
Super Twin Motorcycle: Marcus Christiansen (1st), Martijn De Haas (2nd), Marko Lantto (3rd)
Pro Stock Motorcycle: Bertrand Maurice (1st), Joerg Lymant (2nd), Martin Newbury (3rd)
Super Street Bike: Alan Morrison Jnr (1st), Daniel Donat Lencses (2nd), Mathias Bohlin (3rd)
Summit Racing EDRS car championships
Top Methanol: Silvio Strauch (1st), Linn Fløysvik (2nd), Tony Bryntesson (3rd)
Bilsport Pro Modified: Jan Ericsson (1st), Jimmy Ålund (2nd), Stian Rusanes (3rd)
Pro Stock: Jimmy Ålund (1st), Robin Noren (2nd), Lasse Britsmar (3rd)
Competition Eliminator: Gideon Liljegren (1st), Stefan Winter (2nd), Max Hoffbrandt (3rd)
Stock Super Stock: Iiro Mikkola (1st), Theodor Brandt (2nd), Rick McCann (3rd)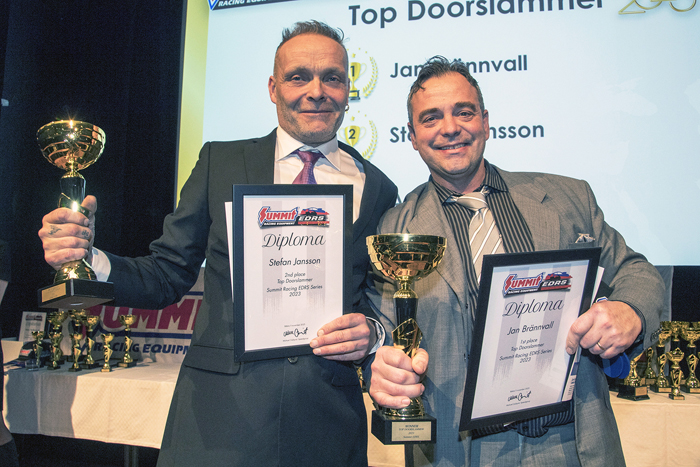 Top Doorslammer: Jan Brännvall (1st), Stefan Jansson (2nd), Anders Edh (3rd)
Pro Street: Angelica Larsson (1st), Ossi Oikarinen (2nd), Lars Berglund (3rd)
Street: Magnus Johansson (1st), Lars Erik Persson (2nd), Patrik Wickman (3rd)
Super Pro ET: Mikael Nilsson (1st), Kim Döfnäs (2nd), Mats Arntzen Wanvik (3rd)
Pro ET: John Thidé (1st), Iikka Junnila (2nd), Marko Oranen (3rd)
Super Comp: Mikael Nilsson (1st), Anders Brändström (2nd), Leif Andersson (3rd)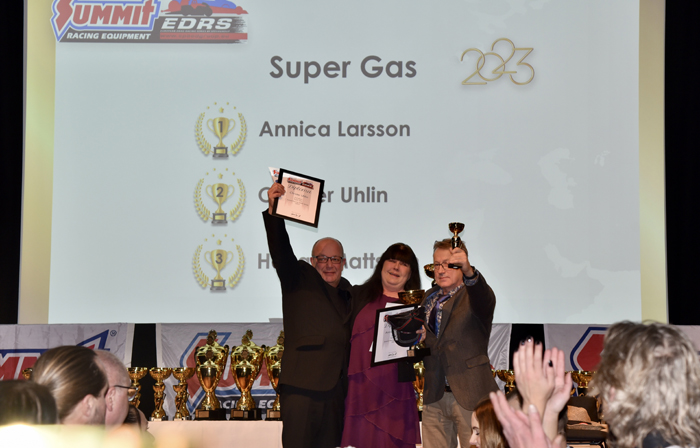 Super Gas: Annica Larsson (1st), Christer Uhlin (2nd), Hakan Mattsson (3rd)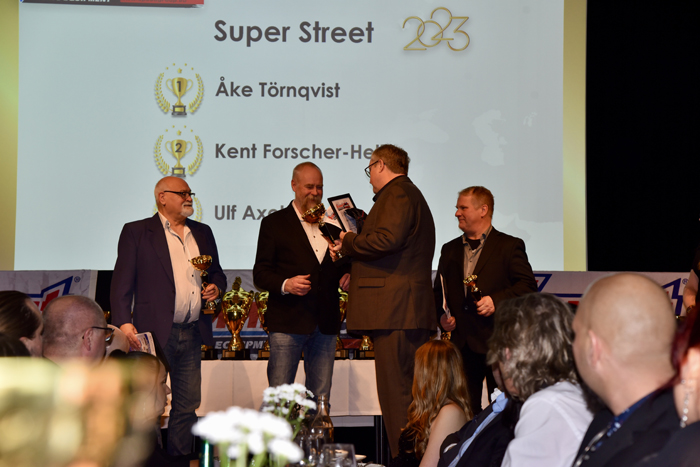 Super Street: Åke Törnqvist (1st), Kent Forschner-Hell (2nd), Ulf Axelsson (3rd)
Bilsport Junior Dragster: Lina Andersson (1st), Eetu Laine (2nd), Linus Leander Grauphaugen (3rd)
Summit Racing Super Series
Super Pro ET: Isak Lagg (1st), Tindra Christensen (2nd), Pontus Garefelt (3rd)
Pro ET: Anders Larsson (1st), Iikka Junnila (2nd), John Thidé (3rd)
Summit Racing EDRS Pro Nordic Motorcycle Championship
Top Fuel Bike: Jan Sturla Hegre (1st), Mikko Rajaniemi (2nd), Rikard Gustafsson (3rd)
Super Twin Motorcycle: Samu Kemppainen (1st), Greger Johansson (2nd), John Rolfstad (3rd)
Pro Stock Motorcycle: Bertrand Maurice (1st), Tim Christensen (2nd), Joerg Lymant (3rd)
Super Street Bike: Peter Östlund (1st), Daniel Donat Lencses 2nd), Mathias Bohlin (3rd)
Summit Racing EDRS Motorcycle Championships
Super Comp Bike: Kimmo Rantala (1st), Samual Runström (2nd), Kimmo Hamari (3rd)
Super Gas Bike: Sarah Nevra (1st), Teodor Norling (2nd), Mikkel Jensen (3rd)
Street Bike: Minttu-Maria Gratschew (1st), Jone Kiljala (2nd), Arto Mustonen (3rd)
Junior Drag Bike: Jone Holm (1st), Veeti Kortelainen (2nd), Milo Ahonen (3rd)
SVEMO Motorcycle Championships
Pro Twin Bike: Stefan Gärdskog (1st), Anders Östby (2nd), Dennis Adsell (3rd)
Super Comp Bike: Tomas Jonsson (1st), Samuel Rundström (2nd), Emil Östlund (3rd)
Super Gas Bike: Tobias Wiklund (1st), Jari Pehkola (2nd), Rasmus Östlund (3rd)
Junior Drag Bike: Figge Lundin (1st), Harry Bruhn (2nd), Tyra Norling (3rd)
Remco Scheelings
Thanks to Simon Groves (eurodragster.com), Anna Dymling, Stefan Boman, Pia Hagerth