Antti Horto, Sandro Bellio, Jan Ericsson and Michael Malmgren number one qualifiers at European Finals
Antti Horto (Top Fuel), Sandro Bellio (Top Methanol), Jan Ericsson (Pro Modified) and Michael Malmgren (Pro Stock) claimed the number one qualifying positions at the  European Finals at Santa Pod Raceway in England and will lead their respective categories into Sunday's eliminations at the fourth and final round of the 2022 FIA European Drag Racing Championship.
With great weather forecasts for the second day of qualifying for the European Finals at Santa Pod Raceway, the crowd of spectators was looking forward to a great day of racing. But against all expectations the racing had to be stopped several times due to light rain. At 6 pm, when all FIA classes were in the line-up for their second run of the day, a shower brought an early end to a so promising started day. Instead of the schedule two qualifying runs, only one session was completed, just as it was on the Friday. But that session was filled with a lot of good action, some great ETs and numerous changes in the qualifying order.
In Top Fuel Antti Horto bounced back after his 'up in smoke' qualifying run on Friday. The Finnish championship leader stormed to a great 3.82 seconds to claim the number one qualifying position.
This time it was Susanne Callin who had traction problems at the start line. The Swedish Slick Tricks Racing driver dropped one position and finished qualifying in second position.
Ida Zetterström lost traction at the start line just as she did on her Friday run and the former championship leader finished qualifying in third position.
Qualifying in Pro Modified was great again. Friday leader Jan Ericsson improved to 5.809 seconds and that was enough to remain in the number one position. There was a major improvement for David Vegter.
The Dutch driver was in 13th position on the Friday, but he stormed to a great 5.89 seconds to claim the number two position. Yesterday's number three, Bobby Wallace, improved to a great 5.91 seconds and remained in third position.
Michel Tooren recorded 5.914 seconds, a new personal best for the Pro Dutch Racing driver. That ET was good enough for the number four position. Roger Johansson couldn't improve on his Friday performance (5.94 seconds) and the Swedish driver dropped three positions into the fifth qualifying position. Andres Arnover, the number two in the title race, improved to 6.00 seconds to finish qualifying in sixth position. With five drivers in the 5-second zone and four in the 6.0 seconds, eliminations will be exciting.
In Top Methanol Sandro Bellio improved dramatically. The leader in the championship, who was in fifth position after the Friday run, stormed to a great 5.48 seconds to claim the number one qualifying position.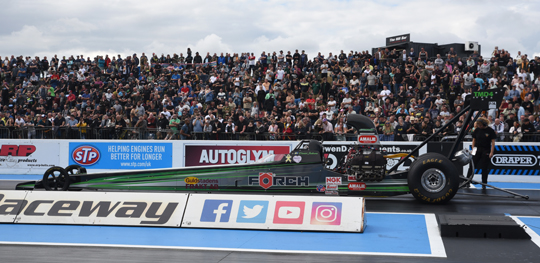 Friday leader Daniel Jedborn couldn't improve on his earlier performance and dropped into the second position. With his Friday ET Jonny Lagg is the number three qualifier and Linn Fløysvik will start eliminations from fourth position.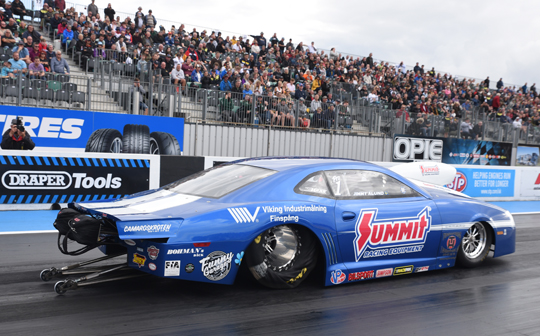 After his aborted run on the Friday, Pro Stock championship leader Jimmy Ålund improved to a great 6.61 seconds and jumped into the second qualifying position.
Friday leader Michael Malmgren surprised again. The Swede improved to a stunning 6.58 seconds and will start the eliminations from the number one position. Stefan Ernryd had problems with his parachute in the burn out and remained in third position.
Eliminations for the European Finals will start on Sunday morning.
Qualifying results: https://santapodresults.com/2022/European%20Finals/
For live reports and detailed results see eurodragster.com: http://www.eurodragstereventcoverage.com/santapod/live/2022fiaeuropeanfinals/default.asp
More photos of the European Finals can be found on:https://www.dragracingeurope.eu/fiaedc/round-6-santa-pod-raceway-england-2022/