Estonia offer a new track to visit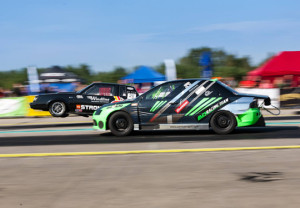 Speedgroup are happy to introduce all racers to a new track in EDRS series. EDRA (Estonian Drag Racing Association) who run drag racing events at a track on an old airfield in Kiltsi in Estonia. We are pleased to announce that they have decided to cooperate with Speedgroup and take in some of the EDRS classes to one of their events.
The track owners are the Estonian National Guard and the airfield was built and used as a Soviet era military airfield for heavy bombers and jet fighters. After Soviet withdrawal from Estonia in the early part of the 90`s, the airfield went over to Estonian Armed forces.
– Since Estonia does not have huge air force, it was not put in use as an airfield and was used mainly for training grounds, says Kristjan Veedler one of the leaders of EDRA. The National Guard of Estonia has gladly allowed all kind of entertainment to happen there over the years. Kiltsi has always been a place for test driving, driving lessons, racing and even big rave parties.
Over the years, the track has hosted many different races where every organizer has put in time and effort to make the racing conditions even better and safer. Every spring a team of organizers and racers go to Kiltsi, to fix any problems that the winter has caused to the track. Many different attempts to prep the track have been done during all those years. The last two years have been most successful as the EDRA crew has gained knowledge of how to do it right. At this point the track has about 150 m of decent prepped rubber and track bite surface, which slowly fades out to clear concrete.
– The track is what it is but it still holds the national ET record of Estonia (7,7 sec) and also highest top-speed record of Estonia (285,7 km/h), says Kristjan.
The upcoming season brings at least one international race to the track. Plus several RWYB events and at least one Top-Speed competition.
The future of this track depends mostly on the National Guard and their plans. There has been a talk about a possibility that in some years, the track may not available for racing anymore. This is why the Estonian ASN and Drag Racing Committee are working hard, to build a dedicated racetrack on Estonian soil.
-If all works out fine, we could surprise you with good news sooner than anyone would have thought, tell a hopeful Kristjan.
The staff of the track is mainly put together by the event organizer. Usually it is EDRA crew, Audi club crew or BHRA crew.
-When it comes to the co-operation with EDRS we start slowly this year with Super Gas Bike, Pro ET and Super Gas, and hope it will turn out well so we can extend the classes until next year, says Kristjan.
Photos by: EDRA