Gustafsson, Christiansen, Mechaell, Newbury and Morrison lead NitrOlympX final qualifying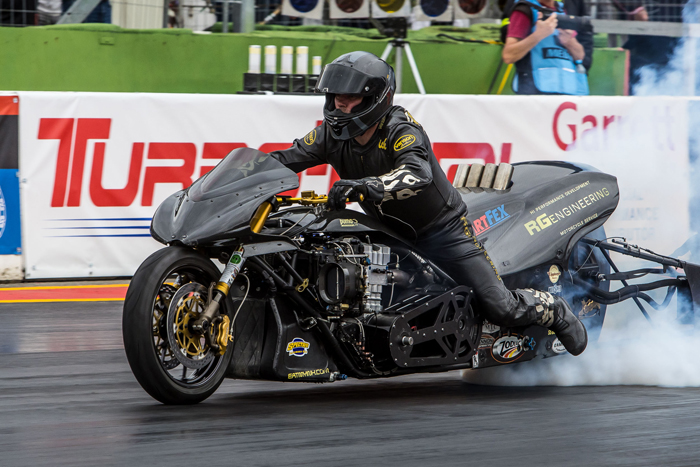 Somethings change, some stay the same at the second and final day of FIM-E qualifying at the NitrOlympX. Two full sessions under cooler conditions than yesterday and some improvements in a number of the classes, but some weren't without their problems.
FIM-E Top Fuel Bike had Rikard Gustafsson nudge ever closer to this year's championship picking up the little points in both sessions today with an early afternoon best of 5.922 that came with a plume of death smoke out of the headers over the finishline. Fortunately, a nipped piston was the most significant issue, but an engine change was completed in short order for the fourth session where a 6.1 check out was in order. Concerned looks appeared again after the Night Show so we'll see what tomorrow brings. Second spot on the ladder is held by Mikko Rajaniemi with the 6.3 from yesterday, but the Finnish Sirpa team are currently working hard on repairing drive train damage suffered on the launch in the third session today. Stuart Crane carries over his 6.562 from yesterday, Eric Richard ran a very nice 6.577 from his funny, Mark Smith is in fifth with a 6.6 also from yesterday, Thomas Pettersson improved to a 6.895 and Rene van den Berg keeps a 6.9 also from yesterday. Mike Olie is a doubt for eliminations as the team are searching for an oil pump to replace the one damaged yesterday.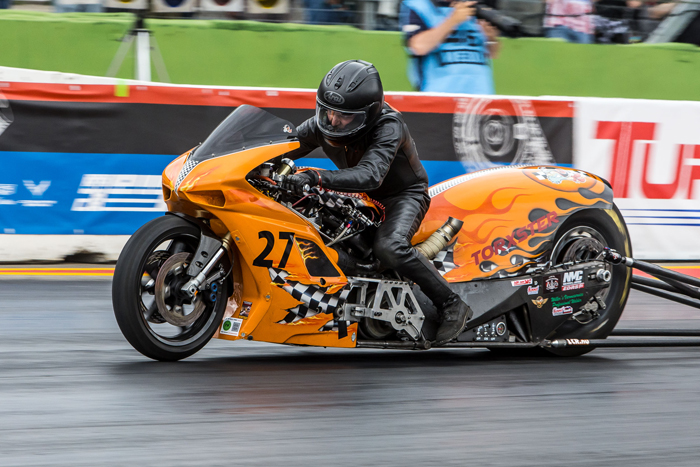 Marcus Christiansen skipped the final FIM-E Super Twin session having earlier solidified his lead with a 6.347/221.77 ('Just taking it easy and saving it for tomorrow'), so no worries there. The Dutch de Haas Brothers were a lot happier than earlier in the year with a pair of consistent sixes including a 6.741 despite dropping a cylinder someway before the finish line to put Martijn second on the ladder ahead of Marko Lantto who also improved with a 6.750. Samu Kemppainen (7.029), Juha Hintukainen (7.143), Roman Sixta (7.499), Christian Jager (7.693) and Vesa Lipponen (7.989) complete the field with the Belgium duo of Chris van Nimmen and Marc van den Boer outside as alternates.
Pack shuffling was certainly the order of the day in FIM-E Super Street Bike as the cooler track conditions helped the teams to dial into the Rico Anthes Quartermile, starting in the first (third) session today. The top four in qualifying from yesterday featured the same names, but Jake Mechaell leapt to the top with a 6.793/216.41, while Mathias Bohlin (6.821/214), Alan Morrison Jnr (6.838/212) and Daniel Donat Lencses (6.884/217) all tried to get past Mechaell in the final session to no avail. All of the remaining fifteen bike field are in the sevens so tomorrow's eliminations should be competitive.
The FIM-E Pro Stock Bike field ended up with Martin Newbury still on top with yesterday's 7.2, but the rest of the top half of the field bunched up with Bertrand Maurice carding a 7.319 (at the expense of an engine), Pavlos Sidiropoulos (PBing with a 7.386) and Charalampos Bousinis (7.490) completing the top four.
After yesterday's tight qualifying in FIM-E Junior Drag Bike Cup, today continued in the same vein with the top six now better than a tenth off their dial-ins. Brad Morrison holds onto top spot with his 0.032s on a 15.40 dial-in over the eighth.
Text and photo: Ivan Sansom & Rose Hughes