Gustafsson, Christiansen hold on, Lencses moves up and the curious tale of Pro Stock Bike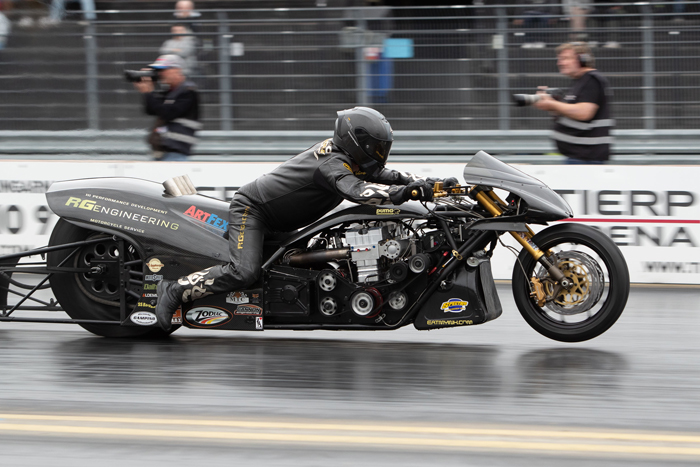 A frustrating day blighted by rain, oildowns and a broken glass panel in the Arena tower, but the fields are set for eliminations tomorrow (Sunday) at the Summit Racing Equipment Internationals at Tierp, Sweden. After yesterday's two sessions, the intended three qualifying rounds today became two and then eventually one as the cold and drizzle moved back in this evening.
Rikard Gustafsson still sits on top of the FIM-E Top Fuel Bike ranks, carrying over his 5.90 from yesterday, but with a consistent 6.0 in the only session today. Jan Sturla Hegre remains at 2, Mikko Rajaniemi was close to improving on his 6.3 from yesterday but dinked the finishline blocks so remains at 4, Sverre Dahl is 5th with a 6.4, Kari Rautanen maintained his 6.8 performances to sit at 6th while Thomas Pettersson and Rene van den Berg round out the field with the pair being in the sevens. After yesterday's incident we are pleased to report that Neil Midgley was discharged from hospital this morning and has spent the day taking it easy at the track.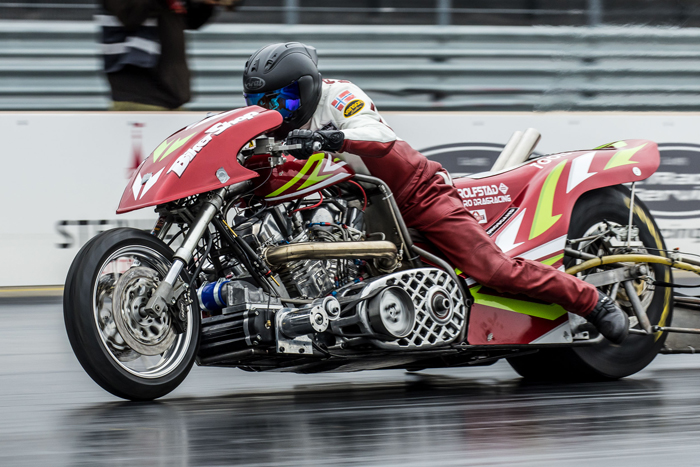 The cool track conditions saw Marcus Christiansen sit out the single qualifier, but no one managed to threaten his 6.299 from yesterday so the Dane goes into FIM-E Super Twin eliminations as low qualifier. Behind him it stays the same as yesterday to the number six spot (held by Martijn de Haas), with second generation rider John Rolfstad getting into the field at 7 with a PB 7.3634 and Greger Johnson is at eight with a 7.3 from yesterday.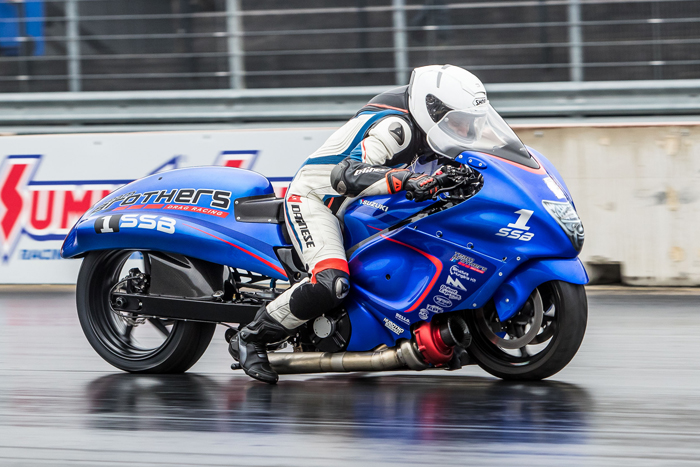 FIM-E Super Street Bike had Hungary's Daniel Donat Lencses leap to the front with a 6.766/225.04mph run that looked a lot smoother than the rest of the field could manage today. This was the only change to the top four of what will be an all run 14 bike ladder although we'll see in the morning how many make the call as there was a bit of carnage in the rest of the session.
And now to the tale of FIM-E Pro Stock Bike. Yesterday we left it with Joerg Lymant leading the pack, today Lymant decided to run his second duplicate Buell which spluttered to a 30second pass. This negated yesterday's run due to FIM-E regulations (where it is fine to run two bikes, but you can only change once during a meeting and a swap means starting from scratch). We assume the ladder, which currently shows Lymant racing himself from number one and eighth spot, will be amended with the rest of the seven bike field moving up a place, and points leader Bertrand Maurice taking over the low qualifying place.
Text and photos: Ivan Sansom & Rose Hughes