World's most powerful racing cars headline The Main Event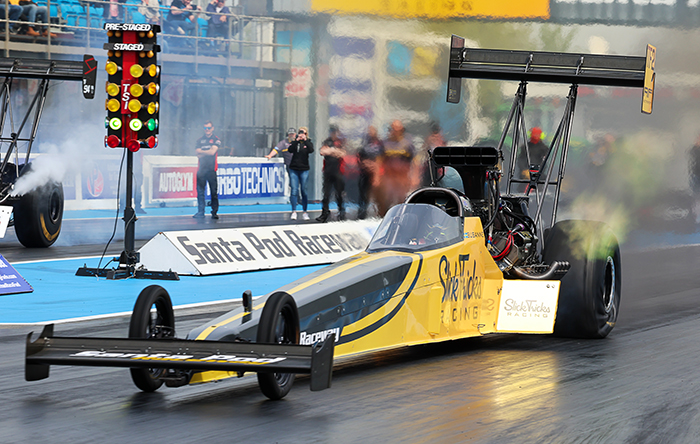 The Main Event, the FIA/FIM European Drag Racing Championships, Santa Pod Raceway, Friday 26 – Monday 29 May 2023. From 0 to 100mph in less than a second, 300mph at the finish line, more horsepower unleashed by two cars than by an entire F1 grid, Top Fuel Dragsters are back in force at Santa Pod.
Six of the world's most powerful racing cars headline The Main Event when Santa Pod hosts the opening round of 2023's FIA/FIM European Drag Racing Championships. It will be Europe's largest Top Fuel gathering since Covid swept the board.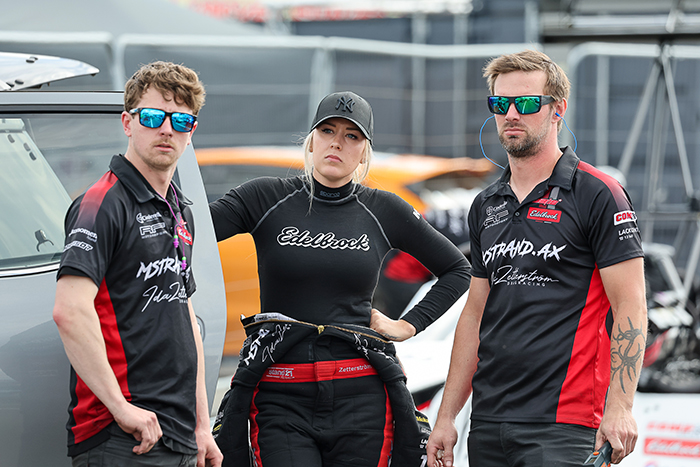 It's an equal-opportunity contest too, with three female and three male drivers battling for victory honours and an early points lead in the five-race international championship series. Women drivers hold both European records: Finland's Ida Zetterström is the continent's quickest, at 3.782 seconds over the modern 1,000-foot course, and Switzerland's Jndia Erbacher the fastest at 318.96mph across the finish line. Yet Sweden's Susanne Callin heads the form book, bidding for a victory hat-trick in Santa Pod's own Slick Tricks Racing dragster having won 2022's last two races, at Hockenheim in Germany and at Santa Pod's European Finals.
Amongst the male trio, a footnote in history beckons. When Duncan Micallef hits the track, it will be the first time that a serving head of a national motorsport organisation has drag raced. 'The Maltese Lion' was already a Top Fuel star, and 2017's European champion, when elected President of the Malta Motorsport Federation in 2020. Having made exhibition runs for his home audience, Micallef returns to international competition for the first time since 2018. Denmark's Stig Neergaard – 'The Real Stig' – is a Top Fuel veteran of no fewer than 12 final-round appearances, four with winning outcomes, while recent Swedish entrant Dennis Nilsson is the only contestant yet to clock a magic, 3-second, 300mph pass.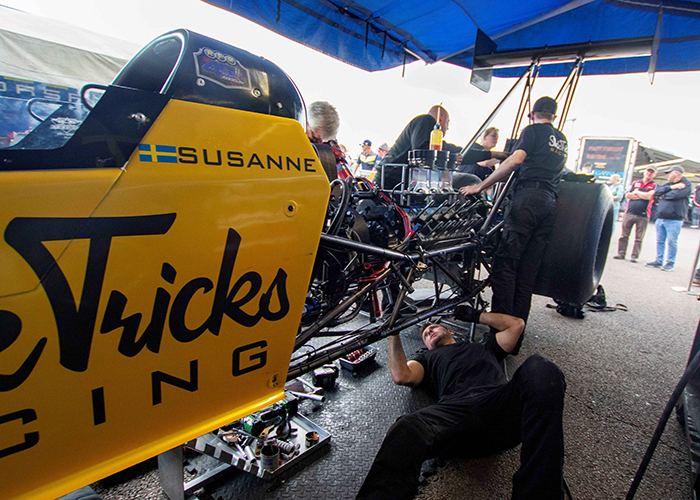 Free paddock access allows spectators a close-up view of the pit crews preparing these ground-shaking machines, and all the other, near-250 entries on two wheels and four as European drag racing's post-Covid revival continues to build.
A 16-car field of Pro Modifieds contests the opening FIA Pro Mod Championship round and the second round of the Motorsport UK British Drag Racing Championship, two separate championship rounds combined in a single race. Sweden's Jan Ericsson was a relative newcomer to the class when he became FIA champion in 2019, then promptly won it again when the title chase resumed last year after the two-season Covid break.
While Jan Ericsson eyes a third crown, his compatriot Michael Gullqvist sets out in search of his eighth. The mantle of dominance once worn by Gullqvist appears to have passed to Ericsson. Or has it? Two other Swedish veterans will be eager for a say in the matter, and both drive unique machines. 2009 FIA champion Mats Eriksson's 1956 Ford Crown Victoria looks unlike any other Pro Mod around. Fredrik Fagerström's is unlike any other: the 1966 Chevrolet pickup truck has the aerodynamic attributes of a brick but punches through the air to 5.9-second, 240mph effect, and his flamboyant burnouts and high-speed returns bring the crowds to their feet.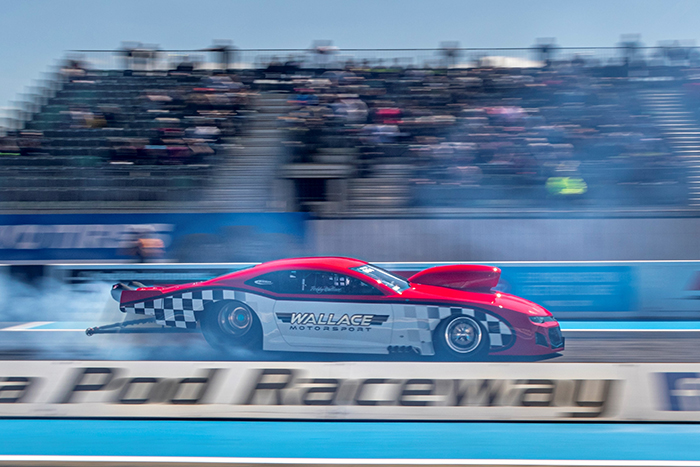 On the home front, Bobby Wallace is on a roll. The Bedford racer finished as runner-up to Jan Ericsson in last September's European Finals before winning the next two Motorsport UK races, 2022's National Finals and 2023's opening round at this month's Festival of Power. Wallace and perennial British champion Andy Robinson, from Hampshire, will lead the UK challenge but if Yorkshire veteran Wayne Nicholson can reproduce the 5.889sec/243.71mph form which earned him a maiden pole position at the Festival of Power, no one will discount him. Alongside British and Swedish entrants, racers from the Netherlands, Switzerland, Germany and Estonia complete the field.
Armed with similar, nitromethane-burning powerplants to their Top Fuel cousins, four colourful fuel Funny Cars will contest the opening stanza of the Funny Car Cup, while the Top Methanol class features Dragsters and Funnies competing together. Supporting them all is a full programme of Sportsman competition.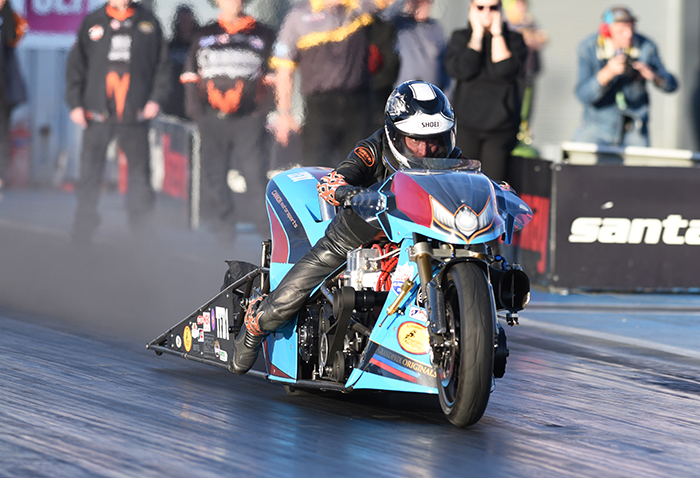 On two wheels, FIM-Europe competition includes Top Fuel Bikes, SuperTwin Bikes, Pro Stock Bikes and Super Street Bikes.
There are not many major motor races at which you will see children competing on the same programme as their adult peers, but Junior Dragster drivers and Junior Dragbikers are all part of the show. Across the two Junior classes, more than 40% of the drivers and riders are female.
And where 'the show' is concerned, Santa Pod's array of off-track family entertainments includes the award-winning John Lawson Circus alongside Live Action Arena stunt displays, a wall-of-death motorcycle show, helicopter and funfair rides, night-time music performances and the RAF Battle of Britain Memorial Flight, among other attractions.
The Main Event takes place at Santa Pod Raceway, near Wellingborough NN29 7XA, from Friday 26th to Monday 29th May 2023. Full information is available at https://santapod.co.uk/main-event.php and tickets may be booked online at https://santapodtickets.com/ or by telephoning the box office at 01234 782828.
Text: pr Santa Pod Raceway
Photos: pr Santa Pod Raceway, Julian Hunt, Remco Scheelings