Great interest for Speedgroup booth at Custom Motor Show
With a record attendance of over 90,000 people, the Bilsport Performance Custom Motor Show held over the Easter weekend at Elmia, Jönköping, Sweden, was once again a great success. Speedgroup were one of the many exhibitors at this great show and their booth attracted a lot of attention. The Speedgroup crew had a busy four days, handing out calendars and discount coupons and answering numerous questions.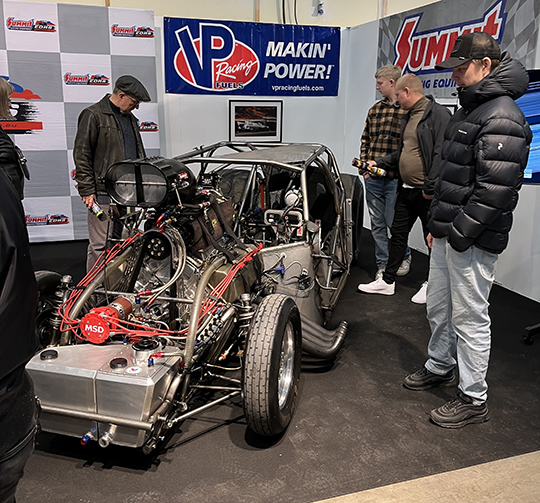 Speedgroup displayed two Pro Mods in their stand, Mats Ericsson's supercharged Crown Victoria and Roger Johansson's nitrous assisted Mustang. Ericsson's car was on display without the body panels and the high tech internal parts of the car attracted great interest by the visitors.
"We handed out a lot of Summit Racing EDRS, FIA and FIM-E calendars together with discount coupons from Summit Racing Equipment. Products from other partners, like VP Racing Fuels and Auto Verdi, were also on display. There was a big interest for decals from visitors. I think we must have handed out thousands of decals," said Anna Dymling of Speedgroup. All in all it was once again a great success and the drag race events may welcome many new fans this season.
The Speedgroup crew at the Bilsport Performance Custom Motor Show 2023.