Congratulations Lina for the 2023 Bilsport Award
The 2023 Bilsport Award Junior was handed out last Saturday at Bilsportgala in Jönköping and once again we got to see a drag racing driver receive the prestigious award. The prize is voted for by Tidningen Bilsport's readers in six different motorsport branches, so we can say that Lina Andersson is a very popular driver in Sweden.
Among all talented motorsport juniors in Sweden, our own Jr Dragster driver Lina Andersson from SHRA Sundsvall brought home the grand slam last Saturday. She was named Junior of the Year in the prestigious Bilsport Award 2023 and therefore she also got the opportunity shine together with Indycar winner Marcus Ericsson, who became Senior of the Year in the same category. There were many tears of joy among the drag racing family who attended the 2023 Bilsportgala in Jönköping.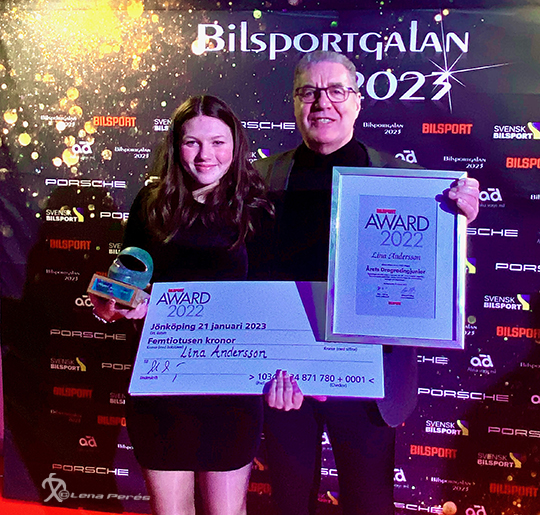 For not to mention SHRA Sundsvall chairman Göran Svensson who is extremely proud of his home clubs drag racing drivers. This was the third Jr driver in a row from the club to take home the Bilsport Award. In 2019, Lina's older sister Wilma took home the prize. After that there was a break for a couple of years. Last year, Emelie Svensson, also from SHRA Sundsvall, took the prize.
We send a big congratulations to Lina Andersson and good luck in the future.
A Big Congratulations also to Janne Ericsson who was nominated for 2023 Bilsport Award senior of the year. Unfortunately, he was beaten by Indy 500 winner Marcus Ericsson, to whom we send a big drag racing congratulations. And congratulations to all our Swedish FIA drivers that could come up on stage to receive their FIA awards. Pro Stock – Jimmy Ålund (Helene Rapp), Michael Malmgren, Top Methanol – Johnny Lagg, Pro Modified – Jan Ericsson, Top Fuel – Susanne Callin.