FIM-E Dragbike championship, Euro Finals Friday, Santa Pod Raceway
A long and frustrating day eventually saw a very nice single qualifying session for the FIM-E classes after waiting out showers, track clean-ups and a problematic patch in the shutdown area.
FIM-E Top Fuel Bike
As we predicted in our event preview, Top Fuel Bike was something very good to watch and we hopefully get three rounds in tomorrow (Saturday). But before we get there, Rikard Gustafsson rocketed to the top of the qualifying sheet with a close to PB 5.8281/244.21.
In second spot was Neil Midgley on the Cannon Engineering Puma with a nice and straight 5.9760 at only 204 indicated more to come tomorrow.
Currently in third is Al Smith with the PBR rocket recording very stout short numbers before an early shutoff with a 6.2200/208.96.
FIM-E Super Twin Bike
Only Marcus Christiansen and Martijn de Haas put in qualifiers today with a very very easy (well they do make it look easy) 6.3050/209.89 from the Dane and an early shut off 7.7470 from de Haas.
Both will improve tomorrow we have little doubt.
FIM-E Pro Stock Bike
The stockers have had a season of struggles and their session only saw two entries breaking the finishline beams, with Martin Bishop's 7.9 heading Martin Newbury's double digit pass (hopefully the aborted pass from the latter didn't signify motor problems after a long detour to pick up a motor from Sweden immediately after Hockenheim a couple of weeks ago).
FIM-E Super Street Bike
Super Street Bike was, well, Super. Already we are in the realms of the quickest eight bike bump spot with a 7.22 after one shot and the top five are solidly in the sixes. When the DME bike of Daniel Donat Lencses gets it right it really does get it right and a 6.6828/221.20 leads the bunch from Steve Venables in second with a 6.8275/217.20, Jake Mechaell 6.8591/215.13, a PB from a resurgent Garry Bowe at 6.8414/211.09 and Mogens Lund rounding out the six second quintet with a 6.9985/207.02.
More to add tomorrow we think.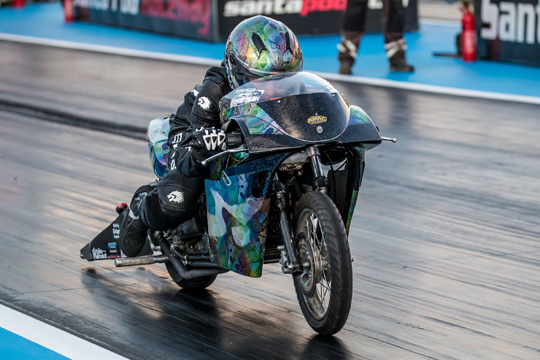 FIM-E Junior Dragbike Cup
Juniors and Hollie King continues her domination of the 2022 cup series with a +0.0483s on a 11.2683 dial in.
R.I.P. Jon Morton
At the end of the day, we think Jon Morton would have approved, a long time bike racer and just elected to the British Hall of Fame who tragically passed away in the pits yesterday evening after completing what would prove to be his final pass in his Super Gas Camaro. The thoughts of the whole drag racing community are with Mort's family and friends, we will miss him terribly.
Free web stream available via Santa Pod's Youtube Channel here: https://www.youtube.com/c/SantaPodTV and Facebook page here: https://www.facebook.com/santapodraceway
Live ET slips available here:http://etslips.co.uk/Home.html
Qualifying sheets and eliminations ladders will be available here: https://santapodresults.com/2022/
Words and photos Ivan Sansom & Rose Hughes