FIM-E Dragbike championship, NitrOlympX, Friday, Rico Anthes Quarter Mile, Hockenheim, Germany
Tricky conditions for the opening day of the 35th NitrOlympX, the largest drag racing event on the European main land with tens of thousands of tickets pre-sold for the meet. Spin and slip were notable by words coming out as the very fresh (the track hasn't been used since 2019) surface took a bit of time to bed in with a secondary race against precipitation that was surrounding the track during the late afternoon and eventually dumped wet stuff to leave Top Fuel and Super Twin Bike without a second qualifier.
FIM-E Top Fuel Bike
With only one session completed, Rikard Gustafsson heads the surprisingly thin Top Fuel Bike field by a considerable margin with a 6.145/235 mph in a skaty opener to handily cover incoming points leader Rene van den Berg's 6.866 and Eric Richard's 7.221. Thomas Pettersson has yet to record a time from his Suzuki funny bike.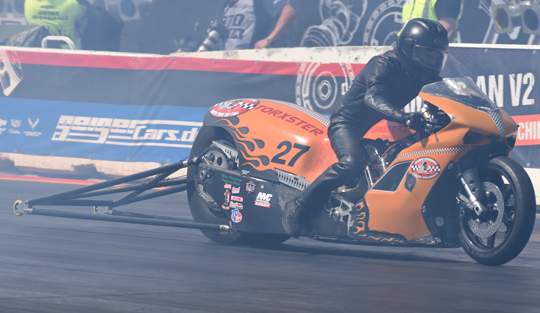 FIM-E Super Twin Bike
Picking up where he left off in Sweden a couple of weeks ago, Marcus Christiansen is, like Gustafsson in TFB, someway ahead of the six current qualifiers in Super Twin with a 6.393, the Dane noting room for improvement in dialing in the clutch after the single session.
Last seen flaming aluminium across Tierp Arena, Martijn de Haas is the best of the rest with a steady 6.727 and the Dutch team head up Samu Kemppainen's 6.961, Chris van Nimmen, Juha Hintukainen and Roman Sixta.
FIM-E Pro Stock Bike
After a paucity of entries at the previous two events, Pro Stock Bike class is always significantly augmented by central and southern European racers at the NitrOlympX and this edition is certainly no exception.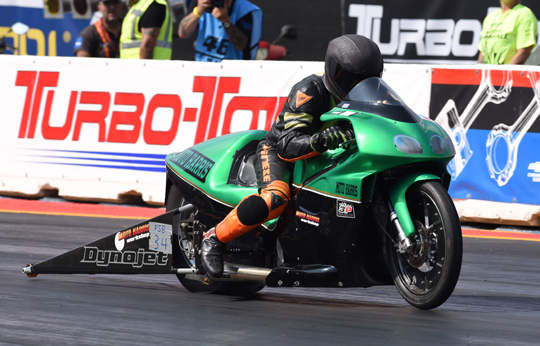 Greek riders Dimitrios Petridis and Pavlos Sidiropoulos head the nine qualifiers in mid seven second passes from their Suzuki TLs. Points leader Martin Newbury is currently outside of the eight bike ladder after clipping the blocks on his second qualifying attempt and will be checking the skies tomorrow.
FIM-E Super Street Bike
Eleven riders made qualifying on Friday for spots in the Super Street Bike field and after two sessions Jake Mechaell sits on top of the heap with a 7.038/205.88 on his first racing visit to Hockenheim.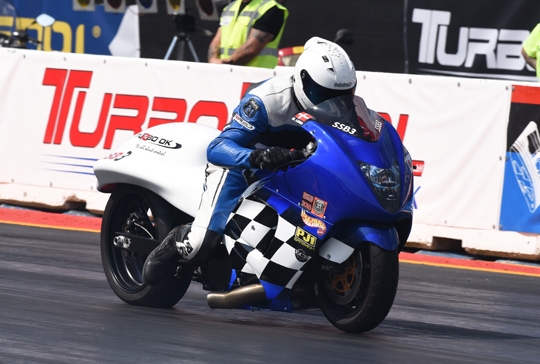 Behind the Brit, Mogens Lund vaulted up the ranks in the second session with a 7.077 to make sure of a spot in the ladder on raceday with the Dane followed by Swede Mathias Bohlin's 7.136.
Whither championship leader Dániel Donát Lencsés? Well the Hungarian was struggling with clutch and gear setup and was spinning to 10th spot which could mean a DNQ if the forecast rain appears overnight and an eight bike ladder is decided on tomorrow.
FIM-E Junior Drag Bike
Some tight dial-ins at the leading edge of the six bike Junior entry with Germany's Marie Madleen Rosen just nudging past Megan Talbot with a +0.038 on a 8.60 dial-in in the second session with the 2018 champion Talbot having a best of a +0.062 (on a 8.60) closely followed by Wichard Veldman's +0.069 (on an 11.00).
Words Ivan Sansom, Photos Remco Scheelings
Free web stream available Saturday and Sunday via the link here: https://www.nitrolympx.de/livestream/
Qualifying sheets and eliminations ladders will be available here: https://www.dmsb-sport.de/35_Nitrolympx_2022_FIA_DMSB_12490/TW_ON_Virtueller_Aushang.php?AUSWAHL_AUSHANG_ART_ID=6&AUSWAHL_PRAEDIKAT_ID=