FIM-E Dragbike championship, Summit Racing Internationals, Sunday, Tierp Arena, Sweden
Sunday and eliminations day marked the culmination of the second stop and halfway point in the 2022 championships with rounds in Germany and England to come in the next month. Before we get ahead of ourselves we'd better focus on today's happenings in a continuing warm and sunny Sweden.
FIM-E Top Fuel Bike
Top Fuel Bike had some great racing with a step up in performance in the opening round of eliminations as both Rikard Gustafsson (5.9335/248.91) and Sverre Dahl (5.9261/237.01 to defeat Jaska Salakari) demonstrated they had got a handle on the track ahead of their semi-final. On the other side of the ladder Jan Sturla Hegre (in getting past Thomas Pettersson) and Rene van den Berg (on a bye when Mikko Rajaniemi was a no show) were both solidly in the 6.1s ahead of their head-to-head in the final four. Hegre slipped back a bit in the heat of the sun and a 6.3 was enough to take a spot in the final when van den Berg was shut off before staging. Hegre's opponent would be fellow Norwegian Dahl who took a beautiful side-by-side 6.0217/235.30 to a 6.0363/245.81 from a hard charging Gustafsson. The final again saw a slight nudge back in performance as the heat was really building into the track, but Dahl and the Sunshine Express (if ever there was a weekend when a team carrying that moniker was destined for success) Yamaha strode to a 6.220 v 6.366 victory lap.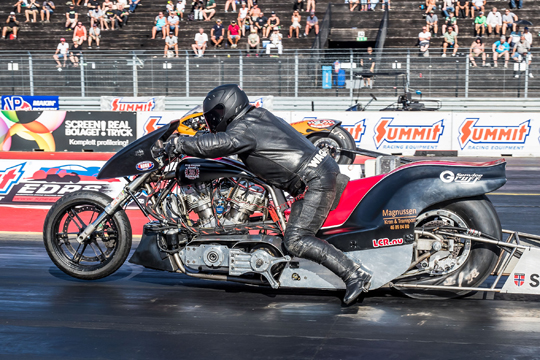 FIM-E Super Twin Bike
The Super Twin eliminations was littered with upsets mainly surrounding Julie Wagner as the Norwegian class rookie took out Per Bengtsson on a huge holeshot (0.0231s RT) to earn a freebie into her first final when a definite trophy contender Ismo Mäenpää scuffed up a cylinder head in his opening round of eliminations. On the top side of the ladder things were a bit more straight forward as Marcus Christiansen used a pair of 6.5s to get his spot in the final alongside Wagner (with a 6.5 to a 6.7 from Greger Johansson being the best race of the semi-finals). Wagner struggled at the startline and was no match for Christiansen's 0.0991s RT and a 6.7 early shut-off to put the Dane back in the championship hunt.
"We're really happy to come back with this performance after the [catastrophic engine failure] Main Event and we've got more to come as I was shutting off early on each pass today to save the brakes".
FIM-E Pro Stock Bike
Kalle Lyrén and Martin Newbury (one and two in qualifying) were seemingly making their way through to the final in Pro Stock Bike with a degree of comfort. However, in the semi-finals both bikes spat oil smoke out at about half track indicating something wasn't quite right and the resultant pair of snapped crankshafts prevented either from making an event trophy run.
FIM-E Super Street Bike
The qualifying (and indeed pre-event) form book got lobbed out of the window in Super Street Bike, most notably when points leader and low qualifier Dániel Donát Lencsés span heavily off the startline to gift a first FIM-E eliminations round win to Kenneth Laget. Mathias Bohlin then assumed favourite's role for the event and the number two qualifier duly lowered his PB to a 6.806/218 in the opening round of eliminations and then improved further with a great 6.7858/219.73 in the semis to take out Vesa Ruhanen. Bohlin's final round opponent would be Mogens Lund who used a 7.0 and then a 6.9887/212.36 to book his spot in the final. With a couple of tenths difference in ET, Lund really had to take a shot at the tree and a 0.0123s RT coupled with a 6.956/215.50 kept the Turbo DK bike ahead of Bohlin's hard charging 6.8819/217.46. "I really had to take a shot at the tree as I've been struggling with head gaskets, turbo seals, you name it since the opening round in May, but I'm very happy to be back here" beamed Lund to make a very happy pair of Danes at the conclusion of the Summit Racing Internationals.
Live ET slips can be obtained here:https://www.nitroz.se/tidskort.asp
Qualifying sheets and eliminations ladders will be available here: https://www.nitroz.se/results.asp
Words and photos Ivan Sansom & Rose Hughes