Andreas Arthursson, Jimmy Ålund and Jonny Lagg remain number one qualifiers in EDRS Pro Cars at Tierp Arena
After another great day of qualifying the three Friday leaders, Andreas Arthursson (Bilsport EDRS Pro Modified), Jonny Lagg (Top Methanol) and Jimmy Ålund (Pro Stock) claimed the number one qualifying positions at the EDRS Sweden Nationals at Tierp Arena and will lead their respective categories into Sunday's eliminations. Roger Forsström remained the number one qualifier in Competition Eliminator, while in Pro Street and Stock Super Stock Christer Åberg and Thomas Strand took over the number one qualifying positions.
It was a great day of racing with great track conditions at Tierp Arena for the second day of qualifying for the EDRS Sweden Nationals. There were numerous improvements but in Bilsport EDRS Pro Modified, Top Methanol and Pro Stock the Friday leaders were still in the number one position after three runs.
Bilsport EDRS Pro Modified was as always spectacular with many improvements and the qualifying positions changed several times. No fewer than seven drivers recorded a qualifying ET in the 5 seconds! But what didn't change was the position of Friday leader Andreas Arthursson. The Swede made two consistent runs but couldn't improve on his Friday 5.780 seconds.
Jan Ericsson improved to 5.83 seconds and remained second.
David Vegter, the number twelve qualifier from Friday, made two great runs and with 5.87 seconds the Dutchman claimed the number three position. Mats Eriksson was fourth after three runs and Michael Gullqvist jumped into the number five position with his 5.93 seconds from his last run of the day. Jere Rantaniemi and Marck Harteveld were the numbers six and seven with runs in the 5 seconds with 5.96 and 5.97 seconds respectively.
In Pro Stock Jimmy Ålund remained in the number one qualifier with 6.63 seconds. Stefan Ernryd improved to 6.64 seconds but remained second,
while Richard Sundblom jumped from sixth into the number three spot with 6.68 seconds. Robin Norén improved as well and finished qualifying in fourth position with 6.70 seconds.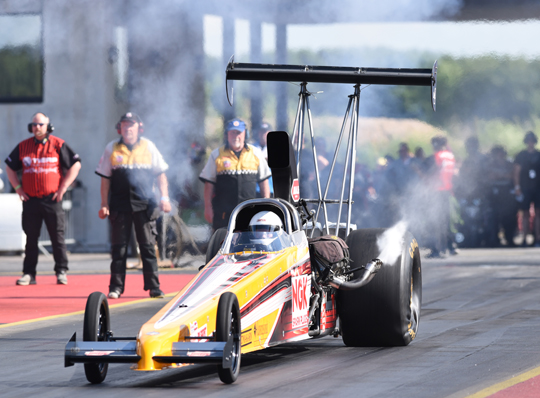 In Top Methanol Jonny Lagg claimed the number one spot with a great 5.45 seconds.
Daniel Jedborn improved to 5.49 seconds to claim the number two position, with Silvio Strauch third (5.58 seconds) and Magnus Larsson fourth.
In Competition Eliminator Roger Forsström remained the number one qualifier, with Jens Eklund second, while Gideon Liljegren jumped into the number three position.
In Pro Street the order changed several times, but in the end Christer Åberg claimed the number one position, with Preben Bærentzen second and Friday leader Michael Maderer third. In the 22-car field no fewer than 21 cars qualified within 0.7 seconds op each other.
In Stock Super Stock Thomas Strand took over the number one qualifying position from Friday leader Jonas Bengtsson. Uffe Edwardson remained third. Stock Super Stock had their first round of eliminations on Saturday evening.
All other eliminations for the EDRS Sweden Nationals will start on Sunday morning.
For all qualifying results: https://www.dragracing.eu/results.asp
For all photos see: https://www.dragracingeurope.eu/edrs/tierp-arena-16-19-june_2022/ The photo gallery will be updated soon