FIM-E Dragbike championship, Main Event Preview, Santa Pod Raceway

A bit of a chilly and overcast start to the European season with the resumption of the FIM-E championship after a 2 year hiatus thanks to, well, we think everyone has had enough of the C word for now, so it was good to catch up with some of the contestants setting up and getting ready for qualifying to commence tomorrow and Saturday before we head into eliminations on Sunday.
FIM-E Top Fuel Bike
Nine entries will be looking for spots in the eight bike ladder during qualifying with 2019's runner-up Rikard Gustafsson yet to arrive when we had our wander around the pits so instead we caught up with Neil Midgley, newly installed as owner/rider on the 2019 championship winning bike that propelled Fil Papafilippou into the 5.6s.
Neil is in the early stages of understanding what the bike wants from the rider and is currently seven runs under his belt (after a longer career in the Super Twin, Funnybike and Super Street Bike ranks) and a 5.8 ticket to his credit. Changes to the Cannon Engineering/King Racing Lucas Oils backed machine have included an adjusted riding position and a tweaked fairing that will hopefully keep Neil a bit more comfortable in the breeze. A new manifold design on the Puma has also delivered increased fuel atomization at the hit keeping the motor very happy indeed so we'll be keeping an eye on the scoreboards as Midgley progresses further down track.
Five years into the development of the wonderful PBR Rocket triple, Al Smith and the team are looking to see what the heftier sparks delivered from the uprated twin PM44 mags installed after a frustrating domestic meeting earlier in the month. Team owner (and the brains behind an awful lot of the 'out there' thinking that has gone into the Rocket) Phil Baimbridge is looking for the two ingredients of 'keeping it stuck to the track and keeping it running well' to come together this meeting. On the back of a 6.012 late last year and a 6.1 at Easter a five second ticket will only be a matter of time.
The rest of the field will see Steve Woollatt and Rene van den Berg hitting things hard with their nitro burners and the funnybikes of Louis Davies and the Warpspeed trio of Mark Smith, Dale Leeks and Stuart Crane mixing it up with those on pop. The funnybikes really can't be counted out lightly as Crane has dropped some very impressive numbers in UK competition with a 6.325/213 taking over from Rikard Gustafsson at the very pinnacle of the European funnybike charts.
FIM-E Super Twin Bike
Five bikes are entered for Super Twin with there being something of a Low Countries feel to the class with Martijn de Haas representing Holland and Chris van Nimmen and Marc van den Boer making the short hop over the channel from Belgium. From slightly further afield, Marcus Christiansen and the super quick Speedy's Racing twin have already got some testing in Denmark (where they also accompanied by van Nimmen and van den Boer) under their belts this year at Mosten so will no doubt be hitting the ground running when qualifying starts.
The longest distance traveler in the bike pits this event is Skull Racing's Samu Kemppainen but this time without his usual naturally aspirated V60 or the inline four Honda he is developing. Samu's ride for this weekend is Vesa Lipponen's five second blower bike, the Main Event being used as a shop window as Lipponen is looking to sell the barrier busting bike. Kemppanien's known pedigree as a rider and the grunt in the supercharged Harsh bike could shake the field up quite dramatically over the course of the weekend
FIM-E Pro Stock Bike
Another quintet makes up the Pro Stock Bike field with veterans Martin Bishop and Martin Newbury representing the UK, accompanied by the French duo of Bertrand Maurice and Simon David. Aswin le Noble is debuting at FIM level as part of the Shark Attack ensemble from the Netherlands. Unfortunately, the Pro Stockers were either down at scrutineering or sheltering away from today's wind on our pit stroll this afternoon hence no pictures which we'll make up for over the rest of the event.
FIM-E Super Street Bike
Twelve entries in SSB, somewhat diminished from the bumper fields we were treated to pre-Covid and pre-Brexit (we've made it this far without mentioning the B word) but we're anticipating a very quick field (probably of eight bikes although we've yet to have that confirmed) with a very healthy domestic entry. Steve Venables has the number one plate on his Hayabusa and has run some very nice 6.8s and hitting 218mph but is expecting some fierce competition from fellow D.M.E. equipped racer Daniel Donat Lencses who has been in the 6.7s at over 220 and also Jake Mechaell who defeated Ven in a very quick 6.8 pairing in the final of the preceding ACU championship round. The usual suspects of Mogens Lund, Garry Bowe, et al. will also be very much in the mix while Margot Schmidt will be looking forward to making further progress on the Schmidt Performance Hayabusa, 'we're hoping for some quick numbers', from the Dutch entry.
FIM-E Junior Dragbike Cup
The trio of Junior entries were again, quite rightly, out of the breeze when we did our pre-event tour, but Hollie King and Megan Talbot will be looking to uphold domestic honours while Anouk Burgering will be looking to take the event trophy back to Holland.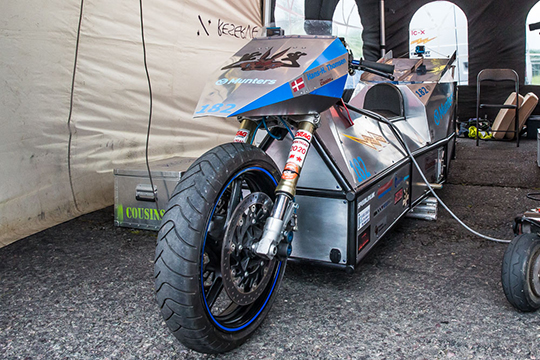 Exhibition
While outside of the FIM-E championship, one additional two wheeler we'll be keeping an eye on is the Silver Lightning electric bike of Hans-Henrik Thomsen and the True Cousins team. They've already put in a run at very close to their own world record pace, with the short numbers already suggesting they should whizz past their 6.86 PB with something to spare. Oh, and, after a couple of year's hiatus, Eric Teboul will be seeking some very quick times with his world leading rocket bike in what may be his farewell tour.
Words and photos Ivan Sansom & Rose Hughes
Free web stream available via Santa Pod's Youtube Channel here: https://www.youtube.com/c/SantaPodTV and Facebook page here: https://www.facebook.com/santapodraceway
Live ET slips available here:http://etslips.co.uk/Home.html Qualifying sheets and eliminations ladders will be available here: https://santapodresults.com/2022/