Meet Fast Freddy at Bilsport Performance & Custom Motor Show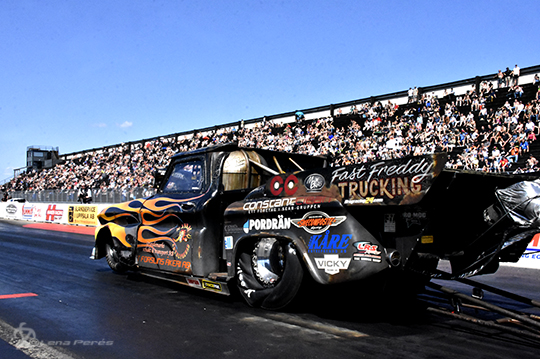 Everyone knows Fast Freddy when it comes to racing and vintage cars and most of us have him and his pickup as a favourite on the strip. No wonder, he does whatever it takes to make everyone happy with a long crazy burnout. Fredrik Fagerström is all along open for craziness, and he's friendly soul always holds the door open for everyone. Now you can meet Freddy with the worlds fastest pickup at Bilsport Performance & Custom Motor Show!
Freddys open door turned out to give a proper refund a few years ago, when the garage and workshop with pretty much everything inside, went up in smoke. An occasion that left deep tracks in Fagerström family's life. But as a payback for all the kindness over the years, the whole world stood up for them and helped, either through crowdfunding or pure muscle power. The Pro Mod pickup was, more or less, burnt out. But with all the friendly souls lined up, the car was race ready when the racing season started that year, only a couple of months after the fire. The garage and workshop were rebuilt again the following year.
The road has not been completely straight for the Fagerström family, there have been ups and downs during their lives, both on and off the track, but with hard work most things can be fixed. Now we hope for a more straightforward life and that the family can enjoy all their fantastic projects they have. A visit to their workshop makes you drool. There is Hot Rods, motorcycles, race cars and more, all vintages. You just love that place.
The team will attend some drag racing events this summer. But how many has not yet been decided. With high travel costs and fuel prices all over the world, there may not be as many as wishes.
– We take it as it comes, says Freddy. We haven't done much on the car so far, but one thing that has been done is a new front, that now needs some paint. My hope is that Ray Hill will fix that part as he painted the whole car some years ago as it looks like now, and I want it all in the same shape again. But we´ll see if he brings it on. A new bottom part for the engine has been added from Michael Gullqvist and that will probably speed things up. I want to catch another 5 sec run this year.
But at first, we will meet Fast Freddy and his super cool pickup at the Bilsport Performance & Custom Motor Show at Elmia. Look for him in Summit EDRS Series stand and you will for sure get a chat with him.
– This is the first stop for us this season, says Freddy. It will be fun to meet people again and be in the show. Hopefully we meet some great sponsors during the Bilsport Performance & Custom Motor Show that will help us visit several events during this season. Looking forward to meet You all there!