Summit Racing EDRS Series finals at Gardermoen and Kauhava
Gardermoen Norway and Kauhava Finland is now ready for Summit Racing EDRS Series Finals. Two final racing in two different countries is making this ending of the season very exciting. During this days of racing, drivers is going to do what ever they can to take the final points to win the series.
127 teams in totally 17 classes is now ready for the last battle in Norwegian Championship. 10 out of 14 classes that was selected to this event is racing for the final points in the Summit Racing EDRS Series Finals. In Finland is totally 117 teams ready to race in 9 Summit Racing EDRS Series classes.
Top Doorslammer is racing in Finland this weekend and we can´t find any of the top three in the table, racing there. So we don´t expect any big changings except if Hanny Flink, number 6 in the table, is taking points for a higher spot.
Theodor Brand seem to have a safe number one spot in Stock Super Stock. We can´t see him at any of the two events. There is a few finnish guys who is taking on the chasing of number two and three spot in the table at Kahuva. Iiro Mikkola and Timo Eronen is two of the guys that have a good chanse to change the settings there.
In Pro Street Seppo Raussi Finland is in the leed of the table with 74 points before number two Lars Åke Söderling, number three is Angelica Larsson, but non of them seams to race this weeken. Closest we find in the table is Renate Rosén at spot number six. She have now a good chanse to take in at least a couple of places.
Mikael Nilsson Sweden is on site in Norway to defend his points in two classes, Super Pro ET and Super Comp. In Super Pro ET he is hard to beat wiht his 185 points in lead. He also have a pretty good lead in Super Comp, as number two and three in the table, Wilma Andersson and Pontus Garefeldt, is not registered as far as we know now. But Mats Arntzen is having a good chanse to take on Pontus who is on third place in the table.
In Super Gas we probably going to se a big battle in Norway between Håkan Mattsson and Christer Uhlin. 16 points is deviding them right now, where Håkan is in lead of the tabel. And both of this guys is winner heads. No one going to give up!
Another battle we can see comming is in Pro ET, where we find number two and three in the table John Thidé and Fredrik Seth both from Sweden, have taken the trip over to Norway. The leader in the table is Pettri Parkkinen Finland and he is chasing points in Kauhava this weekend. Its just 20 point between John and Pettri and 24 points between John and Fredrik. This is going to be a thrill.
In Junior Dragster Victor Barstad Norway is chasing point to get a better posision in the table. Right now he is at the third spot but have a chans to climb, as number one and two Lina and Fanny Andersson not seems to be on site this weekend. Anton Oikarinen, number six in the table is, what we now can see, not register for Kauhava. But if he go there he have a good chans to take a better spot.
Street Bike is a very tight class when it comes to points. In the top we have Otto Eralahde Finland. And he is not at this point registered for Kauhava, what we can see. He is in the lead with 43 points before Cato Bru that is going to race in Norway. But at the same 249 points as Cato we find Juha Eralahde, and he is racing at Kauhava! Not far behind we find Miika Altonen and Jouin Eralahde Finland and Arve Myrbostaden Norway at the 6th place. Just 73 point between number one and the sixth spot in the table. There can anything happen here as all of them is racing this weekend.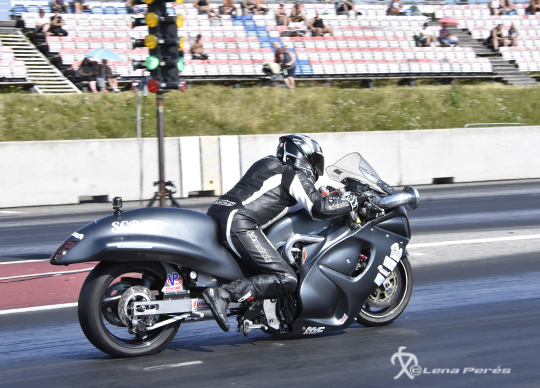 Super Comp Bike it seam that Michael Jensen Denmark number two in the table and Peter Östlund Sweden number three, is taking on a battle for the top points. The leader Emil Östlund is not register at this very moment. 60 points is beween Emil and Peter.
Mikkel Jensen Denmark is having a pretty safe points lead so far in Super Gas Bike and he is racing in Norway this weekend. But number two in the table, Teodor Norling has not given up as we can se him racing at Kauhava Finland. Very exciting!
Jr Bike we can´t find any of the top three in the table at any event this weekend. So we will see if number 4 in the table Joni Kiljala will make some changes as he is racing at Kauhava.
In other words, this is a packed drag racing weekend on each side of Scandinavia. We wish you all the best of luck and have a wonderful race weekend wherever you are.
The information is based on today's registration lists and tables. We reserve the right to make changes.
Photo: Jan Sjöberg