Tierp Arena is back on track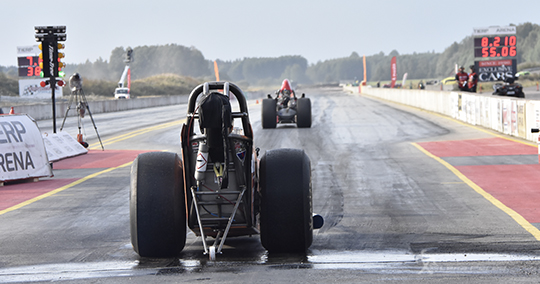 Three days of absolutely awesome racing is over and the sum of the Summit Racing Scandinavian Nationals 2021 is a big Hurray! We´re back at Tierp Arena! But it havent been able to arrange in just four week without every single person that was involved on site, before, during and after. A big thank you to all and everyone.
Unfortunately, we cannot present winners of the event this time, as the rain began to pour down on Sunday afternoon, and the sad decission had to be taken to close for the weekend. But we can present all the qualifiers number one. There was some happenings on the track in ET and speed. We can mention, among others, the side-by-side runn between Andreas Arthursson and Michael Gullqvist at 5.82 against 5.83 on Saturday.
Arthursson managed to take down his ET to 5.80/409 km/h during the weekend. But the fastest on the track in Pro Modified was last European Champion Jan Ericsson at 5.79/397 km/h.
Something else that made us happy was that we could welcome Bruno Bader back on track. He was involved in a serious crash in Finland a couple of years ago. But now he is back in his Gotham City Corvette.
Then we had Mattias Wulcan in Top Doorslammer who also did cut down the ET and speed to 3,67/332 km/h. The Blackbird fly fast.
Super Pro ET Tinda Christensen is getting hard to beat. She have just entered the class in her new dragster, after some years in a Jr Dragster. Her first event was at Mantorp a couple of weeks ago and there she got her first win. And at Tierp Arena she ended up as no 1 qualifier before the rain came.
Christensen family have another tallent dragracing driver. Young Tim is now entering the Super Comp Bike class after some years at a Jr Dragbike. And he got a very well known bike to ride. Kennet Holmberg was on site to check out that his his old Pro Stock Bike was behaving.
Another Jr Dragster driver who entering a faster class is Wilma Andersson who is now racing in Super Comp. The experience driver in the Super Comp, Mikael Nilsson have to shape up, as the class is gathering several Jr Dragster drivers and they are very allert drivers.
This young Jr-drivers is nothing you just play around with. They are fast and take racing really serious. No 1 qualifier in the class was this weekend Fanny Andersson. She is hard to beat.
That´s just a few drivers mentioned here, but there was many fast and furiouse drivers at the track this weekend. 189 drivers produced 1130 time sheets. A few cleanups happend, mostly of them on saturday. But no big deals. Andres Arnover from Estonia had his nice new Pro Modified Mustang burned. But he was ok and the car was not to bad damage over all. The body was burned but else there was´nt any big damage that could´nt be repared, Andres. He will be back, no doubts.
Again a big thank you to all and everyone that made this event happend. Now we´re looking forward to more races before the season is over. Next up is Motopark Finland August 21-22 and Vårgårda Sweden August 28. Don´t miss out of them!
Qualifying No 1 Summit EDRS Scandinavian Nationals 2021:
Jr Bike: Felix Sjödin
Jr Dragster: Fanny Andersson
Pro Modified: Jan Ericsson
Pro Stock: Jimmy Ålund
Top Methanol Dragster: Jonny Lagg
Top Doorslammer: Mattias Wulcan
Comp: Robert Arthursson
Pro ET: Lars Erik Jonsson
Pro Street: Anna Knutes
Stock/Super Stock: Thomas Strand
Street: Peter Nilsson
Super Comp: Mikael Nilsson
Super Gas: Håkan Mattsson
Super Pro ET: Tindra Christensen
Super Street: Kent Forschner-Hell
Super Gas Bike: Jesper Jerresten
Super Comp Bike: Samuel Rundström
Super Street Bike: Mathias Bohlin
Super Twin MC: Marcus Christiansen
Top Fuel Bike: Rikard Gustafsson
Pro Stock MC: Bertrand Maurice