Rain brings early end to Summit Racing Scandinavian Nationals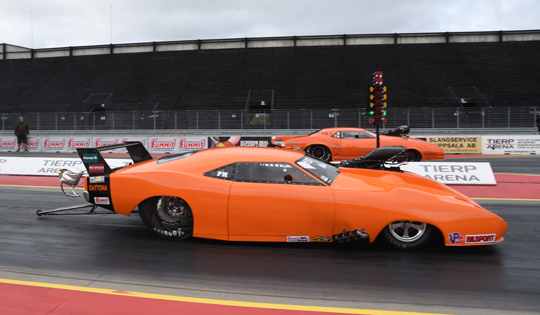 The weather was not with the racers at Tierp Arena on Sunday. With the quarter finals of Pro Modified and Pro Stock, and semi-finals of Top Methanol completed, it started to rain. With more rain to come in the next couple of hours, the race director was left no other choice than to cancel the remainder of the Summit Racing Scandinavian Nationals.
Although not a race for the FIA European Drag Racing Championship, the 25 teams from the three FIA classes were looking forward to the eliminations of the Summit Racing Scandinavian Nationals. For some teams it was for the trophy at the end of the meeting, others wanted to continue testing their new set-ups.
Eliminations in Pro Modified started with two major upsets. Number two qualifier Andreas Arthursson had problems and was defeated by Roger Johansson while number five qualifier Mats Eriksson pulled a red light and was defeated by Marcus Perman. There were less problems for Jan Ericsson (winner over Micke Johansson), Fredrik Fagerström and Michael Gullqvist (both with a bye run), Åke Persson (winner over Jan Bränvall), Marck Harteveld (winner over Bruno Bader) who ran a great 5.95 seconds and David Vegter (winner over Jean Dulamon) who was quickest in round one of eliminations with 5.92 seconds.
In the quarter finals of Pro Modified eliminations Ericsson improved to a great 5.81 seconds to defeat Persson, while Perman had no problems to beat Fagerström. Harteveld advanced to the semi-finals with an easy win over Johansson as the Swede ran into problems and crossed the center line. There was drama for Vegter at the start line as the Dutchman had to shut off his engine due to oil pressure problems, handing the win to Gullqvist who stormed to a great 5.83 seconds.
In the semi-finals Gullqvist should have faced Harteveld and Ericsson Perman. But the weather had others plans, bringing eliminations to an early end.
In the first round of Pro Stock eliminations Richard Sundblom defeated Lasse Britsmar, the rookie in this factory hot rod category, while Stefan Ernryd recorded a good 6,65 seconds to defeat Michael Malmgren, who suffered tyre shake. Jimmy Ålund, the number one qualifier, once again proved to be in a class of his own as he stormed to another great 6,56 seconds to advance to the semi-finals.
In Top Methanol Daniel Jedborn defeated Tony Bryntesson to advance to the final, while number one qualifier Jonny Lagg had a bye run. As mentioned before, the semi-finals of Pro Stock and final of Top Methanol couldn't be run either due to the incoming rain. All results: https://www.dragracing.eu/results.asp?id=2&year=2021 (look for Summit Racing Scandinavian Nationals)