Autumn Open 2021 Sweden and Motopark 3&4 Finland – time to sign up
More events in the Summit Racing EDRS Series calendar is coming up! Don't miss to sign up for Autumn Open 2021 Sweden and Motopark 3&4 in Finland.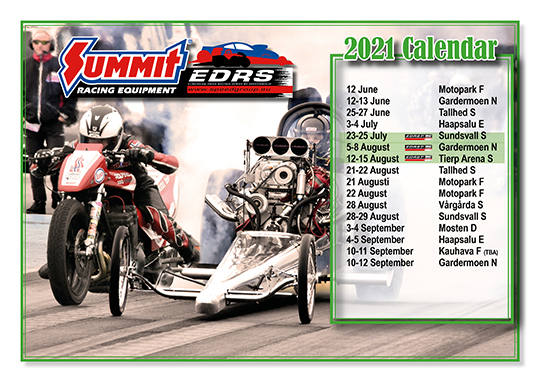 Almost half of the the Summit Racing EDRS calendar is done and there is still many grate options to race your vehicles, in several countries.
Motopark in Finland is arranging their third and fourth event in The Finnish Championship August 21-22 and this events is also part of our Summit Racing EDRS calendar where you can collect points. Last day for sign up is August 7.
Autumn Open at Tallhed Sweden is the organiser Night Cruisers Färnäs second event this season. Registration is open until August 10th. This event is also at August 21-22. Two great oportunities for racing in two countries!
Check out the calender and sign up at www.dragracing.eu.