Ida Zetterström to go Top Fuel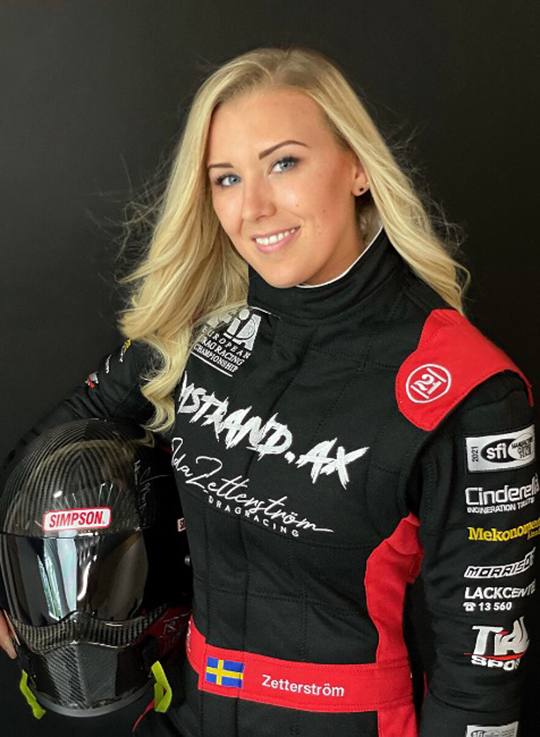 It was a major surprise for many, the breaking news that Ida Zetterström made the switch to Top Fuel. Only a few insiders knew her dream, passion and great desire to run in one of these quickest and fastest accelerating vehicles on earth. The current EDRS Pro Nordic MC Super Street Bike champion will join Rune Fjeld Motorsport and will start licensing as soon as possible, with the ultimate goal of running a full FIA European Top Fuel Championship in 2022.
Ida Zetterström entered the Super Street Bike ranks in 2017 and made headlines after her team Alandia Motorsport acquired Lucky 13 from the States at the end of 2018. It was a lucky marriage almost from the very first moment as she rewrote the SSB history books in 2019 and claimed almost all of the prizes. That dream season Zetterström became the first female rider to win a race and a title in the EDRS Pro Nordic MC Super Street Bike category, reset her personal bests numerous times to finish the season with a great 7.017 second ET and claimed the VP Racing Fuels Special Award for the rider with the most notable achievements in 2019! Due to the corona pandemic the 2020 FIM and EDRS Championships had to be cancelled, but in the Finnish races she reset her personal bests again, broke the 7-second barrier and even recorded two 6.8-second runs with Lucky 13.
Now there is the switch from two to four wheels, Top Fuel! Or should we say, the return to four wheels as Zetterström started her career in Junior Dragsters. The observant social media follower could see a first glimpse a few weeks ago when Zetterström made some runs in the Quarter Mile Racing Super Comp dragster at Kjula Dragway.
"The Top Fuel dream has always been there, for as long as I can remember. I grew up around race cars and dragsters and as a Junior Dragster driver the dream was always Top Fuel. I have always known that this is what I wanted to do, even after I started racing bikes, the dream never died. But it wasn't until a little over a year ago I decided that it was finally time to make that dream a goal and after that decision I have worked hard to make it reality. We talked to our partners and they all understood the passion behind this decision and wanted to be on board for this new step of our journey. Our main partner, Mstrand.ax, stand behind us in this too and have continued their support, which played a huge role in us being able to get to where we are at now and it makes me both happy and proud to have them on board. I contacted Rune at the end of last year and after we talked for a bit we started to plan the licensing," said Zetterström about the first part of the long journey to make her dream come true.
The next step was of course to obtain her Top Fuel licence. "We have had the licensing planned for a while, but have had to change the dates several times due to the corona travel restrictions. The next date we will try is July 16th-18th. The plan is to license at Santa Pod, where the RF Motorsport car is." But licensing is of course not a goal in itself. "The plan is to run the full FIA European Championship in 2022 together with RF Motorsports. I have a lot to learn and now I'll be a rookie all over again, but it feels good to be able to do this with Rune and his professional guys. I know I will be in good hands so my focus can be 100% at driving and learning everything I need for the task at hand."
Zetterström can't wait to be strapped into the seat of the RF Motorsport Top Fueller. "I'm over the moon excited. Not nervous yet, but I bet the nerves will come when I get in the car, that's only to be expected! But I'm desperately looking forward to start licensing and for the 2022 season. I know I have a big task ahead, but I love a challenge and I can't wait to start!"
Of course this new adventure would not be possible without the support of some very important partners. "We have been very fortunate to have strong partners like Mstrand.ax, Eklunds Bygg, Cinderella Sverige, Lackcenter, Mekonomen Åland, Tial, Verkstan, PH-photography and several more to stand beside us during our Super Street Bike years and they did not hesitate to jump on this new adventure with us. So amazing! As always I put a lot of work into the marketing side of our racing and always looking for the best ways to get our partners as much value as possible, and this is no different. I'm working more than ever to bring more great partners onboard for next season and beyond and hopefully you will also see some new companies, like Hansen Racing for example, on the side of that RF Motorsport Top Fuel Dragster next season!"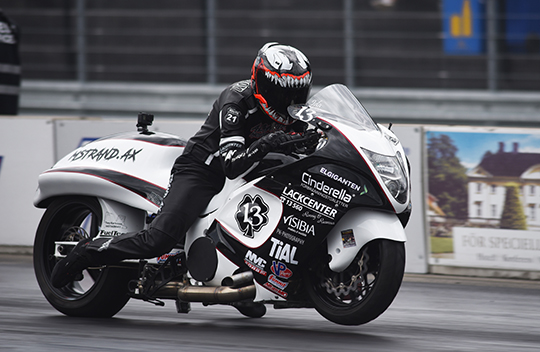 Because Top Fuel will need full attention, this switch will mean, at least for some time, the end of the participation in Super Street Bike. "As bittersweet as it is Super Street Bike will have to be put to the side as I take on this new big challenge. The sad part about this is that we really thought we would get to run a full FIM series in SSB before we made the change to Top Fuel, but corona put a stop to that. We really showed last season that the bike is a strong contender for the championship and not only is it fast, but it's super consistent. Last season we ran eight 6-second runs, two in the 6.8-second zone, at least six runs in the low 7.0 region and we just kept going faster and faster. It breaks my heart a little to say this but the bike is for sale now, and I actually really hope it gets sold so that someone can continue the quest for the championship with it. This bike deserves to be out there winning races and breaking records and whoever buys it will get a fantastic bike with the potential to go even faster! So if anyone is interested in Lucky, send me a message and we will talk. We will of course provide help to get started and to tune the bike for its new rider."