Voodoo Hemi Racing news update October
After taking the Motorsport UK Pro Modified Championship in 2019, the team was in full preparation to compete in the full FIA European Pro Modified Championship for the first time. Five races in three different countries in the most competitive Pro Mod title fight in Europe. Until corona hit. One meeting after another was postponed or cancelled and the end of the song was that the FIA had to put a line through the entire championship. Without having driven a meter, the Voodoo Hemi Racing season came to an end. Now, sitting still is not exactly the strongest point of Marck Harteveld and his team, so they have continued to work hard in recent months.
It had been the team's wish for a long time to have a second engine ready. If something goes wrong with the engine during a race, repairs are possible, but not every damage can be quickly repaired on the spot. Especially in the battle for the FIA European Championship, as a driver you cannot afford to miss a run. Sometimes it is faster and easier to change the motor. You just have to have it ready in the trailer. From now on this is the case with Voodoo Hemi Racing. Via Post & Dros, the team was able to obtain an engine block with accessories and with the many spare parts that Voodoo Hemi Racing already had, a second engine has now been built. In the unlikely event that the situation arises that something breaks, you can now quickly change and continue the race.
Voodoo Hemi Racing may now have a second engine, but that does not mean that the engine that has been serving faithful service in the '70 Plymouth Superbird has not received any attention. The engine has been taken care of by Joeri Woudenberg and provided with various updates and new parts. Everything is also well attuned to each other. Woudenberg not only has a wealth of experience in the field of (racing) motorcycles, he has also guided several European Pro Modified riders to new personal records. At the end of last season, Woudenberg already advised Voodoo Hemi Racing a few times on and off the track and he will do this next season if all goes well.
The blower is an equally important part of the engine and also subject to wear when the full 3,500 hp is used. The blower has also been overhauled and updated by Joeri Woudenberg and can therefore handle it again.
Even then, the list of activities is still far from complete. The complete Superbird has been checked from top to bottom, refreshed and parts replaced where necessary. This makes the Pro Mod look like new again, just like all tools and other team supplies.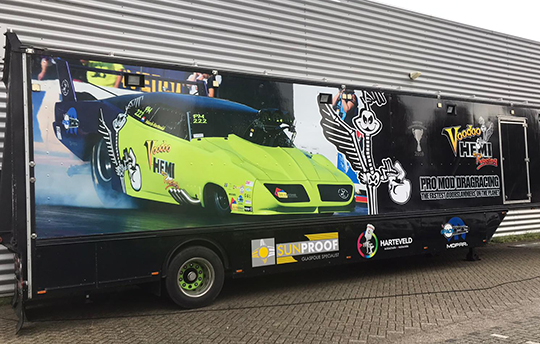 The Voodoo Hemi trailer that transports the team and the Superbird to the circuits has always been an eye-catcher, but now it is even more so. Until recently, the team's previous car was on the side. So it was time for an update and that has happened recently. Jeroen Ritz of Mooi Reclamewerk made a new design based on the current '70 Plymouth Superbird. This was then printed by Kees van der Kruijk from Sunproof Glasfolie, who also wrapped the trailer afterwards. Michel Tooren and Pro Dutch Racing made the space available where this carefully to be performed job could be done. Voodoo Hemi Racing would like to thank everyone who contributed to this metamorphosis, because the result is impressive.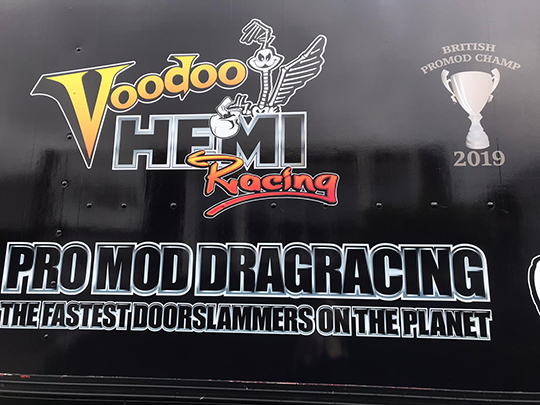 After winning the British Pro Modified title in 2019, Voodoo Hemi Racing planned to participate in all races of the FIA European Pro Modified Championship for 2020. Unfortunately, this was canceled due to the corona pandemic. Postponement will certainly not lead to cancellation, because Voodoo Hemi Racing has now postponed its plans to the 2021 season. Fortunately, the title fight does not start until the end of May. By then, much more will probably be clear about what can be done in Europe in terms of travel and events. Hopefully a vaccine will have solved the biggest problems and limitations by then. As it looks now, the schedule will not differ from this year's planned one.
Voodoo Hemi Racing is supported by 6Pack Speed Shop, CL Coatings, Breed Advies, Baro Services BV, PPG, Aviboor, Qrien van Vliet, Elno Installatietechniek, Peet Hulisz, PP Solutions, Peet Komen Autoherstelwerken, Sunproof, Tom Otten Electrical Engineering, District 010, Mooi Reclame Werk, Fred Barendse, Breedveld Transport Rotterdam, Rob vd Kruk Maintenance Company, DW Hijsmiddelen and Gert and Leny Harteveld.